Giants stumble in Bay Bridge Series opener
Offense shut down by A's Chavez; hit batters, errors prove costly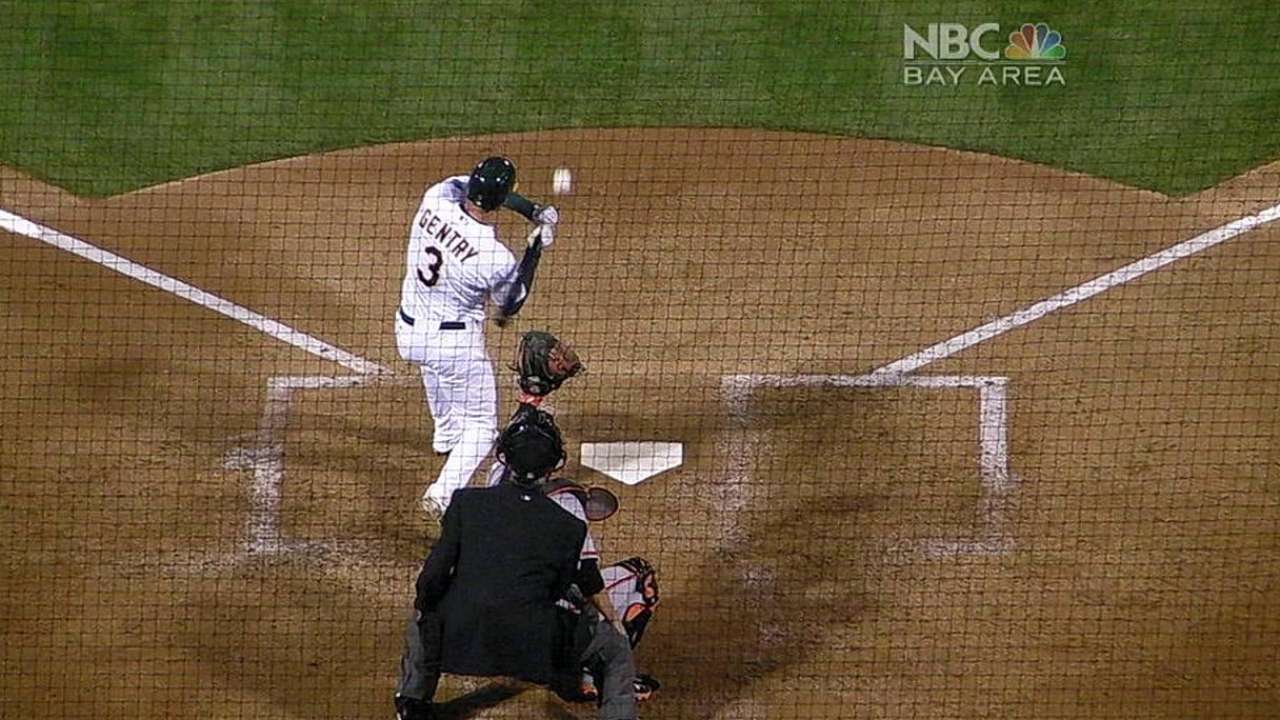 OAKLAND -- The Giants understood how their 5-0 loss to the Oakland A's developed Monday night.
Just a few weeks ago, they were the ones administering such setbacks.
During their 31-11 surge that spanned late April through early June, the Giants seized upon opponents' mistakes, committed relatively few of their own and maintained an unshakable confidence that matters ultimately would turn in their favor.
None of this was the case for the Giants in the opener of a four-game, home-and-home series against their cross-bay Interleague rivals. A tight contest eroded into a one-sided affair with each adverse event that befell the Giants.
San Francisco absorbed its fourth shutout loss in eight games. That's an alarming rate, even with leadoff catalyst Angel Pagan sidelined and cleanup hitter Pablo Sandoval recovering from a bruised left elbow.
Asked if he regarded the club's inability to score as stunning, Giants first baseman Brandon Belt said, "It is, honestly, with the talent we have on this team. We're not playing well right now. We have to figure out something to pick it up."
Giants manager Bruce Bochy agreed that the absences shouldn't be an all-encompassing excuse.
"We're throwing a pretty good lineup out there, a lineup that shouldn't get shut out as much as we have the last couple of weeks," he said.
Bochy outlined the formula for a turnaround.
"I think more than anything [it's] getting back to who we were," he said. "We were a team that kept the line moving and everybody was doing something to make a contribution. We have some guys who are cold with the bats. It's hard to keep things moving when it gets like that."
A's starter Jesse Chavez (7-5), who allowed nine runs over 10 innings in his previous two starts, reversed that trend by limiting the Giants to four singles in six innings. He tied a career high by striking out nine, including five batters looking.
The Giants had won six of the previous seven road games started by Ryan Vogelsong (5-6), who was locked in a scoreless tie with Chavez and the A's through four innings.
The A's then opened the scoring in the fifth without hitting a ball out of the infield. Vogelsong hit Craig Gentry with a pitch, a call that Bochy unsuccessfully challenged. Gentry stole second base and advanced to third on Coco Crisp's deft bunt, which was meant to be a sacrifice but became a single. John Jaso's groundout sent home Gentry.
Alberto Callaspo's two-run, sixth-inning double off Juan Gutierrez extended Oakland's lead. The uprising began when umpires ruled that Vogelsong hit Josh Donaldson with a pitch, after the 1-2 delivery was initially called a foul ball. Donaldson brandished a swollen left hand, which apparently swayed the umpires. Bochy later pointed out that Donaldson could have hurt his hand during batting practice or at another earlier juncture.
Vogelsong vanished after yielding Jed Lowrie's one-out single. In came Gutierrez, whose first pitch Callaspo hammered. But Bochy dwelled on the revised Donaldson ruling.
"That turned out to be a big call," he said. "We had a good game going on until all that happened. Then things went awry. Once that call got changed, a couple of hits later, we're down three."
A's manager Bob Melvin acknowledged the Donaldson decision's importance: "I felt like he didn't swing, so that ended up being a big play to put him on base there."
A pair of seventh-inning throwing errors by shortstop Brandon Crawford set up Brandon Moss' sacrifice fly and Donaldson's RBI single, enabling the A's to add a pair of unearned runs.
Bochy absolved Crawford from any blame.
"He's won too many games for us," Bochy said, praising Crawford's defensive skill.
Chris Haft is a reporter for MLB.com. Read his blog, Haft-Baked Ideas, and follow him on Twitter at @sfgiantsbeat. This story was not subject to the approval of Major League Baseball or its clubs.