Koehler labors in short start against D-backs
Right-hander surrenders seven runs in three-plus innings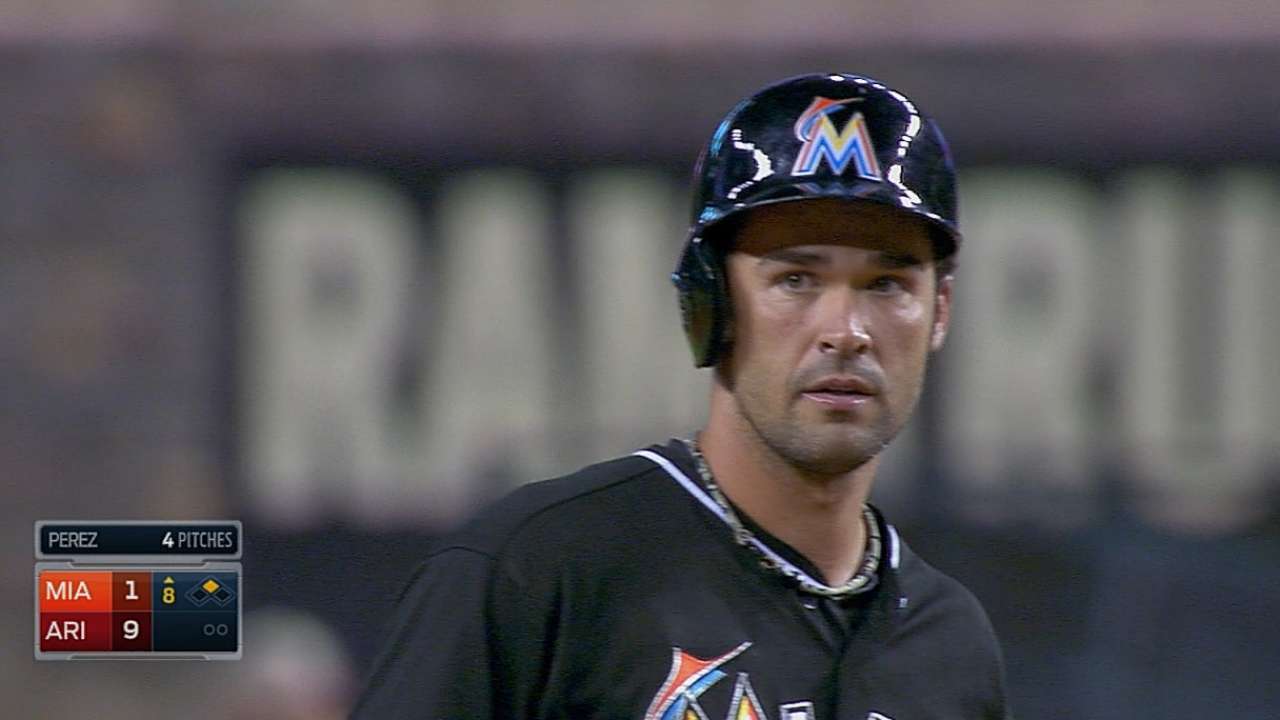 PHOENIX -- Four days after a day he'll always remember, Tom Koehler had a night he'd probably like to forget.
In his first outing since returning from the paternity list for the birth of his first child, Koehler struggled through three-plus innings in a 9-1 Marlins loss to the D-backs at Chase Field on Monday.
"There's no excuse for pitching that way," Koehler said. "I feel like I've been throwing the ball really well over the last three starts or so, so it's just a bump in the road. I've got to move on."
Koehler has shown the ability to work around jams this season, but the D-backs were relentless, scoring off him early and often. By the time the last run credited to Koehler scored, he had already departed from the game.
"Just not the way you want to pitch. Made a lot of mistakes," Koehler said. "The strikes that I threw just weren't quality pitches. They did a good job of, when I threw the ball over the plate, they hit it hard, and they didn't really allow me to get settled in."
The first of five second-inning runs for the D-backs came on a solo homer by third baseman Martin Prado. Koehler had a chance to limit the damage, getting two of the next three batters out, but couldn't finish the job.
The D-backs put together three singles and two doubles with two outs in the inning, finishing the frame with a solid lead for starter Chase Anderson (6-4).
"Chalk it up to just not his night tonight, I guess," Marlins manager Mike Redmond said. "Just didn't have it."
Koehler said he didn't get out of his routine too much while he was away from the team. He lives close to the Marlins' Jupiter, Fla., complex and threw a bullpen session while he was there.
"I did everything as I normally would, so there's no excuses to be made or anything," he said. "It was just a combination of really bad pitching and some really good hitting on their part."
Unlike Koehler, Anderson came out of the gate firing. He kept the entire Marlins lineup off-balance during his six innings, matching a career high with eight strikeouts -- three against All-Star slugger Giancarlo Stanton.
"He's a big guy up there. You've got make good pitches to him," Anderson said. "I kind of got a little deep in the one count to him, 3-2, but I threw a changeup. It's my best pitch, and I just thought if you're going to hit it, you're going to hit it, if you're going to miss it, you're going to miss it. So I'm glad he missed it."
One of the few bright spots for the Marlins was third baseman Casey McGehee, who is a Final Vote candidate for the National League All-Star team. McGehee notched a pair of hits, extending his hitting streak to 14 games. But both of his hits led off an inning, and his teammates behind him could not pick up the slack.
Anderson started to look shaky in his last inning of work, giving up his lone run on a sacrifice fly by Adeiny Hechavarria after loading the bases, but by that point, his teammates had already given him an eight-run cushion.
"He changed his speeds," Redmond said. "He threw some changeups. He's got a decent changeup -- enough to keep us off-balance.
"But we gave up five runs in the second inning, so it kind of takes the air out of you. Definitely changes the momentum early in the game, so we were playing catch-up the rest of the day."
Adam Lichtenstein is an associate reporter for MLB.com. This story was not subject to the approval of Major League Baseball or its clubs.