As All-Star break nears, trade market heating up
Price, Peavy, Lee, De La Rosa, Hamels among pitchers who could be moved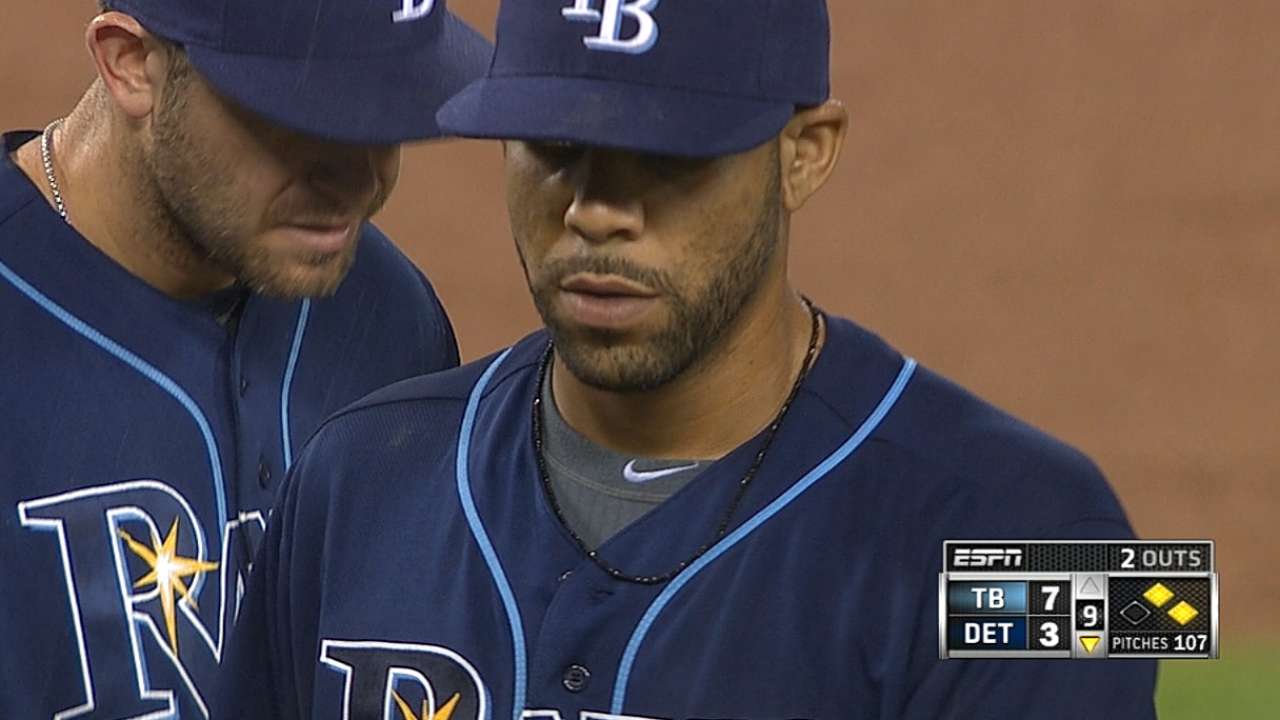 The starting-pitching market for the 2014 non-waiver Trade Deadline took a huge hit in the last week, taking away quite a bit of the drama that was on tap between next week's All-Star break and the July 31 Deadline.
Oh well. The A's did what they had thought they had to do, dealing away their five-tool shortstop prospect, Addison Russell, and another first-rounder, outfielder Billy McKinney, among others, to land Jeff Samardzija and Jason Hammel from the Cubs. Then the Yankees got Brandon McCarthy from the D-backs for Vidal Nuno.
This flurry of activity doesn't mean the dealing is over, however. While what was shaping up to be a lean crop of available starters got significantly more sparse, there are still several big names likely out there for the swapping.
Here's a rundown of the Top 5:
Lock
David Price, LHP, Rays: The cost in prospects for Samardzija and Hammel was hefty, which means the cost for this guy, who's got a 3.48 ERA and 159 strikeouts in 139 2/3 innings, will likely be comparatively astronomical. But Price remains the biggest pitching target on the market and still the most likely to be moved, despite the Rays' improved play of late. Price is 28 years old, left-handed, a former Cy Young Award winner, and the Rays will likely get more return for him at this stage of the season from a contending team shoving its chips all-in than they might over the winter.
Likely
Jake Peavy, RHP, Red Sox: The gutty veteran went to Boston from the White Sox a day before last year's Deadline in a three-club deal and was a contributor to the Red Sox on the road to their inspired World Series win. His current 1-7 record and 4.64 ERA don't exactly scream "attractive" to potential buyers, but the cost in return doesn't figure to be too high, and if the Red Sox take on a good portion of the remainder of the $14.5 million that Peavy is making this year, a team could take a flyer on a guy who's proven to be at his best when the footlights get hot.
50/50
Cliff Lee, LHP, Phillies: Lee is a veteran with a Cy Young Award and a World Series appearance -- not to mention several trades -- on his impressive resume. He makes a huge amount of money ($25 million per year through 2015, a $27.5 million vesting option with a $12.5 million buyout for '16), which makes this situation a tricky one. He also has been on the disabled list since May 19 because of a flexor tendon strain. The latest on Lee's health is that he just pitched a rain-shortened rehab outing and went two innings, so he could be a week or two from being deemed rotation-ready. It remains to be seen if he'll be doing it for the Phillies.
Jorge De La Rosa, LHP, Rockies: The Rockies are not contending in the National League West and the talk is picking up that there might be a slim chance that they'd part with superstar shortstop Troy Tulowitzki -- for a huge package of prospects and players. If that's the case, they almost certainly would be willing to entertain a chat or three about De La Rosa, who is 9-6 with a 4.75 ERA this season but went 16-6 with a 3.49 ERA last year and is slated to be a free agent at season's end.
Long shot
Cole Hamels, LHP, Phillies: Hamels threw another excellent game on Monday night, breaking a five-start winless streak by beating the Brewers. He's signed through 2018 with an average salary of $22.5 million leading to a $20 million option for 2019, so if Philadelphia general manager Ruben Amaro Jr. does decide to deal him, the team getting him will be responsible for one big-time contract. Then again, Hamels is only 30 and is on pace to finish with his lowest season ERA since '11.
Other possibilities: Jon Lester, LHP, Red Sox; Kyle Kendrick, RHP, Phillies; A.J. Burnett, RHP, Phillies; and Justin Masterson, RHP, Indians.
Doug Miller is a reporter for MLB.com. Follow him on Twitter @DougMillerMLB. This story was not subject to the approval of Major League Baseball or its clubs.