Rangers rev up offense, but big inning lifts Astros
Andrus, Beltre come up clutch, but Houston scores six in second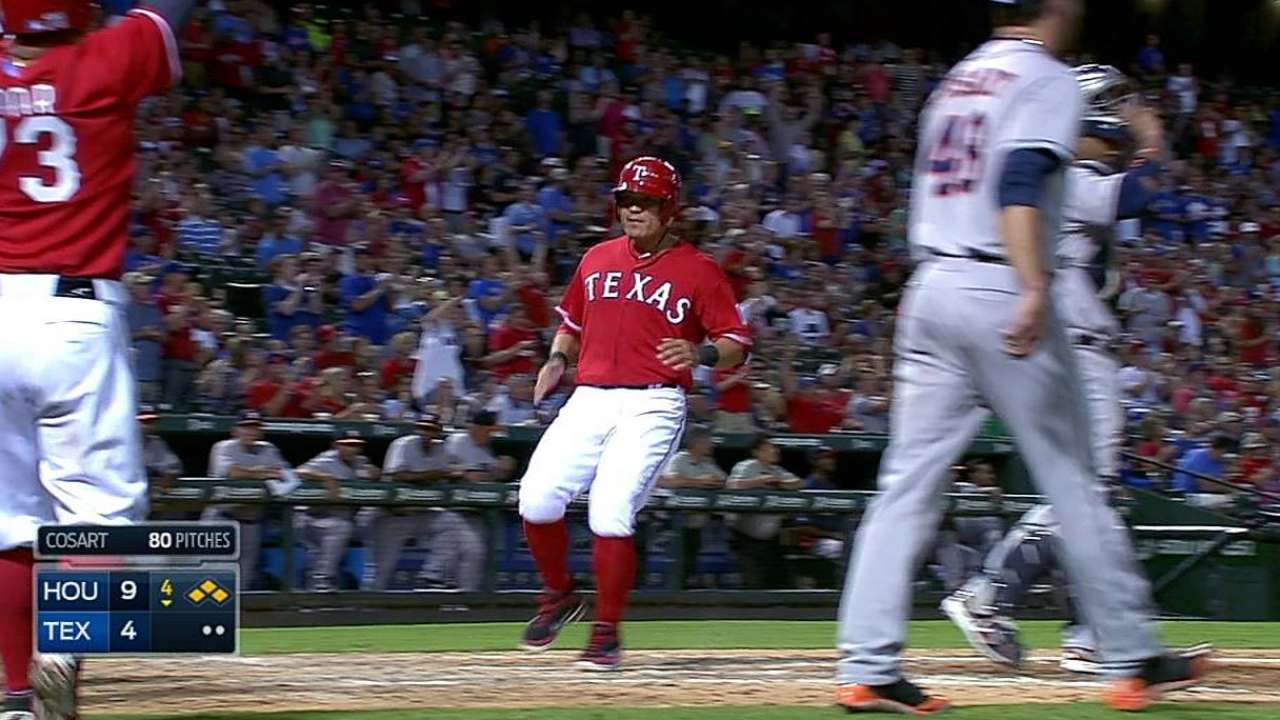 ARLINGTON -- Two teams, 28 hits, 19 runs.
Monday night was an offensive showdown between the AL West's two bottom teams, each desperately seeking a win -- the Astros with a seven-game losing skid, the Rangers returning home after a 1-6 road trip.
And as their bats showed, each were relentless in their quest for the win column.
The Astros set the tone early, and it carried them to a 12-7 win.
In the second inning alone, they scored six runs off seven hits -- six singles and a triple.
"I think I made some good pitches there in the second inning. Some of them might have caught a little too much plate, but I think the first four or five hits that inning were all pretty weak contact," Rangers starter Miles Mikolas said. "And then a triple scores a lot of those guys."
The Rangers found the scoreboard in the second, as well, but their one run was just a fraction of the six the Astros had put up in their half of the inning.
Leonys Martin walked and scored to make it 6-1 after Rougned Odor reached first base on a fielding error by Jon Singleton.
In the third, Alex Rios doubled to center field and scored to make it 6-2 when Adrian Beltre extended his hitting streak to 11 games and doubled to right field.
"They've been coming around. They've been putting runs on the board," Rangers manager Ron Washington said of the middle of his lineup. "We just haven't been able to stop the other team once we put some on the board."
For a moment, it seemed as if the Astros had crushed the Rangers' chances of mounting a comeback for good in the fourth when Singleton sent his sixth homer of the season over the fence in right-center, plating three runs. The Astros went up 9-2.
"If he executes the pitch right there, different story," Washington said of Mikolas, who gave up the homer. "Those are the things that he has to learn. You can throw strikes, but you have to make them quality."
But the Rangers pressed on. With two outs and the bases loaded in the fourth, Elvis Andrus cleared them with a double to deep left field to cut the Astros' lead to 9-5.
Then Beltre homered in the fifth -- and all of a sudden the Rangers were down just three runs, their smallest deficit of the night.
Houston starter Jarred Cosart went five innings with nine hits and six runs, five of which were earned. He struck out just two.
But the Astros extended it to four again in the top of the sixth when Alex Presley homered off Scott Baker, who had replaced Shawn Tolleson. Tolleson pitched 1 2/3 innings in relief of Mikolas, who lasted for just 3 1/3. Mikolas gave up 12 hits and nine runs -- all earned -- to go along with five strikeouts.
Meanwhile Baker went for 3 1/3 innings with three hits, three runs and two strikeouts, earning the praise of his manager.
"Each time we've brought him in he's saved the bullpen. He did it again tonight," Washington said. "Can't say enough about what Baker's done. Every time he's come in, he's saved us."
The Astros scored their 11th and 12th runs in the eighth, the game's final tallies. And though the Rangers had rallied for seven runs -- their most since June 16 -- they had still scored just one run more in the whole game than Houston had in the second inning.
"It was really good to see the offense finally break out. We had been scuffling," Astros manager Bo Porter said. "The fact that we were able to continue to add on runs even when they responded, spoke a lot to the value of today's win."
Washington's offense broke out, too -- just not to that extent.
"They put seven on the board tonight. That should be enough to win a ballgame," Washington said. "But [Houston] put up 12. Had 18 hits. Just couldn't stop them."
Grace Raynor is an associate reporter for MLB.com. This story was not subject to the approval of Major League Baseball or its clubs.