Bruce's homer, Hamilton's big night key Reds
Leake staves off runs in solid outing as Cincinnati takes series opener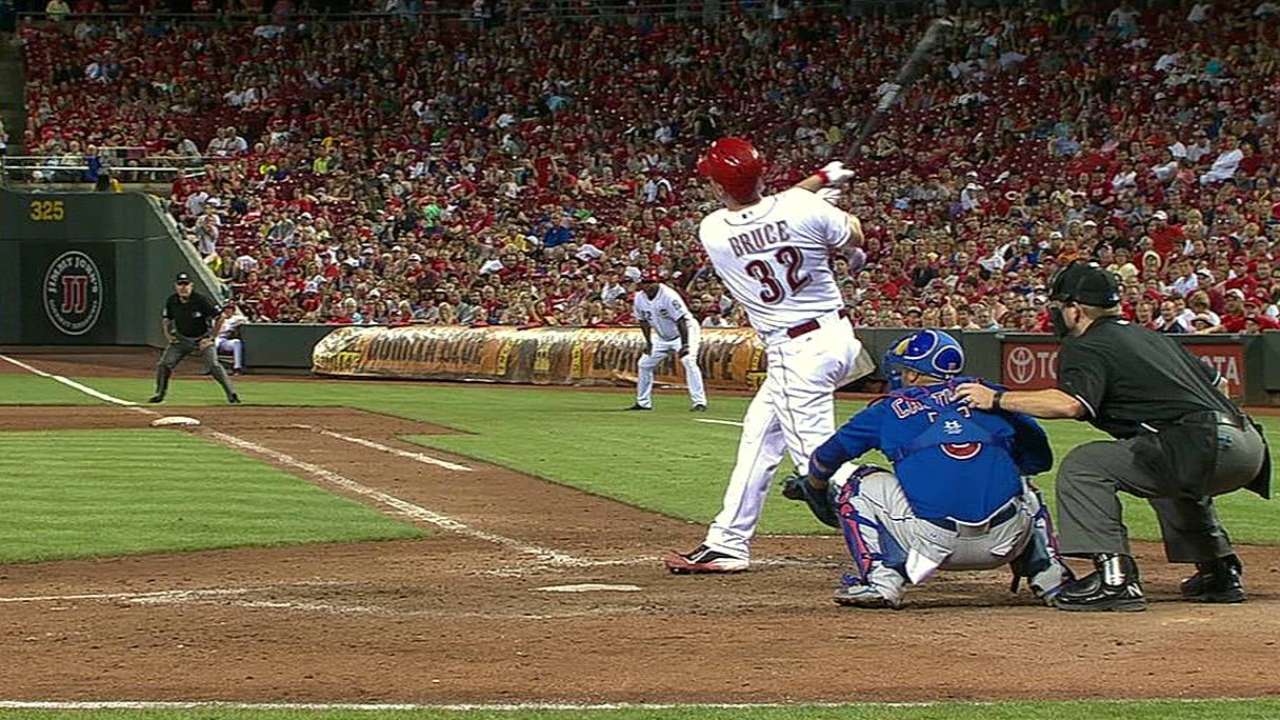 CINCINNATI -- Jay Bruce survived the experiment of playing at first base for the Reds on Monday night. Pitcher Mike Leake survived the constant threat of working with runners in scoring position. And Billy Hamilton has done more than survive -- he has thrived -- when given the chance to drive in runs.
A Bruce fielding error let a run score in the fifth inning, but he hit a two-run home run in the seventh. Hamilton contributed four RBIs and helped seal a 9-3 Reds win over the Cubs at Great American Ball Park.
"At the end of the day, I planned on falling back on being a baseball player and playing baseball and helping the team win in any way I could," Bruce said. "And luckily, tonight, I drove in more than I let in."
Since being swept three games at San Diego, the Reds have won three of their last four games. That included a series win over the Brewers, who lost again Monday. Cincinnati (46-42) trails Milwaukee by five games in the National League Central.
The game included a 21-minute rain delay after the top of the third inning.
Leake had runners in scoring position in each of his seven innings. But that was also when he did some of his better work. He came away with only three runs (two earned) on nine hits with one walk and seven strikeouts. Chris Coghlan was responsible for four of those hits, including two doubles.
"With nobody on base, I'm not worried about giving up hits. Ultimately, I don't want to," Leake said. "Once guys get on base, that's really when I try to turn it on and be a little more particular with my pitches."
Against Cubs starter Edwin Jackson, a Brandon Phillips sacrifice fly scored Hamilton to give the Reds a 1-0 lead in the first inning. Jackson retired 13 in a row until he encountered trouble in the fifth inning.
In the top of the fifth with runners on the corners, Bruce's two-out error came when he missed collecting Anthony Rizzo's ground ball with a backhanded glove near the first-base line. It scored Coghlan to make it a 1-1 game.
Bruce was filling in for the injured Joey Votto (left quad strain) as the Reds were shorthanded for a first baseman.
"I really felt bad missing that ball down the line. It was a tough play, but it was one that I should've made and I expect to make," Bruce said. "But it was fun [playing there and], like I said, it was very, very stressful. And I think that will lessen the more I play."
The offense picked up for Bruce in the bottom of the fifth when Skip Schumaker hit a one-out double to end Jackson's streak and Ramon Santiago followed with a single. After a Leake sacrifice, Hamilton's RBI single to right field snapped the tie. Todd Frazier added his own RBI single to left field for a two-run lead.
In the top of the sixth with runners on the corners, Darwin Barney followed with a routine flyout to right field. Schumaker, filling in for Bruce, completed the inning-ending double play by throwing out Welington Castillo after he tagged up and tried to score.
"Skip has a very good arm and I think that was one of the reasons that I was the candidate to come play first, because we do have some very capable outfielders and we have a deep pool of them," Bruce said.
Devin Mesoraco's RBI double came in the bottom of the sixth, but a two-run homer by Rizzo off Leake with two outs in the top of the seventh brought Chicago to within one run. In the bottom half with two outs, a Phillips walk against reliever James Russell preceded Bruce driving a 3-2 pitch off the lefty for a two-run homer inside the right-field foul pole.
A bases-loaded triple in the eighth by Hamilton gave him a career-best four RBIs on the night and 34 for the season. He is batting .349 with runners in scoring position, which is second-best on the club behind Mesoraco.
"It's funny. I usually don't drive runs in that well," Hamilton said. "My whole career in the Minor Leagues, that's a situation I really pressed at -- guys in scoring position. I was trying to do too much. I didn't do too well. Now I'm letting it come to me. … I'm taking the same at-bat like there is nobody on."
Bruce had two other successful putouts in the game as the Reds hope to have him back in right field sooner than later.
"I thought he did a terrific job," Reds manager Bryan Price said. "Again, it says a lot about our guys that are willing to do what it takes to create a situation where we have a better chance to win the game."
Mark Sheldon is a reporter for MLB.com. Read his blog, Mark My Word, and follow him on Twitter @m_sheldon. This story was not subject to the approval of Major League Baseball or its clubs.