Rizzo belts 18th homer as Cubs drop opener
Jackson enjoys dominant stretch, but allows four runs in six frames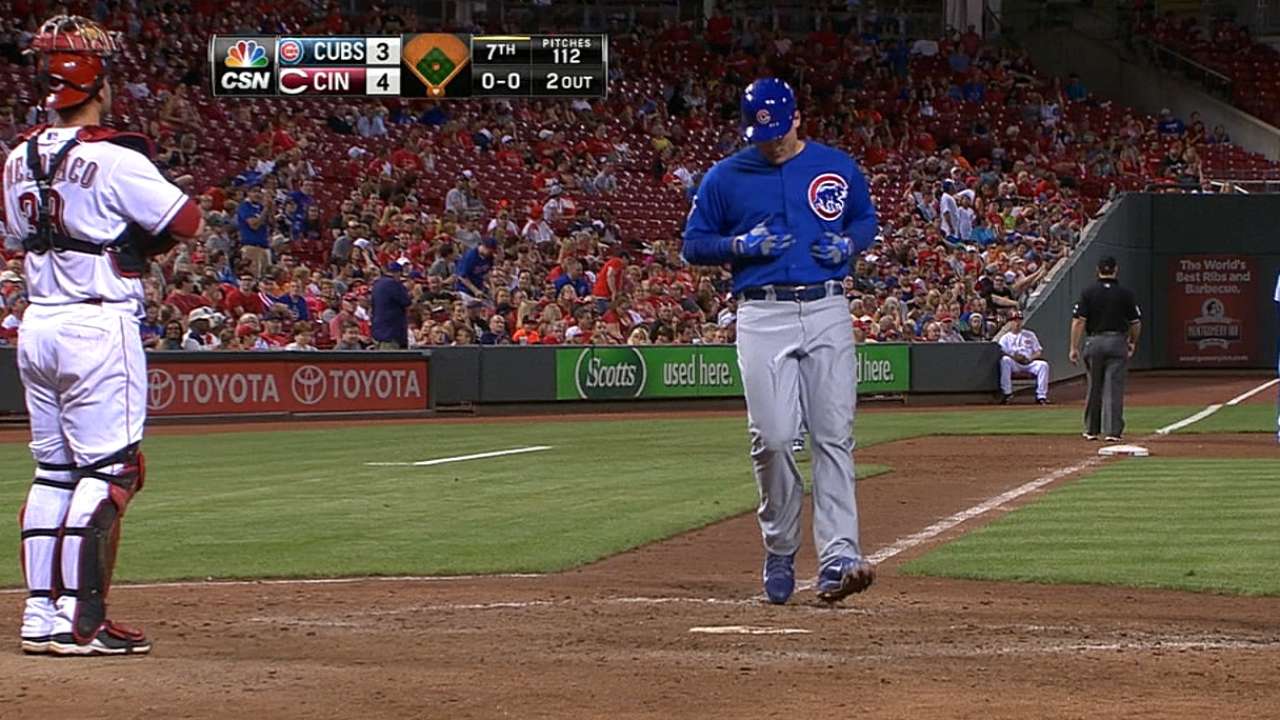 CINCINNATI -- Edwin Jackson retired 13 in a row Monday, and then it seemed as if the Cubs starter couldn't get anyone out.
Jay Bruce belted a two-run homer with two outs in the seventh and Billy Hamilton added a bases-clearing triple in the eighth to lift the Reds to a 9-3 victory over Jackson and the Cubs, who continue to struggle against National League Central opponents.
Anthony Rizzo, a Final Vote candidate for the All-Star Game, smacked a two-run home run in the seventh, his 18th, which leads all NL first basemen. But it wasn't enough, as the Cubs dropped to 15-25 against Central teams this year.
"Whatever happens this week is on the fans," Rizzo said of the Final Vote balloting. "Our team winning will get us in the highlights more. It's nice to get that knock."
Jackson's Jekyll-and-Hyde outing resulted in his ninth loss, and he is one away from matching his loss total in the first half last season (10). The right-hander finished 2013 with the most losses (18) in the NL.
"I feel good -- it's been a matter of one inning," Jackson said.
The Cubs had the leadoff man on in three of the first four innings, but couldn't score, and stranded nine in the game.
"For me, the story line is we had some opportunities to score runs today and [Jackson] gave us a chance," manager Rick Renteria said. "We did have runners in scoring position and left a lot of guys out there. In the last couple days, we just haven't had the timely hitting that we've been having in the past."
Jackson walked Hamilton on four pitches in the Reds' first, and he eventually scored on Brandon Phillips' sacrifice fly.
"We've always had the sense that once he gets through the first, he settles down," Renteria said.
The Cubs answered in the fifth. Chris Coghlan singled with two outs, reached third on Justin Ruggiano's single before scoring on an error by Bruce, who was making his first career start at first base. Bruce couldn't get a glove on Rizzo's grounder down the line.
Jackson ignored a 21-minute rain delay in the middle of the third and retired 13 in a row, beginning with Phillips' fly ball in the first. The Cubs starter did not give up a hit until Skip Schumaker doubled with one out in the fifth, and then the game changed. Ramon Santiago singled, and one out later, Hamilton singled to right to score Schumaker. Todd Frazier added an RBI single for a 3-1 lead. It's part of a bad trend as teams are batting .326 against Jackson with runners in scoring position and two outs.
"It's just a matter of making a pitch with two outs," Jackson said. "A double, next guy gets a single, get a bunt out, get a big strikeout and you're a pitch away from being out of that inning and [Hamilton] hit a pitch that was down and put it in play."
Said Hamilton, who finished with a career-high four RBIs: "It's funny. I usually don't drive runs in that well. My whole career in the Minor Leagues, that's a situation I really pressed at -- guys in scoring position. I was trying to do too much. I didn't do too well. Now I'm letting it come to me. ... I'm taking the same at-bat like there is nobody on."
Despite the loss, Renteria was encouraged by Jackson's outing.
"He gives us a chance," Renteria said of the right-hander. "Every time he goes out there, I feel good that he's going to keep the game within reach and today we had some [scoring] opportunities."
After Devin Mesoraco added an RBI double with none out in the Cincinnati sixth, Rizzo connected with two outs in the seventh, driving in Coghlan, who had doubled for his fourth hit of the game. But Bruce countered with his homer off James Russell that drove in Phillips, who had walked with two outs.
Carrie Muskat is a reporter for MLB.com. She writes a blog, Muskat Ramblings, and you can follow her on Twitter @CarrieMuskat. This story was not subject to the approval of Major League Baseball or its clubs.