Masterson's struggles continue in loss to Yanks
Tribe righty pulled in third inning, charged with five runs on six hits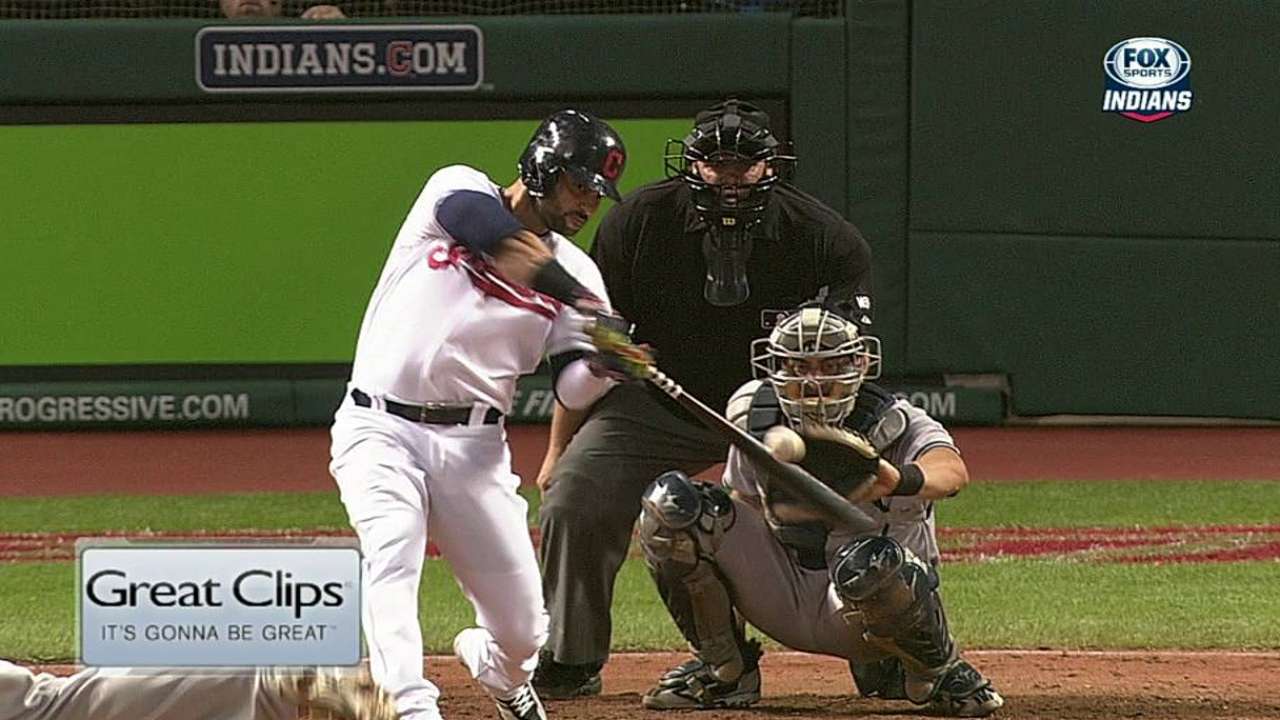 CLEVELAND -- The Indians are still dealing with the great Justin Masterson mystery. On Monday night, Cleveland looked no closer to solving it.
In the opener of a four-game series with the Yankees, Masterson's persistent problems on the mound continued, putting Cleveland in an early hole, wearing out the bullpen and sending the Tribe on its way to a 5-3 loss at Progressive Field. Rookie right-hander Shane Greene did his part for New York, carrying a no-hitter into the fifth inning in his first Major League start.
Any signs of Masterson pulling himself out of his slump were missing from his latest effort.
"The other 24 guys are just fighting for me," Masterson said. "And you feel like, even though I'm putting forth as much effort as I can, you're letting down your guys."
Throughout Masterson's recent woes -- covering most of the past two months -- his command has wavered and the pitcher revealed recently that he has fought a right knee issue at times. Cleveland has insisted that the right-hander is fine physically, making the continued troubles on the hill extremely enigmatic.
In the immediate aftermath of the Tribe's latest loss, Indians manager Terry Francona did not have much to say about the team's plan for tackling Masterson's struggles. Before detailing how Cleveland might handle things with Masterson, the manager said he and pitching coach Mickey Callaway needed to first sit down and discuss the situation with the pitcher.
"I don't think we want to make decisions literally five minutes after the game," Francona said. "We'll sit and talk to Masty. I think that's the first thing to do. ... That's really all I have."
Against New York, Masterson again sat in the 88-91-mph range with his fastball after regularly hitting 96-97 mph as Cleveland's rotation leader and workhorse a year ago. Over his past three starts, the sinkerballer has thrown nearly as many balls (109) as strikes (121) across only nine combined innings for the Indians (43-45).
Masterson has a 13.00 ERA over his last three starts, a 9.50 ERA over his past five turns and a 7.16 ERA in his last 11 outings, dating back to May 13. His nine starts with at least five runs allowed are currently the most such games among American League starters. Over the recent five-start stretch, Masterson has given up 19 runs on 27 hits with 17 walks in 18 innings (roughly 3 2/3 innings per start).
"It hasn't just been tonight," Masterson said. "It's been the last few. That's the frustrating part."
If the Indians do consider a trip to the disabled list for Masterson, who has noted that his knee has bothered him since his second start of the season, the top two options at Triple-A Columbus are right-handers Zach McAllister and Danny Salazar. Both of those pitchers began this season in the Opening Day rotation.
Masterson did not want to think about a trip to the DL.
"We'll talk about it, I guess, if that were brought up," Masterson said. "But any competitor I think wants to go out there whenever he can."
In a 30-pitch second inning, the first seven Yankees hitters reached base and Masterson allowed three runs on four hits, including an RBI double to Brian Roberts and an RBI single to Brett Gardner. Masterson then endured some self-inflicted damage by walking Yankees shortstop Derek Jeter with the bases loaded to force in a run.
It took a complicated rundown and a highlight-reel double play initiated by first baseman Carlos Santana to escape the second.
"Fortunately," Francona said, "we got them caught in the rundown and then Carlos makes a really good play and gets a double play. So, that keeps us kind of within striking distance."
Francona allowed Masterson to take the mound to start the third, but the pitcher issued a leadoff walk and allowed a base hit before being lifted. It marked the AL-leading eighth time this year that Masterson logged fewer than five innings in a game. That marks the most such outings in a full season by a Cleveland starter since 2004 (Cliff Lee, eight).
Following Masterson's exit, New York padded its lead with two more runs with rookie reliever Kyle Crockett on the mound. Both runs were tacked onto Masterson's line, which included five runs surrendered on six hits. The right-hander ended with three walks, one strikeout and a career-low 54 pitches (among his starts not shortened by either rain or injury).
"They did a tremendous job coming in," Masterson said of the bullpen, which was charged with no runs in seven innings. "I put Crockett in a bad situation. I've done that to him a couple times now, but again, he kept his cool, did his thing, limited the damage as much as he could. And then the rest of the guys just came in and got outs.
"That's what you want. That started getting the offense going. They got excited and started putting some runs up."
Greene cruised through the first 14 hitters he faced without relinquishing a hit, but then yielded a solo home run to Nick Swisher in the fifth inning. The Yankees starter lasted six innings, during which he also gave up an RBI single to Asdrubal Cabrera in the sixth. Yan Gomes added a leadoff homer against New York lefty David Huff in the eighth, but that was where Cleveland's rally ended.
"Close, but no cigar," Masterson said.
The early hole proved too deep for the offense to overcome.
"He's giving everything he's got out there," Swisher said. "That's what you want to respect about a man. We're not worried about him. There's a lot of baseball left to be played. I don't think any of us are stressing any of this in here. I don't think Justin Masterson's a worry to any of us."
Jordan Bastian is a reporter for MLB.com. Read his blog, Major League Bastian, and follow him on Twitter @MLBastian. This story was not subject to the approval of Major League Baseball or its clubs.