MLB.com Columnist
Bill Ladson
Nats allow six runs in 11th during loss to O's
Final Vote candidate Rendon hits game-tying homer in sixth inning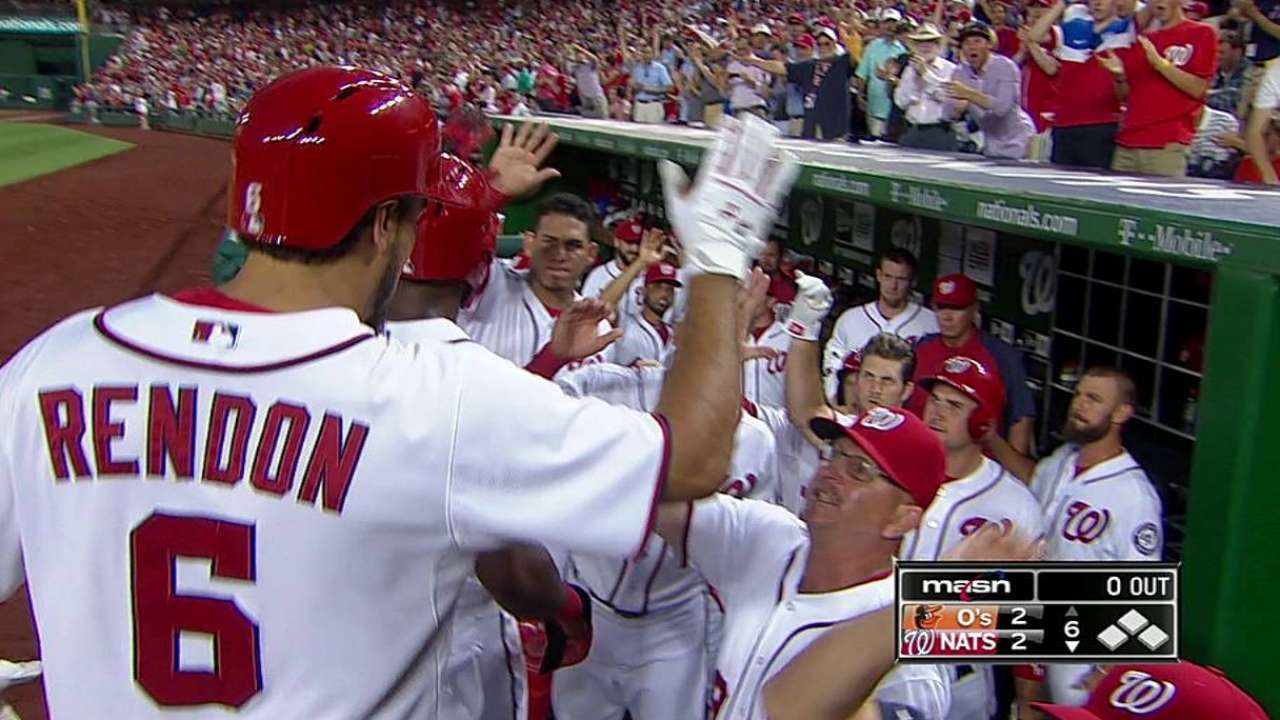 WASHINGTON -- The Battle of the Beltways began at Nationals Park between the Nats and Orioles on Monday night. In Game 1, Chris Davis' home run in the top of the 11th inning kicked off a six-run frame as the O's won, 8-2.
The Nationals are 2-8 in extra-inning games.
Right-hander Craig Stammen is one of the Nationals' most reliable relievers. But he had his worst outing of the season, and it came with the score tied at 2 in the 11th. After Nelson Cruz reached on a broken-bat single to left field, Davis came to the plate and it looked like he had struck out looking on a 2-2 pitch, but home-plate umpire Gary Cederstrom called the pitch a ball.
"I thought it might have been a good pitch. I may have thought it was a strike, but I'm not the umpire, so it doesn't matter," Stammen said.
Davis took advantage of the situation after that. On the next pitch, Stammen tried to throw the ball down and away, but the ball was up and Davis hit a mammoth two-run home run over the right-center-field wall to give Baltimore a two-run lead.
"I said earlier today I feel like for the last month I've been one swing away," Davis said. "I've done everything I can to get here early and hit off the tee, look at video, hit early BP if I can. It was just a combination of things. The pitch I fouled off, I was like, 'Wow, I actually stayed through on that.' [Stammen] made some tough pitches, some close pitches. I was just able to hang in there."
It would get worse for Stammen, and it didn't help that his slider was nowhere to be found. J.J. Hardy followed and hit a home run over the left-field wall, and four batters later, Nick Markakis doubled to right-center field, scoring Nick Hundley.
Aaron Barrett entered the game and allowed a two-run homer to Manny Machado to make it a six-run game. Machado had a career-high five hits in his six at-bats.
Stephen Strasburg was dominant except for one of his seven innings, allowing two runs on four hits, with nine strikeouts. The Orioles scored their two runs off Strasburg in the fourth inning, when Cruz hit a two-run homer over the right-center-field wall to give them a 2-0 lead.
"I was trying to go out there and build off [my] last start," Strasburg said. "I was focusing on executing the pitches. I tried not to analyze every pitch as much. I was trying to get into the flow of the game."
Orioles right-hander Chris Tillman was just as good as Strasburg. Tillman also lasted seven innings and allowed two runs on five hits. The Nats ended up tying the score in the sixth inning.
After Denard Span led off with a single, National League Final Vote candidate Anthony Rendon swung at the first pitch and hit a mammoth homer to tie the game at 2. The Nationals are 25-1 when Rendon and Span score in the same game.
"I put the barrel on it," Rendon said. "[With Tillman], nothing was the same speed the whole night. He changed speeds often."
The Nationals had a chance to win the game in the bottom of the ninth inning against right-hander Darren O'Day. Washington has runners on first and second with one out, but both Ian Desmond and Wilson Ramos struck out to end the threat.
"You figure that a right-handed side arm pitcher [like O'Day], the ball sinks a lot. But he was throwing balls up in the strike zone," Nationals manager Matt Williams said. "That's difficult to see because it comes from down here and it's a completely different angle than you are used to: up to down as opposed to down to up. That's why he is in that spot. He is really tough on right-handed hitters."
With the loss, the Nationals are 48-40 and still a half-game behind the Braves in the NL East.
Bill Ladson is a reporter for MLB.com and writes an MLBlog, All Nats All the time. He also could be found on Twitter @WashingNats. This story was not subject to the approval of Major League Baseball or its clubs.