O's blast three HRs in 11th to top Nationals
Davis hits go-ahead shot, then Hardy, Machado also go deep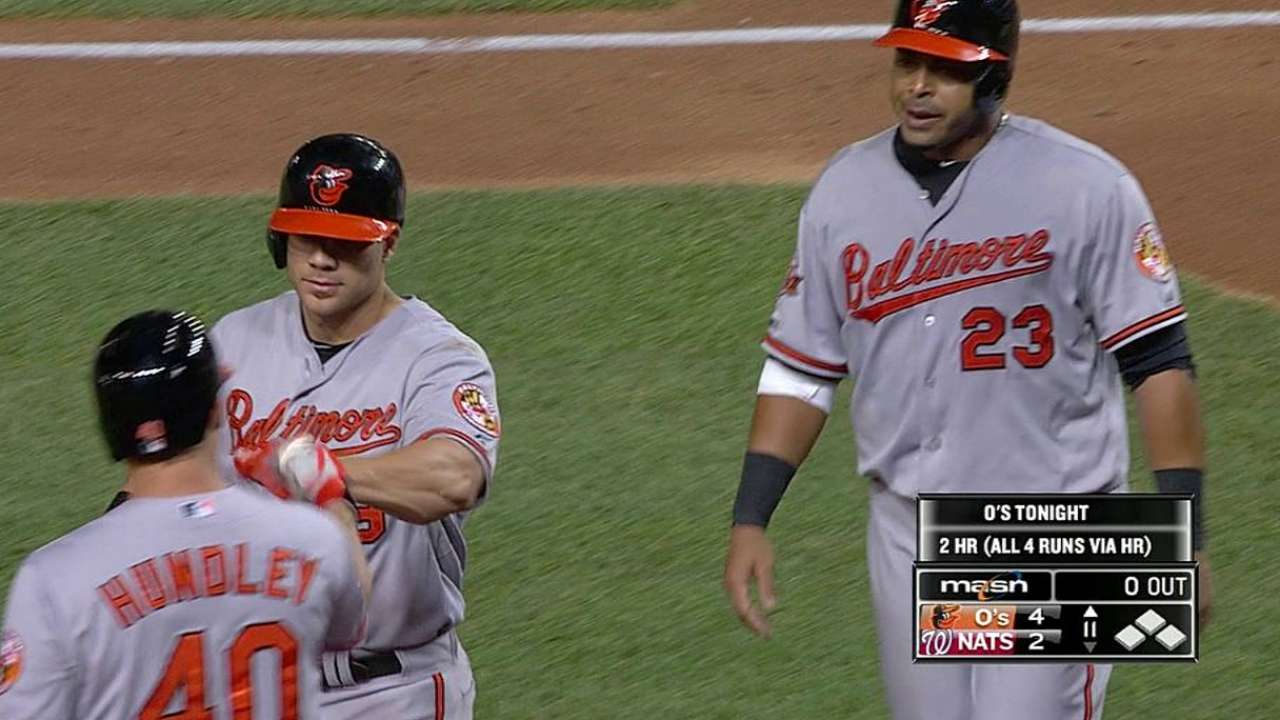 WASHINGTON -- Orioles first baseman Chris Davis was just hoping he was in Monday's lineup.
The struggling slugger -- benched on Sunday after going 0-for-8 with six strikeouts during Saturday's doubleheader -- dug in for his at-bat in the 11th inning, 0-for-4 in the game with a batting average under .200 while in the midst of his most prolonged slump since coming to Baltimore.
It took just one swing to forget all that. Davis crushed Nationals reliever Craig Stammen's full-count pitch, launching a two-run homer that helped the Orioles break out with a six-run inning to topple the Nationals, 8-2, in the series opener of the Battle of the Beltways series. Also fueled by 11th-inning homers from J.J. Hardy and Manny Machado -- who had a career-high five hits -- the Orioles put on a late show for the rowdy crowd of 35,126 at Nationals Park.
"When we stopped them the inning before, I knew the next inning I was coming up. And with Nelson [Cruz] being as hot as he is, I just kind of thought, 'This is my chance to redeem myself,'" said Davis, who watched Cruz reach on a broken-bat single before him. "I've been doing everything I can. I want to be the player I know I can be for these guys. I know it will be huge for this team if I can step up and start swinging a little bit. So it was definitely good to come through right there."
The victory, which also saw Cruz hit his Major League-leading 28th homer, puts the Orioles (49-40) a season-high nine games above .500 for the first time since Sept. 20, 2013. Fresh off a 12-inning win in Boston on Sunday, Baltimore has played 41 innings over the last three days but has shown no signs of slowing down, improving to 26-19 on the road with its latest victory.
"It was awesome," starter Chris Tillman said of watching Davis, who led the Majors with 53 home runs last season, put the O's on his back. "He deserves it. He works his butt off. He has been struggling, but as the game goes on you kind of sit there and say, 'Gosh, this guy looks so much better at the plate.' He's probably a little frustrated, but he came up with the big hit and it kind of sparked that whole 11th-inning rally. He had been grinding away, and what do you do? He put a good swing on a good pitch."
Tied at 2 in the 11th, Davis -- who was 2-for-38 since June 27 with a pair of singles entering the at-bat -- delivered his first homer since June 23. Hardy followed with a solo shot and Nick Markakis added another run with a double to chase Stammen from the game. Machado put things out of reach, taking Aaron Barrett deep into the left-field stands.
"It was a big inning for us," Machado said. "We needed that, and we needed this win."
Lefty T.J. McFarland picked up the win with two scoreless innings, capping a solid pitching performance all around from the O's. Darren O'Day, who pitched a perfect eighth inning, worked out of a sticky situation in the ninth after allowing a one-out double off the out-of-town scoreboard to Ryan Zimmerman. O'Day intentionally walked Bryce Harper and then struck out Ian Desmond and Wilson Ramos to send the game into extras.
"You figure that a right-handed sidearm pitcher, the ball sinks a lot. But he was throwing balls up in the strike zone," Nationals manager Matt Williams said of O'Day. "That's difficult to see because it comes from down here and it's a completely different angle than you're used to: up to down as opposed to down to up. So that's why he's in that spot. He's really tough on right-handed hitters."
Tillman, who matched Nationals starter Stephen Strasburg over seven innings, turned in his fifth quality outing in his last six games and gave the team a much-needed deep start.
"He was solid," Orioles manager Buck Showalter said of Tillman. "First inning he was a little soft. He picked it up a lot as soon as ... it's very easy to forget the outing he gave us. He was good. He even put the ball in play twice. We were excited about that."
Tillman, who didn't allow a hit until Strasburg's one-out single in the third, held the Nats to two singles over the first five innings before Washington tied it up. At just 65 pitches to start the bottom of the sixth, Tillman surrendered a leadoff single to Denard Span, and Anthony Rendon sent a ball over the right-field fence for a two-run homer to tie the game at 2.
"It was good," Tillman said of his outing. "I felt much better. Stayed on the rubber a little bit longer mechanically and that translated into being able to throw strikes with about every pitch."
Tillman was staked to a 2-0 lead courtesy of Cruz, who eclipsed his season total from last year with a blast off Strasburg in the top of the fourth inning. That was all the O's would get off Strasburg, who allowed just four hits, three of which were to Machado, on a nine-strikeout night.
"He's one of the best in the game," Machado said of Strasburg. "You've just got to go out there and keep grinding, keep grinding it out. That definitely makes it better.
"A lot of baseball has been played. We're just going to keep grinding it, keep having fun like we're doing. Take it inning by inning and out by out, and just keep grinding it out. It's been a tough couple of days. We've got to put that behind us, like we put today behind us and come out tomorrow hard."
Brittany Ghiroli is a reporter for MLB.com. Read her blog, Britt's Bird Watch, and follow her on Facebook and Twitter @britt_ghiroli. This story was not subject to the approval of Major League Baseball or its clubs.