Iwakuma whiffs 10, extends mastery of Twins
Zunino, Saunders go deep as righty moves to 5-0 vs. Minnesota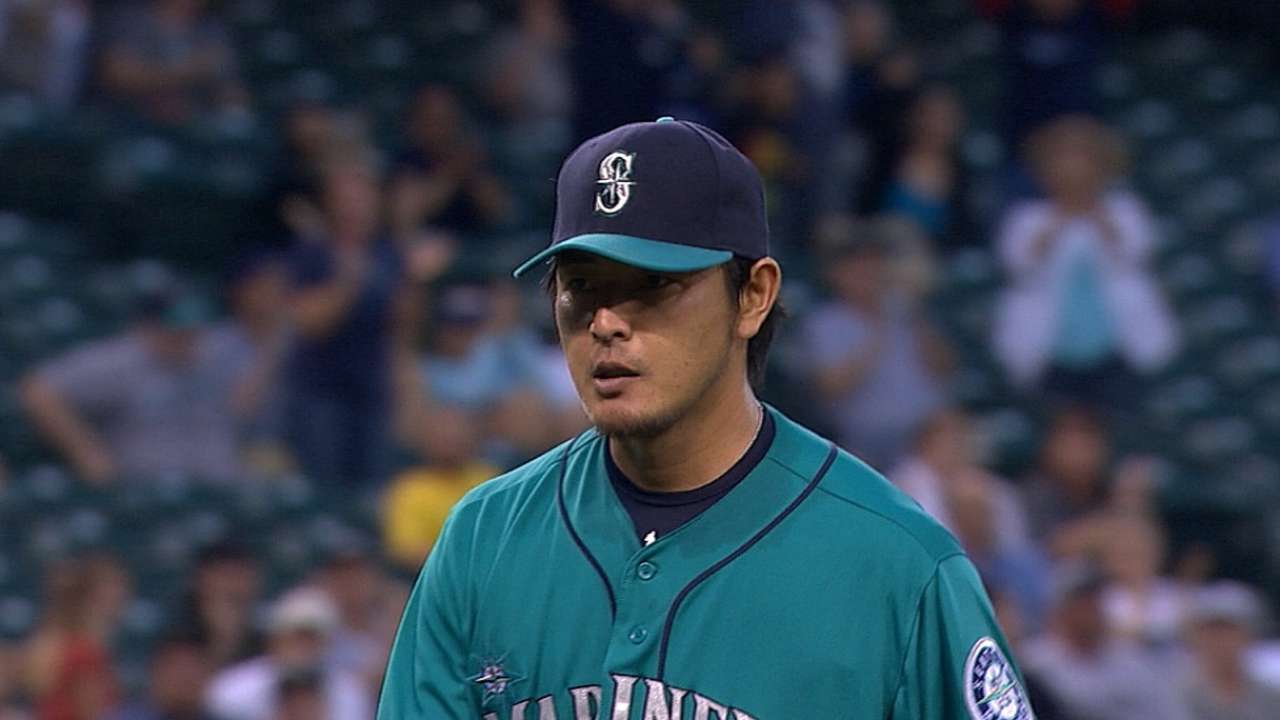 SEATTLE -- Mariners right-hander Hisashi Iwakuma didn't have any great words of wisdom to offer as to why he has dominated the Twins in unprecedented fashion, but that's OK. The Twins didn't have any answers for Iwakuma either as they fell, 2-0, on Monday at Safeco Field.
Iwakuma threw seven scoreless innings and has yet to allow an earned run to the Twins over five starts in his three seasons in the Majors. The 2013 All-Star gave up just four hits with no walks and 10 strikeouts in his latest Twins killing, the third time in his career he's had double-digit strikeouts in a game.
Iwakuma is the second Major League pitcher since 1914 to hold an opponent to zero earned runs in his first five career starts against them. Larry Jaster of the Cardinals did the same to the Dodgers in 1966.
Iwakuma's career line against the Twins: 5-0, 0.00 ERA, 20 hits, 8 walks and 34 strikeouts in 33 2/3 innings.
Why does he match up so well against the Twins?
"I'm able to pitch my own game and we go through a very good gameplan with my catcher, [Mike] Zunino," Iwakuma offered, through translator Antony Suzuki. "We're on the same page and that helps a lot."
Twins manager Ron Gardenhire had a more succinct theory.
"It doesn't matter how many times you face great pitchers because there's a reason why they have good records and good ERAs," Gardenhire said. "It's because they have good stuff."
Iwakuma's stuff was as good as it's been all year as the 33-year-old Japanese standout improved to 7-4 with a 3.07 ERA in 13 starts after missing the first month of the season with a finger injury.
After a brief two-game slump at the end of June, Iwakuma has allowed just one run over 13 innings in his last two outings. Zunino said Monday's start was the best he has seen from his teammate.
"Unbelievable," Zunino said. "He didn't have much of a Spring Training, so you have the ups and downs. But this was him sort of hitting that stride right now. His split was sharp, his fastball was sharp, he had a little extra velo today. So I think this was him sort of getting back into that comfortable phase of where he fits in."
Iwakuma allowed a runner past first just once and it came at a critical juncture in the seventh when the Twins put runners on second and third with a single by Kendrys Morales and a one-out double by Oswaldo Arcia. But Iwakuma stranded those two with a groundout by Chris Colabello and a strikeout of Sam Fuld with a nasty splitter that induced a rare show of emotion from the stoic right-hander as he pumped his fist into his glove.
"I didn't see it," said manager Lloyd McClendon. "I was on the floor with my own show of emotion."
But McClendon stuck with his starter in that tight situation even with a bullpen warm and ready as Iwakuma's pitch count reached 105.
"My feeling was it was his ballgame to win or lose right there," McClendon said. "He's a veteran, he's been pitching well. His pitch count was relatively manageable. I just felt he should have that opportunity to decide his fate at that point."
Danny Farquhar pitched a perfect eighth before Fernando Rodney came on for his American League-leading 26th save. The Mariners pitching staff has allowed just three earned runs over its last 31 innings to lower its ERA to 3.16 on the season, the second-best mark in the league.
The Mariners provided just enough offense with the long ball to get Iwakuma the win as Zunino homered in the second and Michael Saunders went deep in the seventh, both shots off right-hander Kevin Correia.
Zunino's bolt came on a full-count fastball for his 13th homer of the season, the most by any catcher in the American League and tied with Kyle Seager for the team lead.
Saunders then hit his sixth of the season with a shot that narrowly cleared the glove of Fuld at the top of the center-field fence to give Iwakuma an insurance run before McClendon went to his bullpen.
Fuld crashed into the wall and was momentarily shaken up, leaving everyone in the stadium wondering if he'd come down with the ball as Saunders circled the bases and waited for a signal from the umpires.
"That's a tough play that Sam makes more often than you'd think," said Saunders. "I knew I hit it well and I saw him go up to make a play on it. When he came down, I wasn't sure what was going on, so I sort of quickened my pace around the bases. That will probably be the least-celebrated home run I'll ever hit. When I was in the dugout, I was still waiting for him to show the ball. I'm glad he's OK. And I'm glad he didn't catch the ball."
The Mariners have now taken 13 of their last 19 games against the Twins at Safeco Field. Seattle is 22-12 since June 1 to put its season record at 49-40, while the Twins fell to 39-49.
After struggling early in the season at home, Seattle has won eight of its last 10 games at Safeco Field to even the home record at 22-22.
Greg Johns is a reporter for MLB.com. Follow him on Twitter @GregJohnsMLB as well as his Mariners Musings blog. This story was not subject to the approval of Major League Baseball or its clubs.