Correia solid, but Iwakuma stays thorn in Twins' side
Righty charged with 11th loss despite limiting Mariners to two runs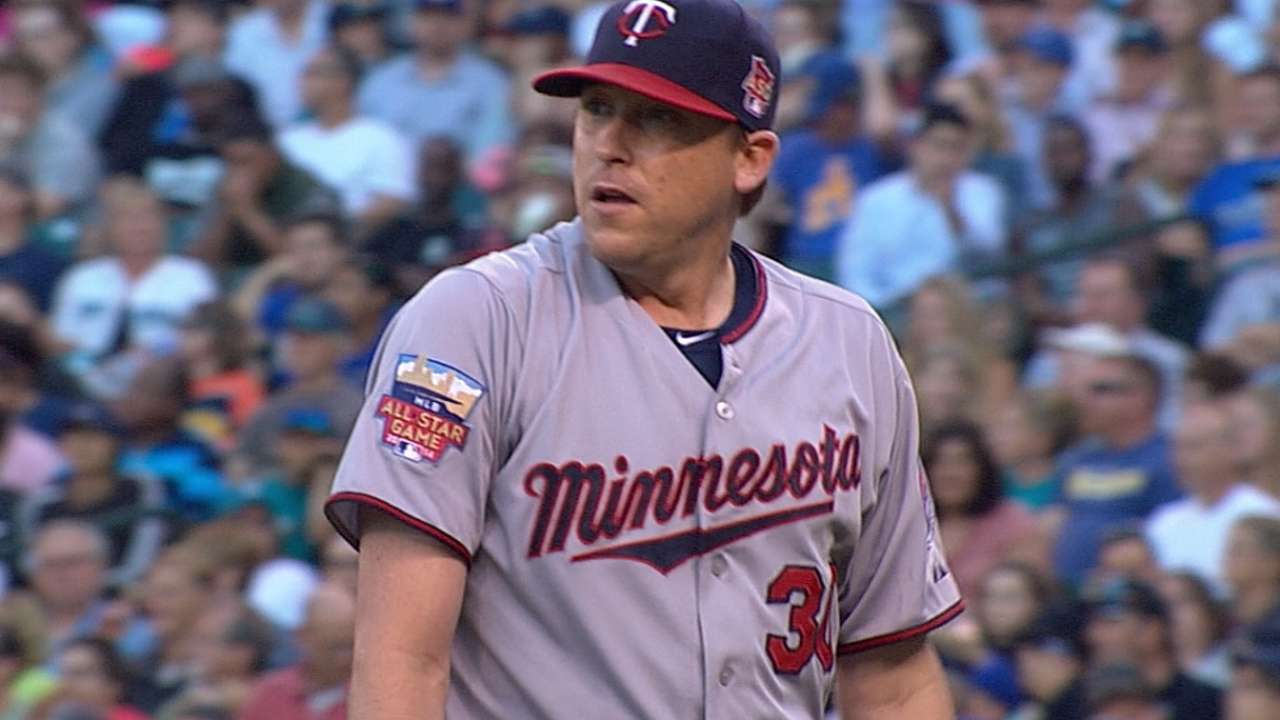 SEATTLE -- Tough-luck losses are becoming the norm for Kevin Correia, and unfortunately for the Twins, losses in general, have been the norm over the last two weeks.
Correia tossed seven strong innings, but Hisashi Iwakuma continued his mastery of the Twins to lead the Mariners to a 2-0 win on Monday night at Safeco Field. It handed the Twins their 11th loss over their last 14 games, and dropped them to a season-worst 10 games under .500 at 39-49.
The Twins can't seem to match up strong pitching performances with any offense, and on the days they do have the offense going, the pitching struggles.
"Kevin did a fantastic job," Twins manager Ron Gardenhire said. "Unfortunately, we weren't able to come through with any runs on their guy. He was really good too and did a nice job. So a tough night."
Correia gave up two runs on five hits and three walks, but was saddled with the hard-luck loss -- his American League-leading 11th of the year. Correia has a 3.39 ERA over his last 10 outings, including seven quality starts, but still has six losses over that span.
"I've been on streaks," said Correia, who has a 4.79 ERA on the year. "I had a rough start where I thought I was due to have some better outings and I was able to do that. But I still want to win some games. I feel like we scored a lot of runs early in the season and I wasn't able to take advantage of it, and now we're not scoring as many runs. So hopefully the two will come together and we'll be able to turn it around."
Both runs given up by Correia came on homers. The first homer he surrendered came in the second inning on a shot to Mike Zunino. It was the 13th homer of the year for Zunino and came on 3-2 fastball.
The Mariners added another run in the seventh on a blast from Michael Saunders. It was the seventh homer of the year for Saunders and was just out of reach of a leaping Sam Fuld in center field. It also came on a fastball from Correia with a full count.
"That's a tough play that Sam makes more often than you'd think," Saunders said. "I'm glad he's OK. And I'm glad he didn't catch the ball."
It was enough offense for Iwakuma, who scattered four hits over seven scoreless innings while setting a season-high with 10 strikeouts. Iwakuma improved to 5-0 with a 0.00 ERA in five starts against the Twins, as he's yet to allow an earned run against Minnesota in 33 2/3 innings dating back to 2012.
"He had his good stuff," said third baseman Trevor Plouffe, who went 0-for-4 with three strikeouts. "He kept everything down tonight. He was getting that low pitch and using that to his advantage. His keeping guys off-balance with his split. When he's on, it's going to be a tough game."
The Twins had few scoring chances against Iwakuma, but their best opportunity came in the seventh, when Kendrys Morales opened the inning with a single against his former team. Oswaldo Arcia doubled to right field with one out, but the slow-running Morales was held at third base on the play.
Fellow first baseman Chris Parmelee was brought in to pinch-run for Morales at third base, but was stranded there, as Chris Colabello grounded out to third base and Fuld struck out to end the inning.
Gardenhire was frustrated with himself after the game, as he said he thought about pinch-running Parmelee earlier in the inning but didn't.
"I don't know if Parmelee would've scored on that ball either, but it's important, and I'm frustrated because maybe he could've," Gardenhire said. "We needed to get that run in. But I'm more mad at myself than anything else because I thought about it and didn't do it because of the situation with our bench."
Danny Farquhar and Fernando Rodney each threw a scoreless inning after Iwakuma departed to complete the shutout. It marked the seventh time the Twins have been held scoreless this year.
"It's always frustrating to lose games," Correia said. "No matter what the situation is, there's going to be some frustration losing games."
Rhett Bollinger is a reporter for MLB.com. Read his blog, Bollinger Beat, and follow him on Twitter @RhettBollinger. This story was not subject to the approval of Major League Baseball or its clubs.