Halos win 11th straight at Big A despite losing Weaver
Shoemaker steps up against Blue Jays after stiff back shuts down ace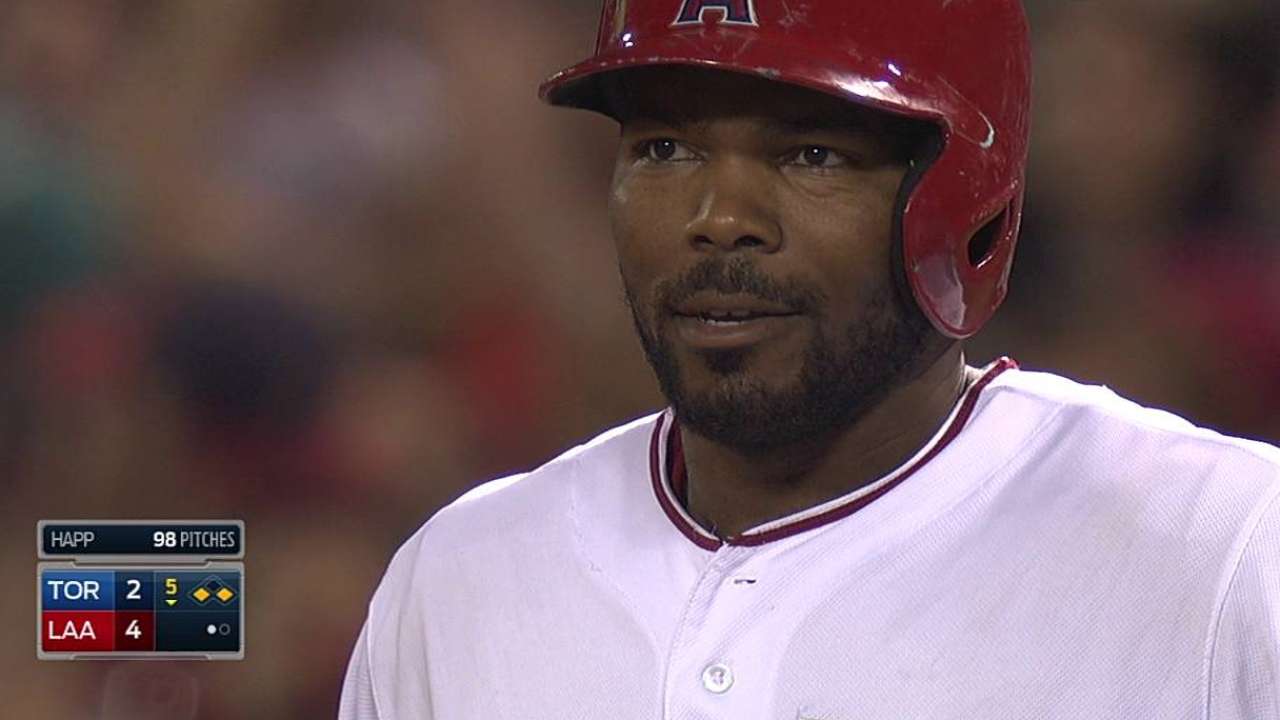 ANAHEIM -- Matt Shoemaker earned a job on Monday -- then he proved he deserved it.
Hours after manager Mike Scioscia said Shoemaker would remain in the starting rotation, the 27-year-old rookie was called on for an emergency bullpen performance and helped the Angels to a 5-2 win over the Blue Jays at Angel Stadium.
Shoemaker tossed 3 2/3 innings of two-run ball after Jered Weaver exited after two innings with lower back tightness.
"Shoe had a really gritty performance," Scioscia said.
The win was the Angels' 11th consecutive at home, their longest streak since winning 12 straight in 1967. The Angels (52-36) have won 17 of their last 18 at Angel Stadium and their last five overall.
Toronto (47-44) fell to 0-5 on its 10-game road trip.
Shoemaker allowed a Blue Jays baserunner in each of his four innings, but limited the damage with two strikeouts and five flyouts.
"Especially when you're not expecting it, it's one of those things you gotta overcome and turn the switch on, mentally and physically," Shoemaker said. "Just looking to get my body going, get my mind right, make some pitches and get some outs."
Shoemaker, who had last pitched on Thursday, made his third appearance on three days' rest this season, but neither of the previous two were as taxing.
On June 7, Shoemaker tossed five innings four days after an inning in relief, and on June 11, he faced only one batter on three days' rest.
"You talk about trying to earn respect points, and Shoemaker definitely did that tonight, going on three days' rest and not thinking he was going to pitch tonight," said Weaver, who expects to make his next start. "For him to step up and do what he did was pretty spectacular."
The Angels backed Shoemaker (7-2) by putting up four runs in the fifth inning behind four hits and two walks. Albert Pujols (single to right-center), Josh Hamilton (sacrifice fly to center), Howie Kendrick (single up the middle) and Erick Aybar (double to left) all drove in runs as the Angels sent nine batters to the plate.
Only the leadoff at-bat did not come with men in runners in scoring position, with Chris Iannetta narrowly missing a homer on his double off the right-field wall. Walks to Kole Calhoun and Mike Trout followed to set up the rally. Blue Jays starter J.A. Happ finished with three walks in the game.
"That's when he gets into trouble when he loses the strikezone," Toronto manager John Gibbons said of Happ. "I don't think it was anything in his approach or anything like that, every now and then he'll go through those stretches where it deserts him."
The Angels were 3-for-5 with two walks and a sacrifice fly with RISP in the fifth and 0-for-5 with two walks the rest of the game.
Kendrick and Iannetta both went 3-for-4 to net the lion's share of the Angels' 10 hits.
Happ (7-5) did not make it through five innings, allowing five runs on seven hits. Half of Happ's last six starts have lasted fewer than five innings.
The Angels turned to Joe Thatcher, Jason Grilli, Kevin Jepsen and Joe Smith to patch together the final 3 1/3 innings and close out the win.
"At least [Shoemaker] got us to a point where we had our bullpen lined up," Scioscia said. "I think once it got to that point, we were best served to get some guys in there that were ready to go out in the bullpen instead of stretching Matt to maybe what could be an unhealthy pitch count.
"He definitely had more in the tank but the way the game set up and where we were, we were ready to go to our 'pen."
The final four Angels relievers combined to retired 10 of the 11 Blue Jays they faced. Smith picked up his 11th save.
The Angels have also evened their franchise record at 4,272-4,272-3 and reached the .500 plateau for the first time since they were 1-1 as an expansion team in 1961.
They are the first expansion franchise with an all-time record at or above .500 and the 13th franchise in the Majors with the distinction.
Matthew DeFranks is an associate reporter for MLB.com. This story was not subject to the approval of Major League Baseball or its clubs.