MLB.com Columnist
Phil Rogers
After dealing Samardzija, Cubs have chips to get Price
With collection of young hitters, Epstein has resources to pull off blockbuster trade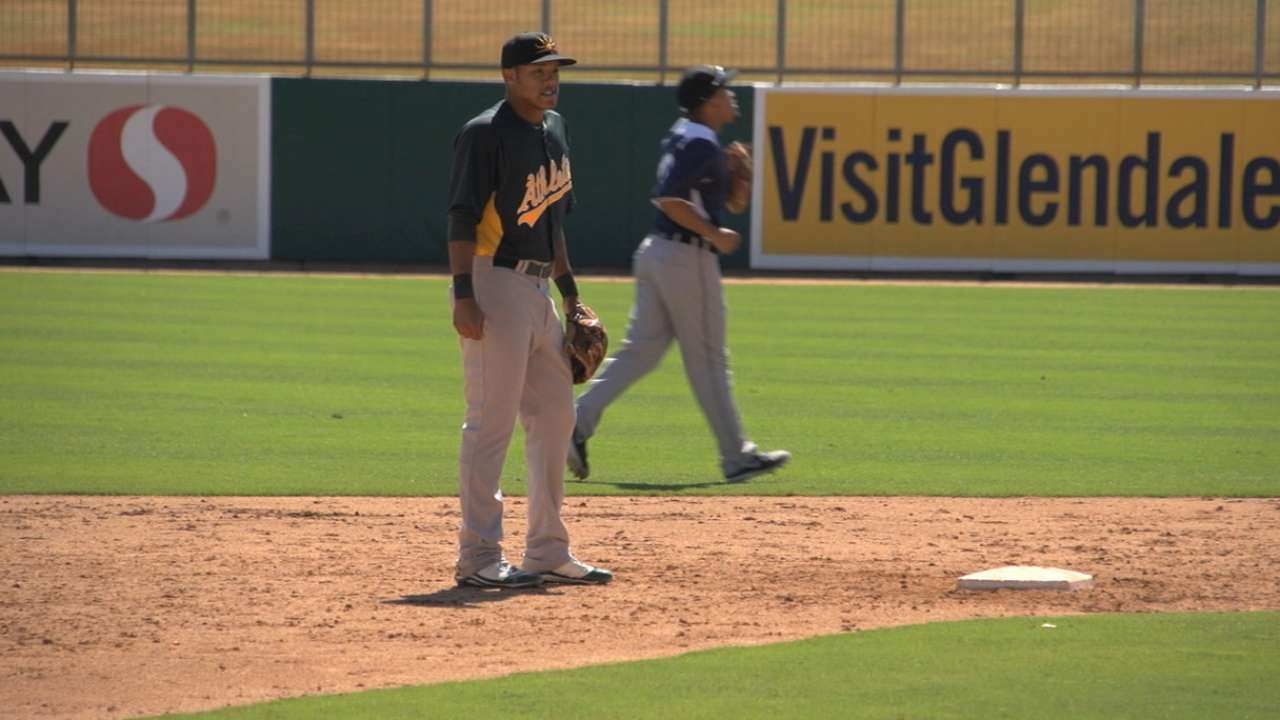 CHICAGO -- David Price at Wrigley Field?
Given the Cubs' position in the standings, it sounds crazy to speak of them as a possible pursuer for the best pitcher on the market. But after trading Jeff Samardzija and Jason Hammel, president of baseball operations Theo Epstein might be in the best position of all executives to put together a package that would pry the 28-year-old lefty away from the Rays.
Epstein, Jed Hoyer and Jason McLeod have amassed by far the deepest collection of young hitters at a time when probably 25 teams are more worried about their hitting than their pitching. They know that their organization is lacking in front-of-the-rotation arms, but after adding Addison Russell and Billy McKinney, they're more confident than ever that they can fill that need, with the move timed according to their schedule.
"We have a lot of resources, both in terms of money and potentially in terms of players, to go acquire the pitching we need at the right time,'' Epstein said. "I really feel like there's light at the end of the tunnel.''
These days, the Rays feel that way in regard to their 2014 team. The just completed 9-2 trip to Baltimore, New York and Detroit has increased the chances that Tampa Bay will hold onto Price at the July 31 non-waiver Trade Deadline, buying time for Joe Maddon to complete an amazing recovery.
That would probably fit the Cubs' timing better, but if the Rays wanted to trade Price this month, why couldn't Epstein make a move like the Reds did with Scott Rolen in 2009? They were 45-56 when Walt Jocketty landed the long-time Phillies cornerstone at the Deadline, and went on to go 33-27 in the second half and then improved by 13 wins in 2010, winning the National League Central.
No one knows when Epstein will strike, but at some point in the next 18 months, he's going to make a bold move to add pitching. It would be great to find it on the free-agent market, but have you taken a hard look at the few quality arms headed toward free agency?
Even if Max Scherzer or Jon Lester reach the market, can you count on outbidding a bunch of other teams to get them? The more likely scenario for the Cubs to find pitching is on the trade market, either for an ace-in-the-making or a proven quantity like Price.
A deal for Price or another veteran approaching free agency would be made contingent on signing him to a long-term contract, but don't sweat the technicalities. The point here is that the Cubs' next major move is going to be to acquire a big-time arm, which isn't going to be that difficult to do with All-Star shortstop Starlin Castro, Triple-A shortstop Javier Baez and at least half a dozen other coveted bats age 22-and-under in the mix.
Epstein says he isn't looking to trade Castro, of course, calling him "a centerpiece guy'' for the organization. There's no reason Epstein should trade Castro, really, as he's a three-time All-Star with a club-friendly contract that covers him through 2020. But the crowd of infielders expected to reach Wrigley Field by the end of 2015 includes Kris Bryant, Arismendy Alcantara, Baez and Russell, so it seems natural that they'd at least be open to dealing him.
Tampa Bay has Yunel Escobar signed through 2016 with an option for '17, so the Rays probably aren't a great fit for Castro. But the Mets, Yankees, Mariners and Dodgers are among the teams facing major shortstop decisions in the near future.
"Starlin is another guy who is athletic enough, has enough tools to play other spots on the diamond, but I don't foresee that any time in the near future,'' Epstein said. "He is getting better at shortstop. He is a weapon at shortstop. He is hitting right in the middle of our order, doing a fantastic job. … [Trading for Russell] had nothing to do with Starlin Castro. It had everything to do with acquiring impact young talent.''
Russell is a piece that the Cubs did not have. While Baez has tremendous power and bat speed, he is also a high-strikeout, high-error option. Castro's fielding -- despite Epstein's praise -- still leaves something to be desired.
In the two years since Russell was selected by the A's with the 11th overall pick in the 2012 First-Year Player Draft out of Monsignor Pace High School in Miami Gardens, Fla., he has looked like the Derek Jeter starter kit. In fact, after the Cubs acquired him, some scouts and analysts did compare Russell to Jeter and another Hall of Famer, Barry Larkin.
Like those two greats, Russell's strength seems to be that he has no weakness as a player.
"I think that's fair,'' Epstein said. "Very athletic frame, very projectable, really a two-way player, can really play shortstop, tremendous instincts in the field, tremendous hands in the field. We really like him as a hitter as well. He has tremendous bat speed, has plate discipline beyond his years. His style of hitting, he can really wait on the baseball well, let it get deep, make good decisions in the box. When he does swing, he really does let it go, and swings to do some damage. He uses the entire field. His natural swing is probably geared toward right field. … This kid, he has solid to plus tools across the board and has performed at a high level through the Minor Leagues at a very young age.''
Overall, Jeter has played in 463 Minor League games after the Yankees selected him with the sixth overall pick in the 1992 First-Year Player Draft from Central High in Kalamazoo, Mich. He put up a .306/.383/.416 slash line while stealing 90 bases and being charged with 137 errors. It should be noted that 16 of those games came between 1998-2013 when Jeter was on rehab assignments.
Russell, who was slowed by hamstring problems earlier this year, has played 184 Minor League games, including an 0-for-5 game in his debut with the Cubs' Double-A team. His slash line is .299/.388/.515 and his pace projects out to 103 stolen bases and only 68 errors if he winds up playing 463 Minor League games, like Jeter.
Russell probably won't become the second coming of Jeter. That's not fair to hang on him or anyone else (like the Astros' Carlos Correa). But the comparison gets your attention -- sort of like the position that the Cubs have put themselves in to eventually acquire pitching for hitting.
"We feel like we have a really outstanding stable of young position player talent,'' Epstein said. "That's a great base to build from. Young pitching, no matter how much of that you have, it's really hard to build plans around that because you look up, they get hurt, there's attrition, there's ineffectiveness. On the other hand, when you have a stable of young position players you really believe in, not all of them are going to work out -- we're under no such allusions -- but many of them do, and it's a group you can rely on, relative to young pitchers. We like how this positions us.''
Like the Reds in July 2009 -- after a run in which they had gone 131 games under .500 in nine seasons -- the Cubs aren't as far away as it appears. The question is when they'll be close enough to make their Rolen trade.
Phil Rogers is a columnist for MLB.com. This story was not subject to the approval of Major League Baseball or its clubs.