Baserunning miscues trip up Crew in series opener
Estrada allows three runs in five frames while the bats come up short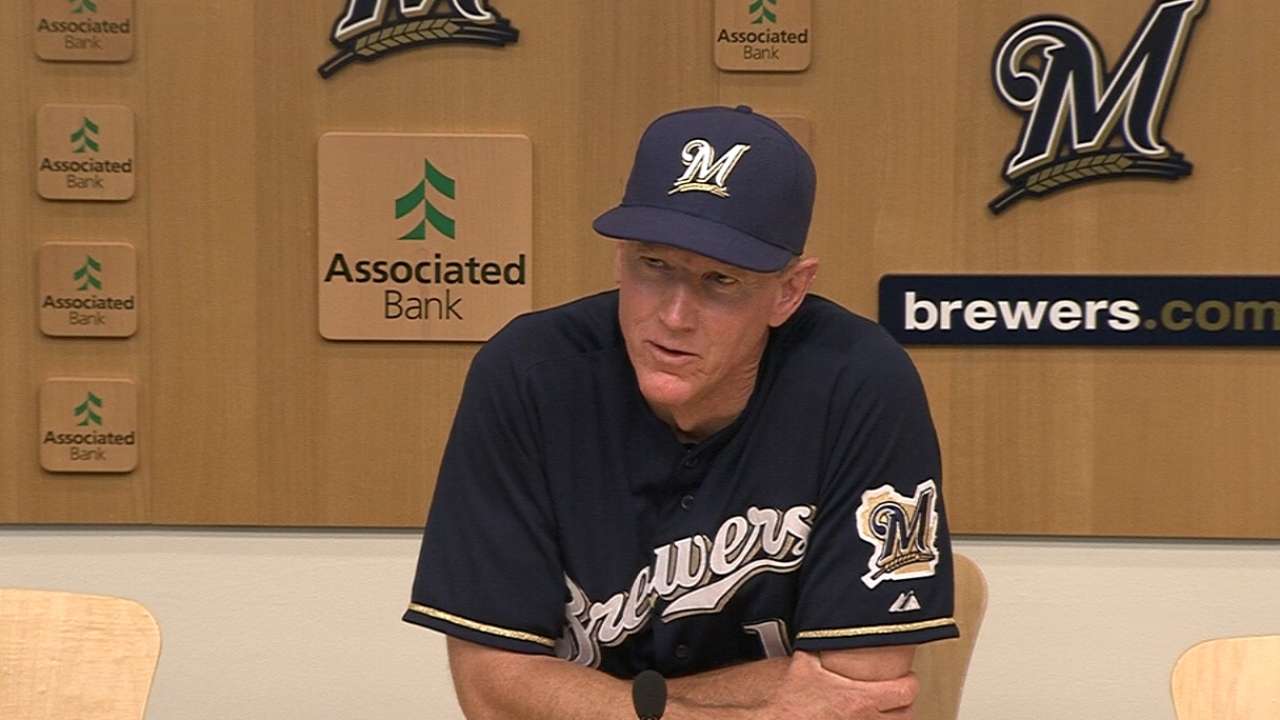 MILWAUKEE -- In three separate innings of Monday night's game against the Phillies, three different Brewers ran into avoidable outs on the basepaths with no outs and runners in scoring position. There was certainly more to it than that, but those outs typified the frustrating nature of the eventual 3-2 loss to the Phillies, Milwaukee's sixth defeat in seven games.
The Brewers put plenty of runners on base, tallying eight hits and drawing two walks, but could only convert those into two runs. The team has now been held to two runs or fewer in five of its last six games.
"We're not playing terrible. We're in all these games, but we're coming up either a run or two runs short," said Milwaukee manager Ron Roenicke. "It's just because we're not getting that big hit when we need to. We're not making the big pitch. Things aren't terrible. We're not playing that bad. We're just not doing what it takes to get that extra run or two."
Milwaukee's struggling bats couldn't break through against Philadelphia ace Cole Hamels, who went 6 2/3 innings and allowed two runs (one earned) on seven hits and two walks. The Brewers' leadoff hitter reached in five of the seven innings in which Hamels appeared, but he limited the damage to a Jeff Bianchi two-run pinch-hit single in the fifth.
Those baserunning errors also helped bail Hamels out of trouble. The first came in the second inning, when Carlos Gomez hit a leadoff double, but was picked off second by Hamels.
The next came in the fifth on Bianchi's two-run single, when Jean Segura attempted to advance from first to third and was thrown out by right fielder Marlon Byrd.
"I froze on the line drive because I didn't want to get a double play," Segura said. "It was pretty close. When I saw that [fall], I was going to go to third. I thought he was going to throw home."
Finally, in the eighth inning, Ryan Braun led off with a double, putting the tying run in scoring position. Braun, who has recently dealt with back spasms, was running gingerly and was lifted for Logan Schafer. On the next at-bat, Jonathan Lucroy hit a ground ball to Phillies shortstop Andres Blanco, who threw out Schafer at third when he attempted to advance.
"I was just thinking I've got to score," Schafer said. "I saw the ball far enough away from the third baseman. I thought the shortstop was a little more up the middle so I went, and I thought the ball was hit a little harder than it was. So, no outs -- maybe with two outs, you can make an aggressive mistake like that, but not in that situation. I'm human, I make mistakes, and that was one that was possibly costly in the game."
In addition to the baserunning errors, the Brewers stranded six runners, wasting another solid performance by the pitching staff. Starter Marco Estrada's tendency to give up home runs appeared in the first inning with a two-run shot by Chase Utley. He has now allowed a Major League-leading 27 home runs, seven of which have come in the first.
Estrada settled in after that, allowing only a two-out run in the third, but was inefficient, lasting only five innings.
"I just wasn't really locating my off-speed pitches and obviously threw way too many pitches, and that's what disappoints me is that I didn't give the team enough innings today," Estrada said. "Obviously, Hamels threw a great game, there's nothing you can do about that, but I could have kept it to at least one run."
But it's the offensive mistakes that will haunt the Brewers after this loss. The team certainly had some near-misses. In the seventh inning, Mark Reynolds hit a ball just foul of the left-field foul pole that would have been a go-ahead home run if it had stayed fair. Three batters later, Rickie Weeks flew out to the warning track in center field with two runners aboard to end the inning.
"Reynolds hits a ball that's a foot foul; you're hoping that ball stays fair," Roenicke said. "Maybe we're not playing well enough to get those breaks now, but we'll turn it around. We're in a little spell that we're not playing well, but we'll turn it around."
Despite the rough stretch, Milwaukee still holds a four-game lead in the National League Central and has six games to try to right the ship before the All-Star break.
"Baseball's like a snowball effect," Reynolds said. "Everyone's either doing good or we're struggling to score runs. Every team goes through stretches like this. You've just got to deal with it while we're doing it and hope we snap out of it soon."
Caitlin Swieca is an associate reporter for MLB.com. This story was not subject to the approval of Major League Baseball or its clubs.