Morton's stellar effort goes for naught as Bucs fall
Right-hander throws seven scoreless frames in duel with Wainwright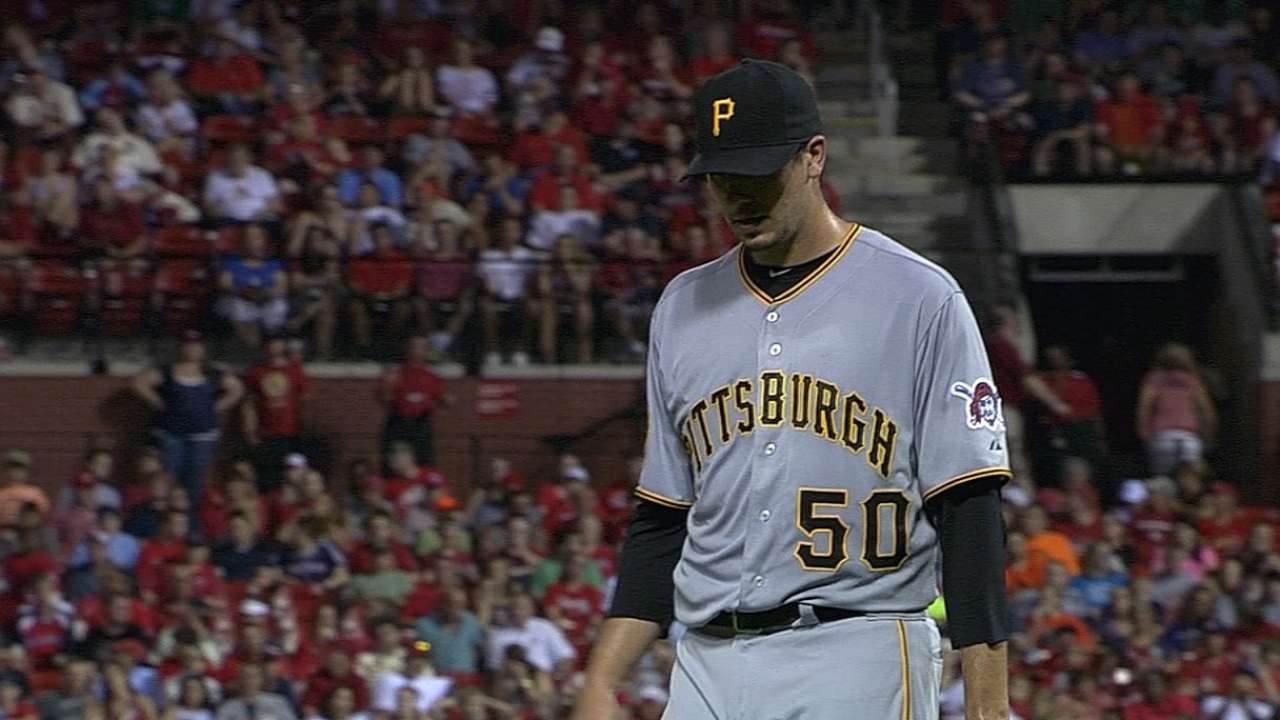 ST. LOUIS -- Stepping up to swing with the big boys, the Pirates on Monday night were terrific off the tee. The greens, however, gave them trouble.
Or, as manager Clint Hurdle detailed the baseball version of the analogy, "We did everything we wanted to on offense except touch home."
So Hurdle felt his club was ready for a mulligan after a tough 2-0 loss to the Cardinals, won on Matt Adams' walk-off two-run homer off Justin Wilson with one out in the ninth.
The blow decided a terrific, but ultimately inconclusive, duel between veteran right-handers Charlie Morton and Adam Wainwright, who had to keep repelling Pirates charges.
"We got men on base … and he did not let us cross the plate," said Hurdle, who watched his team go 0-for-10 with runners in scoring position and strand 12 total. "It's like a golf course -- every hole plays a little bit different. We came up short, we'll get ready to get after it [on Tuesday]."
Wilson entered in the ninth for the tough challenge of facing the top of the Cardinals' order in the scoreless tie, but he did not help himself by walking leadoff man Matt Carpenter on four pitches. Matt Holliday flied out to right before Adams connected for his first career walk-off homer -- his first walk-off hit of any sort as a pro.
"This is unbelievable. I don't even know what to say," Adams said in the immediate aftermath of igniting a sold-out Busch Stadium. "As soon as I made contact with it, I knew it was gone. I had to just make sure I didn't hook it too much foul. It felt good off the bat."
Wilson shook off the high heater, as did Hurdle. It was the first home run allowed by the hard-throwing southpaw since last July 24.
The defeat stopped the Bucs' three-game win streak and returned them to third place in the National League Central, again a half-game behind the Cards.
The Bucs thus couldn't capitalize on a career game from Morton, who pitched one-hit ball in a gripping seven-inning standoff with Wainwright.
"We're here in St. Louis, playing the Cardinals, one of the best teams in the National League," Morton said. "And [Wainwright] is one of the best, if not the best, so I've got to go out there and keep the team in the game."
Facing a team with a winning record for the first time since June 15 and starting only their second series in a month with such opposition, the Pirates played up to the competition.
The pregame tenor was unmistakable: How great Wainwright has been versus everyone, and how vulnerable Morton has been against the Cardinals, particularly here. Both impressions were borne out by the numbers, but not by the duel.
Although the two righties matched seven zeros, Morton convincingly won the match. He allowed one hit, walked two, hit a batter and struck out five. Wainwright's seven innings were an adventure -- seven hits and three walks, but also two double plays and nine stranded.
"Morton pitched a fantastic game," Hurdle said. "It was fun to watch him pitch. He had nasty stuff. It was all about the sinker."
Morton gave up a two-out double in the first to Adams, and that was it. He never assembled a particularly long string of outs, a couple of walks and the hit batter interrupting, but faced only two over the minimum of 19 after Adams' two-bagger.
Morton had one prior one-hit start in his career, on July 3, 2009, in Miami, but that was only through six innings and featured as many walks as strikeouts (four each).
Heightening the suspense was the awareness that only a sustained rally would break the stalemate, at least while Morton and Wainwright shared the mound, as neither suffers the quick strike. Between them they have allowed 10 homers in 244 innings this season, and they rank among the three toughest starting pitchers to homer off since the start of the 2011 season.
Alas, that track record proved to be no refuge for Wilson, one of the tougher left-handed relievers to take yard.
Tom Singer is a reporter for MLB.com and writes an MLBlog Change for a Nickel. He can also be found on Twitter @Tom_Singer. This story was not subject to the approval of Major League Baseball or its clubs.