Chasing Braves, Mets win in 11 on Tejada's single
Dice-K impressive; Granderson's HR ties it after Mejia's rough outing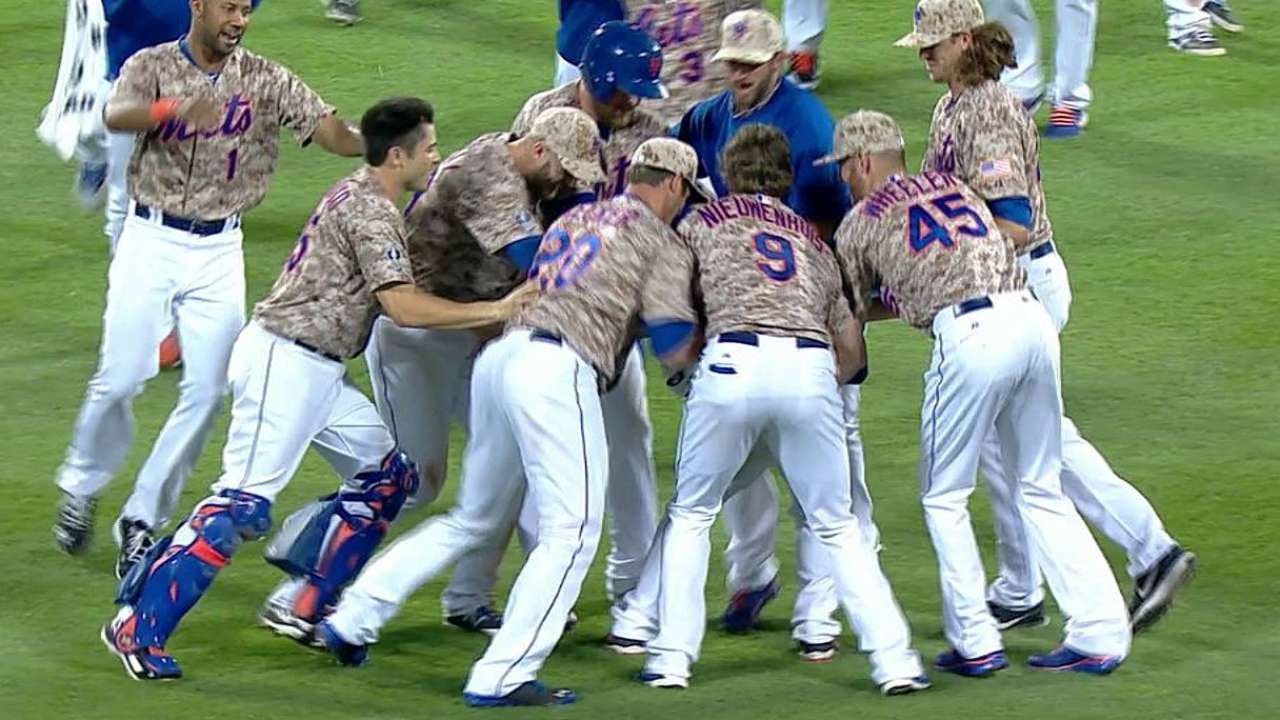 NEW YORK -- After scoring a rare series win over the Rangers last weekend, Mets manager Terry Collins almost immediately turned his attention to the division-leading Braves in a way that clubhouse leaders rarely vocalize. Ignoring baseball's usual mantra of weighing each game equally, Collins called his team's upcoming four-game set against the Braves "huge" -- particularly after a sweep in Atlanta just last week.
The implication was clear. For a team in danger of spiraling out of playoff contention, the Mets knew they needed to make a move soon, or never.
Monday night's walk-off, 11-inning, 4-3 win over the Braves at Citi Field represented a small but impactful step in that direction. Ruben Tejada delivered the game-winning single off Anthony Varvaro in the 11th, lifting the Mets to their third victory in four nights.
"We needed it bad," Collins said.
It took the Mets nearly four hours to achieve it, including a one-minute, 57-second replay review of a controversial ninth-inning call at second base. But victory eventually materialized in the 11th, after Juan Lagares doubled with one out. Two batters later, following an intentional walk of Lucas Duda, Tejada ripped a first-pitch fastball back up the middle to end things.
"I'm looking for my pitch, my strike zone," Tejada said, "and [I] put a good swing on [it] and made good contact."
Effectively pitching for the right to keep his rotation spot when Jon Niese returns from the disabled list next weekend, Mets starter Daisuke Matsuzaka was shaky early, but brilliant on the whole. He put two runners on base in each of the first three innings, but worked out of all three jams. Matsuzaka then settled into his best groove of the night in the middle innings, retiring 14 of the final 16 batters he faced.
Yet as soon as Matsuzaka turned things over to the bullpen, trouble surfaced. After Vic Black served up a one-out double to Freddie Freeman in the eighth, Josh Edgin entered and allowed Freeman to score on a wild pitch. Edgin then gave up a single to Jason Heyward, the only batter he faced, and Chris Johnson greeted closer Jenrry Mejia with an RBI double.
Two batters later, Christian Bethancourt gave the Braves their first lead with an RBI single off Mejia. Any chance the Mets may have had to cut down the go-ahead run at the plate vanished when first baseman Eric Campbell cut off Curtis Granderson's throw, instead catching Tommy La Stella in a rundown for the inning's final out. That proved critical in the bottom of the inning, when Granderson homered to tie things at 3.
"We had a lead, you know?" Braves manager Fredi Gonzalez said. "We got a ball in the middle of the plate and [Granderson] is dangerous. He hit the ball out of the ballpark."
Controversy surfaced an inning later, when the Mets threatened to win in the ninth. With Campbell on first base and no outs, the Braves attempted to cut him down at second on Lagares' sacrifice-bunt attempt. But Johnson's throw pulled shortstop Andrelton Simmons off the bag, prompting Collins -- despite a rule prohibiting managers from challenging "neighborhood" calls at second base -- to successfully appeal the play. The only thing to come of it was Gonzalez's ejection, fueled by his differing interpretation of the rulebook.
Afterward, Gonzalez called it "one of the worst calls I've ever seen," while Collins lauded the umpiring crew for "working hard together to try to get it right."
"And I think they got tonight's right," Collins added.
David Wright hit a solo homer in the third off Braves starter Mike Minor, who gave up his first run on Travis d'Arnaud's RBI double in the second. But that was all Minor allowed, mirroring Matsuzaka by growing stronger as the game unfolded. The left-hander gave up two hits -- one of them Wright's homer -- and two walks in seven innings.
On another night, Minor's effort might have been enough to beat the Mets. But after losing three straight to the Braves last week in Atlanta by a combined five runs, the Mets refused to accept yet another close loss to one of their bitterest division rivals. Sitting in the dugout, watching the late-inning controversy and dramatics unfold, Collins thought to himself that "we can't lose another game like this to these guys."
That the Mets won, instead, made for a clubhouse full of players as elated as they were exhausted.
"To beat teams ahead of us, teams that we're chasing, it's always pretty gratifying," Wright said.
Anthony DiComo is a reporter for MLB.com. Follow him on Twitter @AnthonyDicomo. This story was not subject to the approval of Major League Baseball or its clubs.