Braves grab lead with late rally, but fall to Mets in 11
Avilan allows tying HR in eighth following Atlanta's three-run frame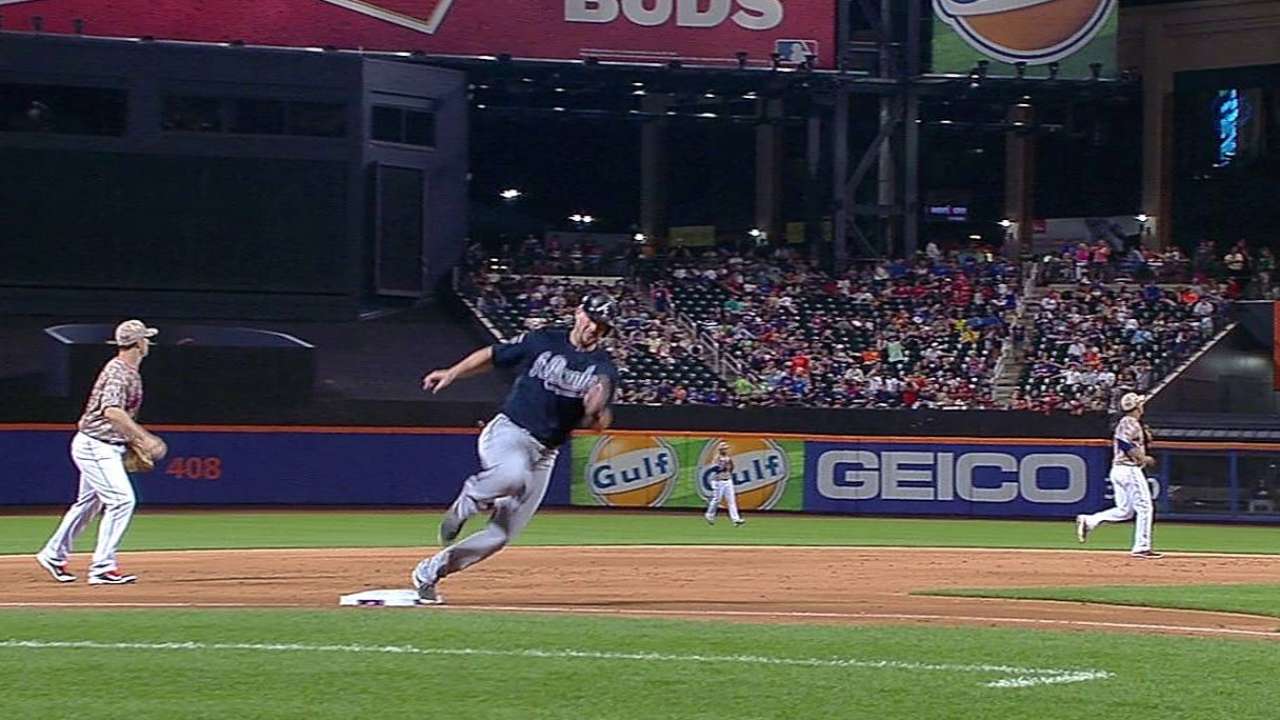 NEW YORK -- After his offense awoke in time to salvage Mike Minor's promising effort, Braves manager Fredi Gonzalez had the choice to give his setup man Jordan Walden a chance to preserve a lead for closer Craig Kimbrel. Instead he rolled the dice with Luis Avilan and was reminded that Avilan is no longer the dependable reliever he was in the past.
Curtis Granderson's two-out, eighth-inning homer off Avilan gave the Mets the life they needed to ultimately claim Monday's night's 4-3, 11-inning win. Ruben Tejada's two-out single off Anthony Varvaro proved to be the decisive blow against the Braves, who have lost two straight since their season-best nine-game win streak.
"They just kept battling," Braves third baseman Chris Johnson said. "They didn't have a ton of hits, but they had some big hits. We had a lot of hits, but we maybe left some guys out there. That could have been the difference."
The Braves put two on during each of the first three innings, but allowed Mets starter Daisuke Matsuzaka to complete seven scoreless innings less than a week after he gave up five earned runs in five innings at Turner Field. Minor proved much more efficient as he surrendered just two hits over seven innings.
Atlanta's offense awoke to score its only three runs in the eighth. But before Walden completed the bottom half of the inning, Avilan proved unsuccessful with his task to win a couple of lefty-lefty matchups. Granderson's game-tying home run was hit on a 3-2 fastball Avilan threw after shaking off catcher Christian Bethancourt multiple times.
As Avilan has compiled a 4.03 ERA this year, he has lost the role that he had when he produced a 1.52 ERA as a versatile setup man last year. Still, he was given a chance to get through the inning during which switch-hitter Eric Young and two left-handed hitters -- Granderson and Daniel Murphy -- would follow the right-handed-hiting Tejada.
In the future, Gonzalez will likely turn to Walden, who has allowed one hit to the past 21 left-handed batters he has faced.
"[Avilan] doesn't want to walk him in that situation," Gonzalez said. "He just threw too much of a hittable pitch there."
Much of Gonzalez's postgame ire was aimed toward the umpires who had decided to give the Mets a chance to challenge what seemed to be an unreviewable "neighborhood play," given that Andrelton Simmons caught Johnson's throw on Juan Lagares' bunt and threw to first in attempt to complete a double play.
Replays showed Simmons was slightly off the bag, as would be seen with all "neighborhood plays." The overturned challenge helped the Mets eventually load the bases in the ninth. But unflappable Braves rookie Shae Simmons escaped unharmed.
"I think [the umpires] got lucky that we didn't lose the game there," Gonzalez said. "That's maybe one of the worst [calls] I've seen in a long time, because nobody can tell me that that throw [pulled Simmons off the bag]."
This was an encouraging outing for Minor, who had allowed opponents to hit .375 over his previous five starts. But at the same time, it was frustrating because the two hits went for extra bases and accounted for the two runs tallied against him. Travis d'Arnaud notched a two-out RBI double on a 1-2 fastball in the second and David Wright hit a two-out solo homer on an 0-1 changeup in the third.
Wright's drive was the team-high 14th home run Minor has allowed in just 77 1/3 innings. He has given up a homer in 10 of his 13 starts, including each of his past six.
"I think it was just a bad pitch [to Wright]," Minor said. "He hit a home run, he's a good player. But I was happy with myself with getting the ground balls, letting outfielders get some work out there. They were hitting a lot of balls at the end of the bat and going right to our outfielders."
Juan Lagares sparked the 11th-inning rally with a hustle double, then scored on Tejada's game-winning single up the middle. It did not look like extras would be needed until the Braves broke through with the three-run eighth that was highlighted by Bethancourt's go-ahead RBI single.
In the eighth, Jason Heyward's single snapped his 0-for-37 skid against left-handed pitchers. More impressively, it was recorded three pitches after he was buzzed by Josh Edgin's fastball. Less than 10 months earlier, Heyward's jaw was fractured as he stood in the same batter's box and was hit by a Jon Niese fastball.
Johnson tied the game when he greeted Mets closer Jenrry Mejia with a double off the center-field wall, scoring Heyward. Johnson then scored on a Bethancourt single that gave the Braves what proved to be a short-lived lead.
"[Minor] battled and kept us in the ballgame," Gonzalez said. "It's just a shame he doesn't get a W. But nevertheless, he had a great outing."
Mark Bowman is a reporter for MLB.com. This story was not subject to the approval of Major League Baseball or its clubs.