Buchholz bitten by big flies in loss to White Sox
Right-hander gives up solo homer, three-run shot; offense blanked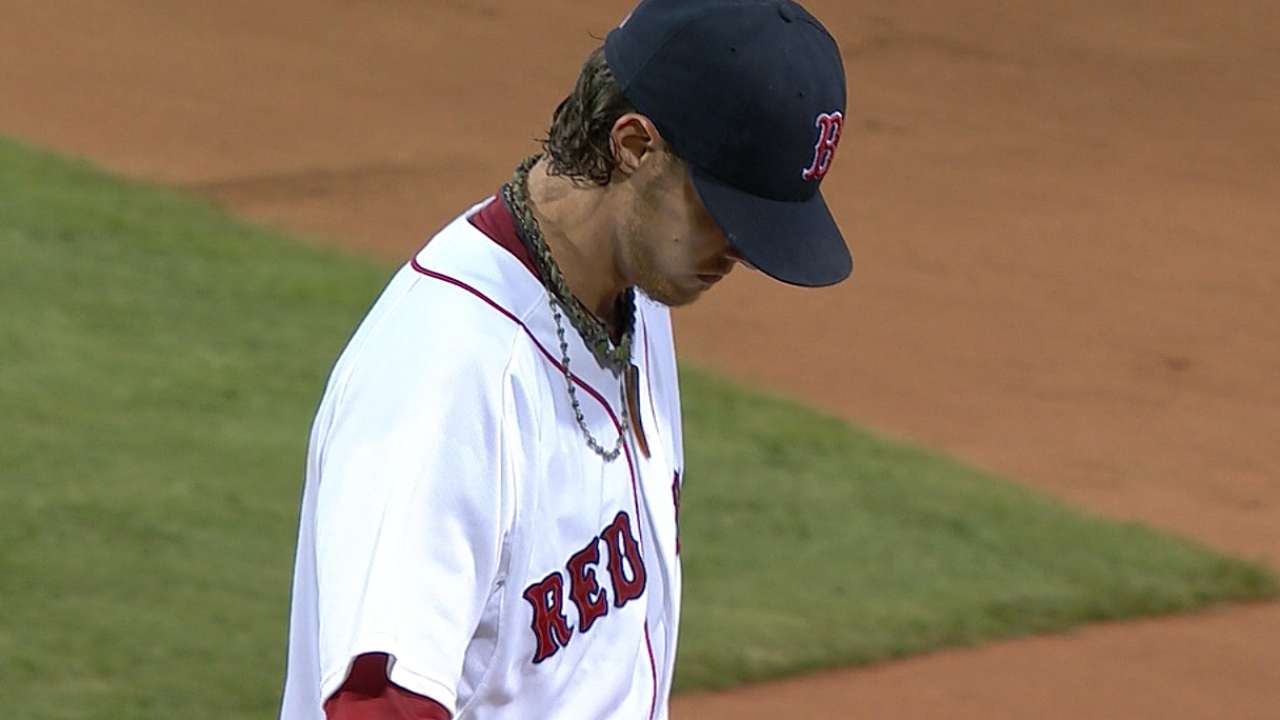 BOSTON -- Last Monday, a Chicago righty gave up one hit and needed only a two-run homer from his offense to beat the Red Sox. This Monday, a Chicago righty did the same, and got a pair of long balls in support, which were enough to defeat Boston again.
The first righty was Jake Arrieta of the Cubs. The second was Scott Carroll of the White Sox. It was déjà vu for the offense, which ranks last in the American League in runs scored per game.
Carroll dominated the Red Sox at Fenway Park on Monday night, allowing just one hit and two walks over 6 2/3 innings to give the White Sox a 4-0 victory in the first of a four-game set. Boston has dropped six of the first seven games during its 10-game homestand.
"I don't have any answers. We've got guys in that lineup that know what to do and have done it before," said Brock Holt. "But we're just not getting it done right now. It's not from lack of work. We're going out and doing what we're supposed to do, just not getting the results we want."
The Red Sox didn't get a runner beyond first base until the sixth inning, when Jackie Bradley Jr. walked and stole second. A.J. Pierzynski singled in the third, pulling a line drive to right, and Bradley lined a single to left in the eighth off of Javy Guerra for the club's only two hits.
Boston played right into the hands of Carroll, who ranked 15th among American League pitchers with at least 50 innings pitched in groundball rate entering Monday. He recorded 13 outs via ground balls, and the Red Sox put just three balls, including Pierzynski's single, into the outfield against him. Carroll had a 5.05 ERA and 1.65 WHIP prior to Monday.
The members of a last-place team now 11 games under .500 and 10 games back of the first-place Orioles answer the same questions every day, it seems. When is the offense going to come around?
"I'm done talking about the offense. It's not like they're out there not trying every day, it's just not working right now," said starter Clay Buchholz. "I'm not answering any more questions about our offense."
"I walk in every night thinking we're going to put up an outing where we're going to be in the ballgame where we've got the ability to execute to create opportunities," manager John Farrell said. "That wasn't the case tonight."
Despite a shaky stat line, Buchholz showed signs of his 2013 self, allowing four runs on five hits while fanning seven over seven innings. The righty retired the last 10 batters he faced, but made a pair of mistakes that a non-existent Red Sox offense couldn't overcome.
"If you're not looking at the line, or winning and losing pitcher, that's the best I've felt," said Buchholz, who had a 6.22 ERA and 1.74 WHIP entering Monday. "The most crisp. Curveball, changeup finally came in the last three innings I was out there. That's as close to last year as I felt."
Dayan Viciedo hit a three-run homer with two outs in the fourth, giving Chicago a 4-0 lead. Buchholz was ahead in the count, 0-2, before the outfielder worked it full and then smacked a cutter toward the 420-foot mark in right-center, the deepest part of the park. Buchholz got two quick outs in that inning before allowing a double to Adam Dunn and walking Alexei Ramirez.
"With the exception of a three-hitter span in the fourth inning, I thought Clay had powerful stuff for his full seven innings of work," Farrell said. "He maintained his velocity. I thought he had definition to the four different types of pitches he throws."
Chicago got on the board in the second inning when Dunn ripped a high changeup over the right-field bullpens.
Buchholz has been experimenting with different changeup grips and saw positive results from that and his curveball, fooling a number of White Sox hitters in dominant sixth and seventh innings, when he struck out four of the six batters he faced.
"With Clay, you throw the numbers out," Dunn said. "You know what kind of pitcher he is and the kind of stuff he has, and if it wasn't for probably two pitches tonight, he shoves. But it was good to get on the board early."
Felix Doubront began warming up after Viciedo's homer in the fourth, but sat down when Buchholz began to settle in, only to come on to work a scoreless eighth and ninth.
Stephen Petrella is an associate reporter for MLB.com. This story was not subject to the approval of Major League Baseball or its clubs.