Odorizzi, Rays deflected by Shields in opener
Bats silent behind Tampa Bay righty, who notched eight strikeouts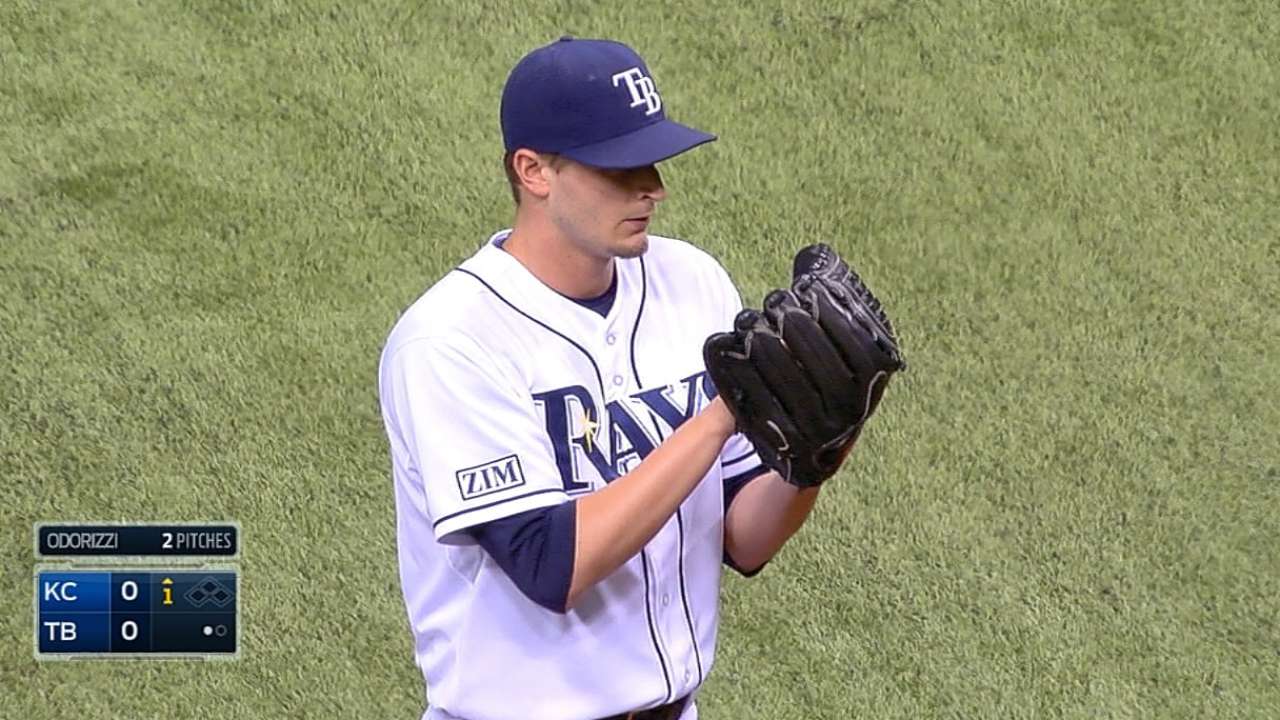 ST. PETERSBURG -- The sight of James Shields wearing road greys and toeing the rubber was foreign at Tropicana Field. After a 6-0 loss in the series opener, the Rays could do without seeing it again.
"I mean, we've seen that act before," Tampa Bay manager Joe Maddon said. "Just the wrong uniform this time."
Shields struck out 10 over seven scoreless innings to beat the Rays in his first start here since he was traded to Kansas City in 2012. The right-hander, who still leads the franchise in wins, innings, strikeouts, complete games and shutouts, dominated in earning his 48th career win at The Trop.
"When I was warming up in the first inning, it definitely felt comfortable," Shields said. "It's always nice to pitch on a mound you've pitched on numerous times before. A lot of memories on the mound and once that first pitch happened, it was game on."
Starting opposite Shields was rookie Jake Odorizzi, who came to Tampa Bay in the same trade. Monday night marked the first matchup in Tampa Bay history in which its starting pitcher had been traded for the opposing starter.
Odorizzi held his own with eight strikeouts in six solid innings, but Shields was too much for the Rays' offense, which mustered just three hits and moved only one runner into scoring position against him. That was Kevin Kiermaier's double to right-center in the third inning.
"I don't know what to say. He pitched great, man," said Rays outfielder Desmond Jennings, who went 0-for-4 in the loss. "He was in control of the game the whole time. He knew what he wanted to throw, when he wanted to throw it. He kept the ball down. He threw every pitch where he wanted to throw it."
After escaping a bases-loaded jam with one out in the second inning, Odorizzi ran into trouble in a two-run third. He allowed three straight hits, including an RBI single by Alex Gordon, and Omar Infante added an RBI groundout to make it a 2-0 lead.
"I liked him. I always liked him when I had him in Milwaukee. I liked him when we had him in Kansas City. You could just see him growing as a starter," Royals manager Ned Yost said of Odorizzi. "His slider's getting better, he's always had a great changeup, and his fastball, he was moving it to both sides of the plate. I thought he did a nice job."
With the loss, the Rays dropped to 2-9 against the Royals since the beginning of last year, and have been outscored 70-28 in those games.
"We don't hit them. Period," Maddon said. "We have not beaten these guys because we have not swung the bats well. That's it."
The Royals tacked on four insurance runs off reliever Juan Carlos Oviedo, who allowed an RBI double to Infante and a sacrifice fly to Mike Moustakas in the eighth. Eric Hosmer added an RBI double, while Gordon tacked on an RBI single in the ninth.
The Rays' flight from Detroit arrived at 4:30 a.m. ET on Monday morning following a 9-2 road trip against the Orioles, Yankees and Tigers. But Jennings said a late night wasn't the reason for a loss.
A familiar face in an unfamiliar uniform was big part of it.
"[Shields] just pitched better than we hit," Jennings said. "I don't think it had anything to do with the late travel. We could have had an off-day yesterday, and if he pitched like that, we'd probably get the same result.
"We just got beat."
David Adler is an associate reporter for MLB.com. This story was not subject to the approval of Major League Baseball or its clubs.