O's fly up Rankings, but West rules roost
A's, Angels holding down first, second, while M's make move up charts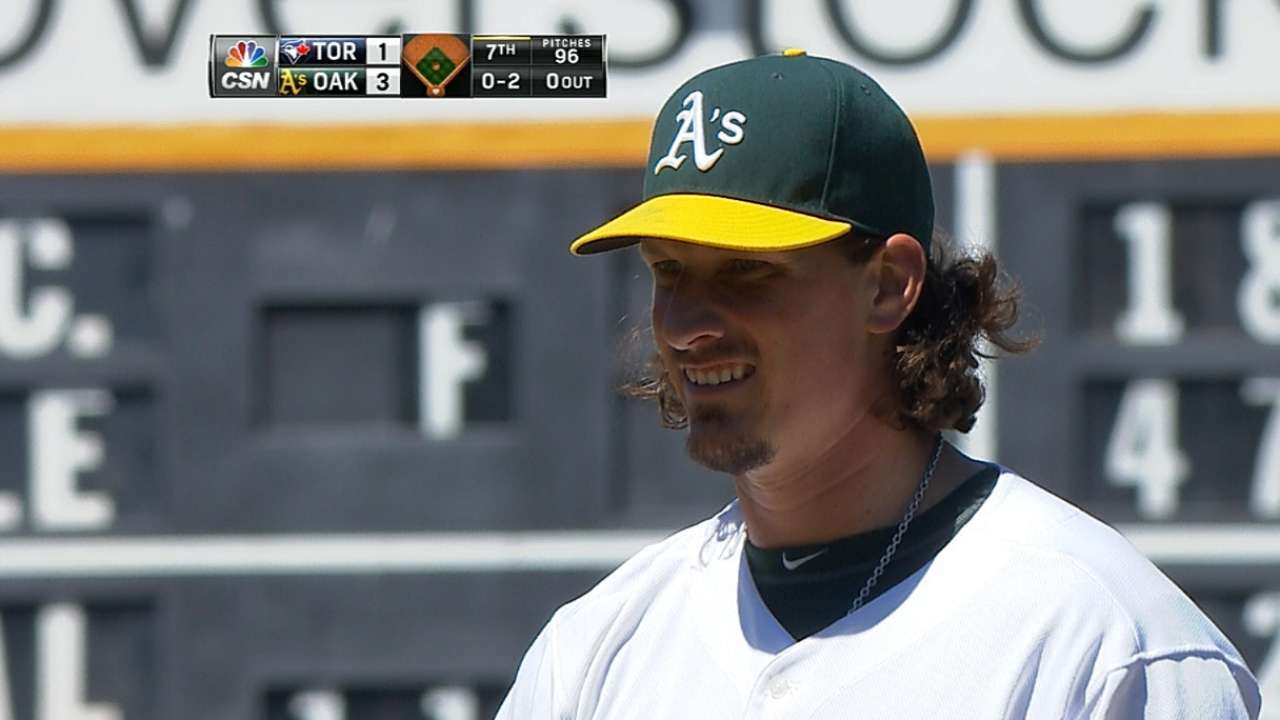 The A's really did it this time.
Just when their fans thought they couldn't get any better, Oakland went out and traded for pitchers Jeff Samardzija and Jason Hammel.
The A's have only a 3 1/2-game lead over the Angels in the American League West, but you can't blame their fans for thinking about the postseason and winning the franchise's 10th World Series title -- and its first since 1989.
But do the A's have what it takes to win it all this season? Will they even be able to fend off the hard-charging Angels and Mariners in their own division? What about the Orioles, Tigers or Blue Jays?
Here's what we know: The A's have won four in a row and seven of 10, but teams in the AL are not ready to hand over the pennant just yet.
Fans who root for the Brewers, Dodgers, Nationals and Braves aren't ready to give in, either.
That's where you step in.
For the fourth consecutive season, MLB.com has set up a panel of experts to vote on the top 15 teams each week. The group includes MLB.com vice president and executive editor Carlton Thompson, executive editor Matthew Leach, columnists Mike Bauman, Hal Bodley, Anthony Castrovince, Richard Justice, Tracy Ringolsby, Phil Rogers and Lyle Spencer along with reporters Alyson Footer and Jesse Sanchez.
What do you think? Agree, disagree? Have your opinion counted by submitting your Power Rankings.
1. Athletics: Samardzija jumped right into the starting rotation and didn't miss a beat with seven strong innings against the Blue Jays in his debut Sunday. He allowed four hits and struck out five for his new club, which only added to its talented roster with the recent blockbuster.
Last week: 1
2. Angels: The Halos won four in a row against the Astros, including three in come-from-behind fashion, to remain in the hunt in the AL West standings. The Angels have won 10 straight at home.
Last week: 4
3. Brewers: Ryan Braun, who has been sidelined with back spasms, hopes to return to the lineup soon. Milwaukee, which leads the second-place Pirates by 4 1/2 games in the National League Central, could use him, especially after having played .500 ball over the last 10 games.
Last week: 2
4. Dodgers: Clayton Kershaw's scoreless-innings streak has reached 36, third-longest in history behind former L.A. hurlers Orel Hershiser (59) and Don Drysdale (58). The Dodgers have a narrow lead over the Giants in the NL West and will look to add some breathing room before the All-Star break.
Last week: 3
5. Mariners: Seattle totaled just four runs in 32 innings while losing two of three against the White Sox, after scoring 28 runs in three games against the Astros. The good news? The Mariners are eight games over the .500 mark and in the middle of the pack in the AL West.
Last week: 7
6. Nationals: Washington has won seven of 10 and trails the first-place Braves by only a half-game in the NL East. Just imagine how good the Nats will be when Bryce Harper finds his groove. On Sunday, Harper went 0-for-3 with two strikeouts to drop his average to .190 since being activated on Monday.
Last week: 8
7. Braves: Don't look now, but B.J. Upton is on a hot streak. Yes, the outfielder went 0-for-4 with three strikeouts on Sunday, but he had ridden a career-best 11-game hitting into that game.
Last week: 11
8. Orioles: Nelson Cruz is one of the hottest hitters in baseball. He went 5-for-5 against the Red Sox on Saturday and came back with three more hits Sunday. He has 27 home runs and 71 RBIs for the season.
Last week: 14
9. Tigers: First-place Detroit has lost three in a row but still leads the Royals by four games in the AL Central. Justin Verlander's tweaked delivery has produced three straight quality starts. He's still 7-7 with a 4.71 ERA this season, but he's coming off a six-inning, two-run performance against the A's.
Last week: 5
10. Giants: San Francisco has lost six of eight series but remains a mere half-game behind the first-place Dodgers in the NL West. Tim Lincecum is pitching like an All-Star and had a scoreless-innings streak of 23 innings until San Diego's Brooks Conrad homered with one out in the seventh inning Sunday.
Last week: 6
11. Cardinals: Yadier Molina struggled in June, but he is 10-for-23 in his past seven games. The Cards trail the first-place Brewers by five games in the NL Central.
Last week: 12
12. Blue Jays: Toronto has seen better days. The club was swept by the A's and recently lost Edwin Encarnacion, who says he will miss at least two weeks because of a quad injury.
Last week: 10
13. Reds: Cincinnati is being careful with Joey Votto's left quad and kept him out of the starting lineup Sunday. It marked the third time Votto was not in the starting lineup since returning on June 10.
Last week: 9
14. Royals: Kansas City has played .500 ball over the past 10 games but hasn't lost much ground on the first-place Tigers in the AL Central. On Sunday, left fielder Alex Gordon, closer Greg Holland and catcher Salvador Perez were named to the 2014 AL All-Star team.
Last week: 13
15. Pirates: The Bucs are on a roll after sweeping the Phillies over the weekend -- their first sweep of the season. They finished their 10-game homestand with an 8-2 record.
Last week: 15