Did you know? 2014 All-Star fun facts
Learn some lesser known tidbits about this year's All-Stars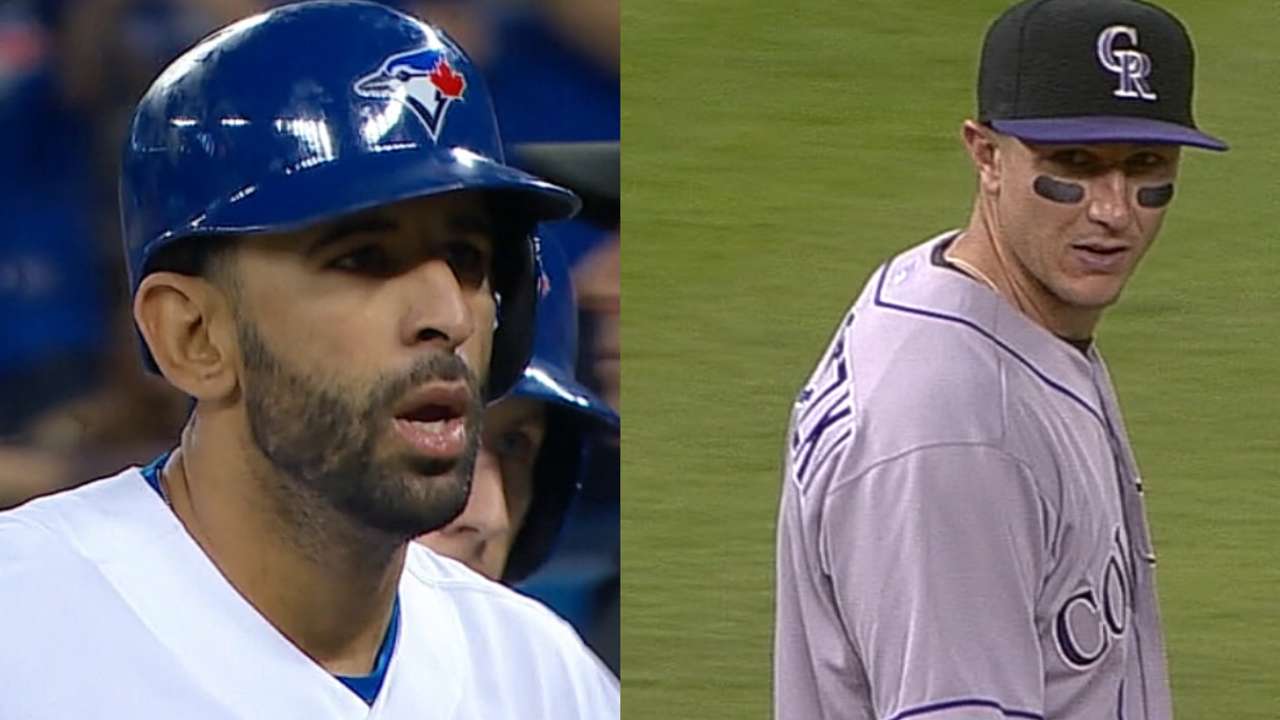 You already know so much about the 2014 Major League Baseball All-Stars. You know their slugging percentages, their ERAs, their height and weight, their birthplaces, heck, you might even know their weighted runs created, batting average on balls in play and Ultimate Zone Ratings.
But you probably don't know everything. In honor of the just-completed rosters, here's one fact you might have missed about each All-Star:
AMERICAN LEAGUE
Starters
Matt Wieters, Orioles, C: He's injured and won't play in the game, but let's not let that prevent us from revealing that he played high school ball in Goose Creek and was a prep teammate of Mariners first baseman Justin Smoak.
Miguel Cabrera, Tigers, 1B: Hit his 300th career home run off Philip Humber, who is one of only 23 pitchers to throw a perfect game in the Major Leagues. Obviously, the homer didn't come in that game.
Robinson Cano, Mariners, 2B: His agent is rapper Jay Z and he signed with Seattle in the offseason, prompting Seattle general manager Jack Zduriencik to come up with one of the quotes of the winter while referring to Cano's agent: "I told him that I was J.Z. before he was Jay Z."
Derek Jeter, Yankees, SS: Was not nominated for any Academy Awards for his role (as himself) in the 2010 film, 'The Other Guys.'
Josh Donaldson, A's, 3B: Was born on the same day (Dec. 8, 1985) as NBA star Dwight Howard.
Mike Trout, Angels, OF: Only the second MLB player (Ken Griffey Jr. was the first) to have a Nike shoe named for him. The 'Lunar Vapor Trout' debuted last month.
Jose Bautista, Blue Jays, OF: Didn't hit a home run until early in the third season of his big league career.
Adam Jones, Orioles, OF: Came up as a shortstop with the Mariners, but he was moved to the outfield because Seattle had deemed Yuniesky Betancourt its shortstop of the future.
Nelson Cruz, Orioles, DH: Was originally signed by the Mets, who traded him to the A's for infielder Jorge Velandia in 2000. The A's traded him to the Brewers in 2004 for Keith Ginter.
Reserves
Salvador Perez, Royals, C: Hit his first Major League home run off fellow 2014 AL All-Star Max Scherzer.
Derek Norris, A's, C: Confirmed in an interview last week: The mullet came before the beard.
Kurt Suzuki, Twins: His two-out RBI single gave Cal State Fullerton the 2004 College World Series title.
Jose Abreu, White Sox, 1B: He wears the uniform No. 79 because his mom picked it.
Edwin Encarnacion, Blue Jays, 1B: Suffered first- and third-degree burns on his face when he was struck by fireworks during a New Year's celebration in the Dominican Republic in 2010.
Brandon Moss, A's, 1B: Hit his first Major League home run in Japan during the 2008 season opener for the Red Sox in Tokyo Dome.
Jose Altuve, Astros, 2B: At 5-foot-5, he's the shortest active player in Major League Baseball.
Alexei Ramirez, White Sox, SS: Led the big leagues in two categories in 2008: grand slams (four) and percentage of pitches swung at (59).
Adrian Beltre, Rangers, 3B: Doesn't like to have his head touched.
Michael Brantley, Indians, OF: Earlier this year, his career home run total surpassed that of his father, Mickey Brantley, who hit 32 homers in the big leagues.
Yoenis Cespedes, A's, OF: Has a pretty good arm, we hear.
Alex Gordon, Royals, OF: Was the second overall pick in the 2005 First-Year Player Draft, behind No. 1 pick and 2014 National League Final Vote candidate, Justin Upton.
Victor Martinez, Tigers, DH: Has a stat too cool not to include: Entering Monday's games, he has 21 homers … and 23 strikeouts.
Starting pitchers
Felix Hernandez, Mariners, RHP: His only homer was an opposite-field grand slam off Johan Santana. Just ask him. He'll tell you all about it.
Masahiro Tanaka, Yankees, RHP: Was a teammate of Mariners right-hander Hisashi Iwakuma on the Rakuten Golden Eagles in Japan.
Mark Buehrle, Blue Jays, LHP: Loves dogs. Really loves dogs
Scott Kazmir, A's, LHP: Apologized to a trash can for attacking it after being ejected from a game in May. Later rescinded the apology on Twitter.
Yu Darvish, Rangers, RHP: Has said that he can hit 82 mph on the radar gun … with his left hand.
Jon Lester, Red Sox, LHP: Thriving survivor of anaplastic large cell lymphoma.
Max Scherzer, Tigers, RHP: His right eye is blue and his left eye is brown, and his 2011 bobblehead doll has the colors nailed.
David Price, Rays, LHP: Has a dog named Astro and has been one of the most-mentioned players when it comes to Trade Deadline rumors. No confirmation that he would rename his dog Ray if traded to Houston, however.
Relief pitchers
Greg Holland, Royals, RHP: Grew up in a trailer park in North Carolina.
Sean Doolittle, A's, LHP: Said on Twitter that he used "Loneliest Toad" as his favorite anagram of his name until a better alternative surfaced.
Dellin Betances, Yankees, RHP: His father, Jaime, was a boxer.
Glen Perkins, Twins, LHP: Says he studies sabermetrics to prepare for his appearances.
NATIONAL LEAGUE
Starters
Yadier Molina, Cardinals, C: Brothers Bengie and Jose were both catchers on the Angels and watched Yadier's June 3, 2004, big league debut on the JumboTron at Angel Stadium while preparing for a game against the Indians.
Paul Goldschmidt, D-backs, 1B: First position player from Texas State University to play in the Major Leagues.
Chase Utley, Phillies, 2B: Was the college roommate of former big league third baseman Garrett Atkins.
Troy Tulowitzki, Rockies, SS: Wears uniform No. 2 because of the other starting shortstop in this game, Mr. Jeter.
Aramis Ramirez, Brewers, 3B: At 19, was the youngest player in MLB at the time of his callup on May 26, 1998.
Andrew McCutchen, Pirates, OF: Singled in his first career at-bat, which came against Mike Pelfrey.
Carlos Gomez, Brewers, OF: Hit for a reverse natural cycle (home run, then triple, then double, then single) on May 7, 2008, at U.S. Cellular Field in Chicago while with the Twins.
Yasiel Puig, Dodgers, OF: His eight straight games with at least one extra-base hit and one RBI was a record for the longest streak by a Dodgers players.
Reserves
Jonathan Lucroy, Brewers, C: Had his No. 6 jersey retired by Umatilla High School in Florida in 2011.
Devin Mesoraco, Reds, C: Has been called "The Groundhog" because he grew up in Punxsutawney, Pa., the home of famed weather predictor Punxsutawney Phil.
Freddie Freeman, Braves, 1B: Finished second in the 2011 NL Rookie of the Year voting to his Braves (and NL All-Star) teammate, Craig Kimbrel.
Matt Carpenter, Cardinals, 3B: Doesn't wear batting gloves.
Dee Gordon, Dodgers, 2B: His dad, reliever Tom "Flash" Gordon, made three All-Star teams.
Daniel Murphy, Mets, 2B: Singled off Roy Oswalt in his first big league at-bat.
Starlin Castro, Cubs, SS: Hit a three-run homer off Homer Bailey in his first big league at-bat.
Todd Frazier, Reds, 3B: Played for the team from Toms River, N.J., that won the 1998 Little League World Series.
Giancarlo Stanton, Marlins, OF: His 56 homers before his 22nd birthday tied Alex Rodriguez and trailed only Ken Griffey Jr.
Josh Harrison, Pirates, OF: Is the nephew of former big league outfielder and current Brewers coach John Shelby.
Charlie Blackmon, Rockies, OF: His first big league home run, a pinch-hit shot off Joakim Soria, came on his 25th birthday.
Hunter Pence, Giants, OF: Hit his first home run as a member of the Phillies against his current Giants (and NL All-Star) teammate, Madison Bumgarner.
Starting pitchers
Clayton Kershaw, Dodgers, LHP: He and his wife, Ellen, have raised money to build an orphanage in Zambia.
Adam Wainwright, Cardinals, RHP: Is married to his high school sweetheart, Jenny.
Johnny Cueto, Reds, RHP: Has said that Pedro Martinez has been his inspiration as a pitcher.
Jordan Zimmermann, Nationals, RHP: His one-hitter on April 26, 2013, was the Nationals' second straight one-hitter.
Madison Bumgarner, Giants, LHP: Wore jeans at his wedding.
Zack Greinke, Dodgers, RHP: In 2012 while with the Brewers, he became the first Major League pitcher to start three straight games in 95 years.
Tyson Ross, Padres, RHP: His brother, Joe, is a pitcher in the Padres' Minor League system.
Julio Teheran, Braves, RHP: Started for the World team in the 2011 Futures Game, and surrendered a leadoff homer to Jason Kipnis. Now the second baseman for the Indians, Kipnis beat Teheran to the All-Star Game by a year.
Jeff Samardzija, Cubs, RHP: He's actually on the A's. OK, you knew that already.
Relief pitchers
Aroldis Chapman, Reds, LHP: Was a first baseman in Cuba before learning how to pitch.
Craig Kimbrel, Braves, RHP: Has made the All-Star team in all four of his full seasons in the Major Leagues.
Francisco Rodriguez, Brewers, RHP: Owns the Major League record for saves in a single season with 62, accomplished while with the Angels in 2008.
Pat Neshek, Cardinals, RHP: Has a website where he interacts with fans and fellow baseball card collectors.
Tony Watson, Pirates, LHP: His middle name is Michael.
Doug Miller is a reporter for MLB.com. Follow him on Twitter @DougMillerMLB. This story was not subject to the approval of Major League Baseball or its clubs.