Among 25 first-time Stars, upstarts and vets
Puig, Gordon two of Dodgers' four selections; Cueto reaches Classic at last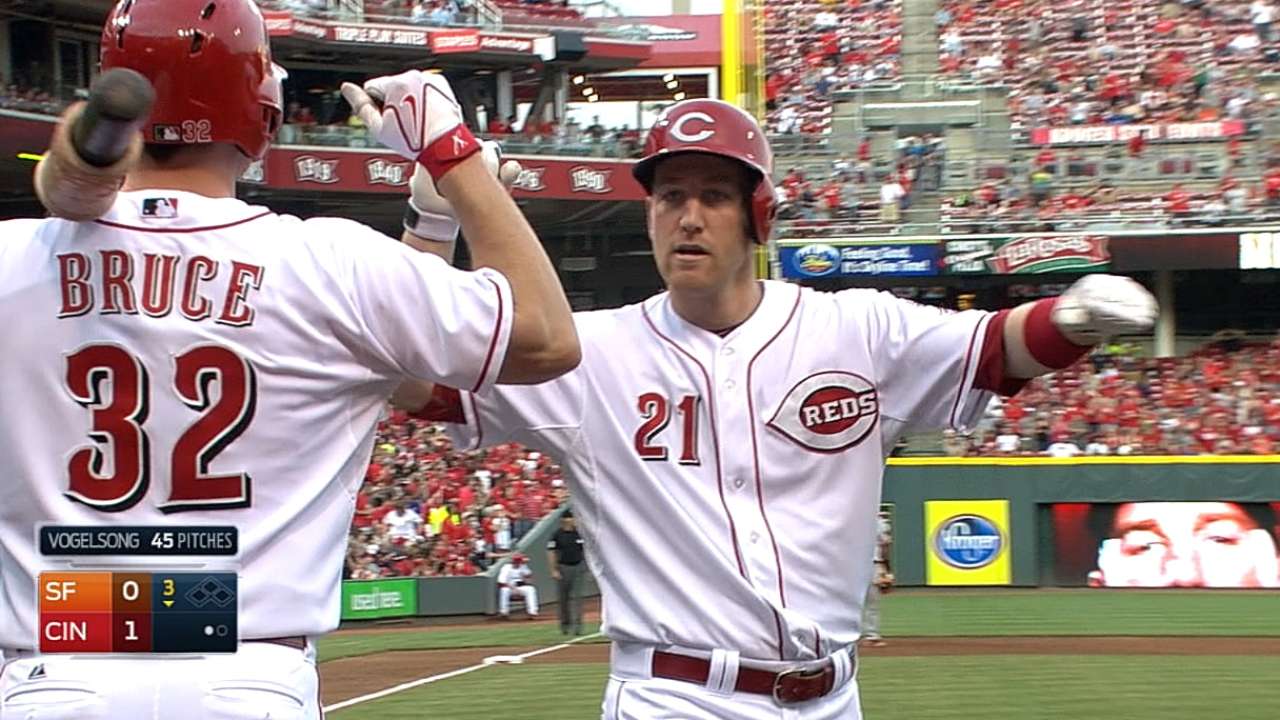 Cincinnati's Todd Frazier couldn't believe it.
Minnesota catcher Kurt Suzuki didn't have the words to describe what he was feeling, and Milwaukee's Jonathan Lucroy isn't just overjoyed, he's honored, too.
Get ready, baseball world. White Sox slugger Jose Abreu and teammate Alexei Ramirez are on their way to center stage.
Are you ready for Yasiel Puig?
You'd better be.
Frazier, Suzuki, Lucroy, Abreu, Ramirez and Puig are among the large crop of fresh and exciting faces at this year's All-Star Game, set for July 15 in Minnesota.
It's true, folks -- there is a first time for everything.
"You think back to the days sometimes of 'What am I doing here?' Some days are better than others," Frazier said. "You have 14-hour bus rides. It's my third year here. I really don't have any words. It's awesome to see that hard work pays off in any job or profession you do. The harder you work, hopefully good things come from it."
In all, 25 players were selected to the Midsummer Classic for the first time this year, and as we approach this year's event, that total is likely to rise.
"I don't know how to describe it; it's kind of surreal right now," Suzuki said. "I'm just trying to soak it all in. I'm just trying to have a good time with it and trying to enjoy myself. It's going to be cool. It's my first one, so I don't know what it'll be like, but I'm assuming it'll be pretty fun with the home crowd behind you. This is my home team, so this is exciting."
There are 11 first-time All-Stars from the American League this season and 14 from the National League.
"It's just nice to be able to contribute and help our team win, and be recognized for the effort," Lucroy said. "A lot of great players are going to be there so it'll be an honor to be in there with them there."
These are the first-time All-Stars:
AL
1B Jose Abreu, White Sox: The Cuban slugger burst onto the scene in Spring Training and has quickly established himself as one of the game's top sluggers during his rookie year. Abreu tied the Major League record for most home runs through a player's first 75 games with 27. He was selected to the game by the players.
RHP Dellin Betances, Yankees: How good has Betances been? His rate of 13.95 strikeouts per nine innings, spanning 37 relief outings, represents the highest mark in the Majors this season (min. 40 innings). He was selected by the players.
SOMETHING NEW
| Season | First-time All-Stars |
| --- | --- |
| 2013 | 39 |
| 2012 | 26 |
| 2011 | 35 |
| 2010 | 33 |
| 2009 | 30 |
| 2008 | 28 |
| 2007 | 18 |
| 2006 | 25 |
| 2005 | 23 |
| 2004 | 23 |
OF Michael Brantley, Indians: Brantley leads the Indians in almost every offensive category and is among the AL's leaders in batting average, runs, RBIs, on-base percentage, OPS and total bases. He was selected by the players' vote.
OF Yoenis Cespedes, Athletics: Last year's Home Run Derby champion will get a chance to shine during the Midsummer Classic this year and perhaps get a chance to show off his powerful arm. Cespedes has 10 assists this season and 29 since 2012.
3B Josh Donaldson, Athletics: Elected a starter by the fans, Donaldson is one of the premier players in the game and is finally receiving the recognition he deserves. He finished fourth in AL MVP voting last year.
LHP Sean Doolittle, Athletics: Doolittle has helped solidify Oakland's bullpen and has recorded 13 saves in 16 opportunities this year. A manager selection, the reliever entered Monday with a startling 61-to-2 strikeout-to-walk ratio.
1B Brandon Moss, Athletics: Here's all you need to know about Moss: Since the 2013 All-Star break, only Miguel Cabrera has more RBIs (110) than Moss (105), and only Edwin Encarnacion (37) and Giancarlo Stanton (35) have more home runs than his 33. He was a players' selection and is no longer one of the best-kept secrets in the AL.
C Derek Norris, Athletics: Selected by AL manager John Farrell, Norris has led AL catchers in most offensive categories this season. The one-time platoon player has established himself in his third big league season.
SS Alexei Ramirez, White Sox: One of the most consistent middle infielders in the game, Ramirez is among the AL's leaders in doubles, runs and home runs since 2009. He is the first White Sox shortstop to make the All-Star team since Ozzie Guillen in 1991. He was selected by the players.
C Kurt Suzuki, Twins: Suzuki is having a career year at the plate and has been among the AL's leaders in batting average all year. He's already surpassed his RBI total from last season. Suzuki was selected to the team by Farrell.
RHP Masahiro Tanaka, Yankees: It's already been quite a season for the Japanese phenom. The right-hander leads the Majors in both wins (12) and complete games (three), while ranking among the league leaders in several other categories. He was selected by the players.
NL
OF Charlie Blackmon, Rockies: Selected by his peers, Blackmon enjoyed a hot start to the season and continues to be a presence in Colorado's lineup. He entered Monday with 12 home runs and 47 RBIs this season.
RHP Johnny Cueto, Reds: It's been a long time coming for Cincinnati's ace, and now Cueto is finally an All-Star. The righty is among the NL's leaders in ERA, strikeouts, innings and opponents' batting average. He's also thrown three complete games.
3B Todd Frazier, Reds: Selected by the players, Frazier leads all NL third basemen in home runs, slugging percentage, stolen bases and extra-base hits. He has also played outstanding defense. The jovial Frazier is sure to enjoy the All-Star experience as much as anyone.
OF Josh Harrison, Pirates: The versatile Harrison will be an invaluable asset and quite an option off the bench for Cardinals manager Mike Matheny, who selected the young veteran. Harrison's 22 starts in right field are his most at one position this season.
2B Dee Gordon, Dodgers: The Dodgers assigned Gordon to winter ball last year, sending him in search of a position and an identity. He came back a bigger and stronger player with more confidence in his abilities, and now he's an All-Star. Gordon was selected by the players.
C Jonathan Lucroy, Brewers: Selected via the player vote, Lucroy has been perhaps the best catcher in baseball this season. He entered Monday batting .329 with nine home runs and 44 RBIs in 82 games and is among the NL's leaders in almost every offensive category.
C Devin Mesoraco, Reds: Selected by Matheny, Mesoraco was slowed by two stints on the disabled list, but he still ranks second among the NL's top catchers in homers, RBIs and extra-base hits. He is the Reds' first catcher to be an All-Star since Bo Diaz in 1987.
2B Daniel Murphy, Mets: Chosen by Matheny, Murphy is among the NL's leaders at his position with a .294 batting average. He also has 20 doubles, 29 walks, 52 runs scored, seven home runs and 11 stolen bases.
RHP Pat Neshek, Cardinals: Neshek's homecoming could be one of the best stories of this year's All-Star Game. The reliever grew up outside Minneapolis as a Twins fan and began his career with Minnesota. His brother is on the Twins' grounds crew.
OF Yasiel Puig, Dodgers: Selected by the fans, Puig is arguably the most exciting player in baseball and is on track to start in the outfield in his first Midsummer Classic appearance. The young Cuban star has hit 12 home runs and driven in 49 this season. He also has one of the strongest arms in the game.
RHP Tyson Ross, Padres: Ross has been a stabilizing force in the San Diego rotation this season and is coming off his first career shutout, a three-hitter against the Reds on July 2. He was a manager's selection to the NL squad.
RHP Jeff Samardzija, Cubs/A's: Selected by the players, Samardzija starred in the NL before being traded to the A's. While with the Cubs, he ranked among the top 10 starting pitchers in ERA and was among the NL's leaders in innings and strikeouts.
RHP Julio Teheran, Braves: A selection of the players, Teheran is establishing himself as the ace of Atlanta's starting rotation and has been among the NL's leaders in ERA all season. This selection could be the first of many to come for the young righty.
LHP Tony Watson, Pirates: There is a reason it seems as if Watson is always on the mound. The left-hander has no trouble with righties and has appeared in about half of Pittsburgh's games this season. He was selected to the NL squad by Matheny.
Immediately following the announcement of the AL and NL All-Star rosters on Sunday, fans began voting to select the final player for each league's 34-man roster via the 2014 All-Star Game MLB.com Final Vote Sponsored by Experian. Fans can cast their votes from a list of five players from each league until the winners are announced after the voting concludes on Thursday at 4 p.m. ET.
The final phase of All-Star Game voting will again have fans help choose the Ted Williams All-Star Game Most Valuable Player Award presented by Chevrolet. During the Midsummer Classic, fans will vote exclusively online at MLB.com and via Twitter in the 2014 All-Star Game MLB.com MVP Vote Sponsored by Pepsi, and their collective voice will represent 20 percent of the overall vote that determines the recipient of the Arch Ward Trophy.
MLB.TV Premium subscribers, for the first time, will be able to live stream the All-Star Game via MLB.TV through FOX's participating video providers. Access will be available across more than 400 platforms that support MLB.TV, including the award-winning MLB.com At Bat app. MLB.com will provide extensive online coverage of the All-Star Week festivities.
The 85th All-Star Game will be televised nationally by FOX, in Canada by Rogers Sportsnet and RDS, and worldwide by partners in more than 200 countries via MLB International's independent feed. ESPN Radio and ESPN Radio Deportes will provide national radio coverage of the All-Star Game. MLB Network and SiriusXM will also provide comprehensive All-Star Week coverage. For more information, please visit allstargame.com.
Jesse Sanchez is a national reporter for MLB.com. Follow him on Twitter @JesseSanchezMLB. This story was not subject to the approval of Major League Baseball or its clubs.