Kershaw, Tanaka highlight All-Star pitching staffs
Players and managers put together deep talent pool after fans vote for starters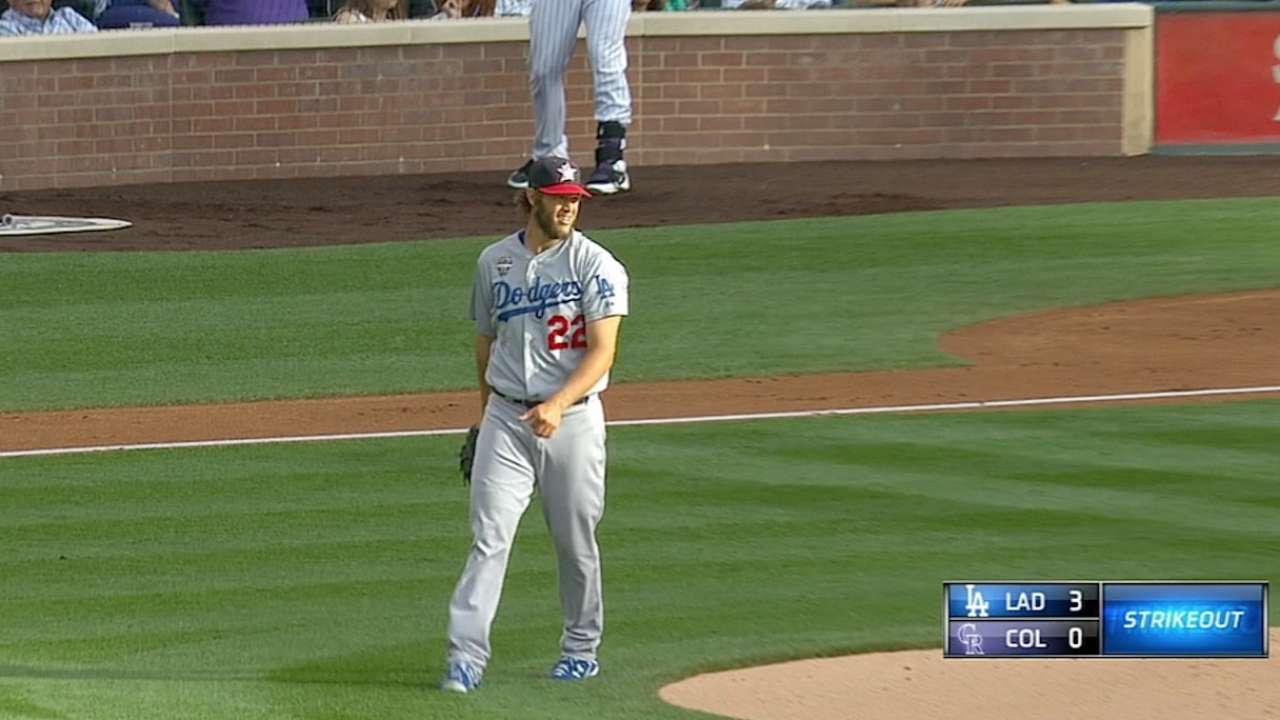 Clayton Kershaw of the Dodgers and Masahiro Tanaka of the Yankees head a rich pool of pitchers and reserves selected by the managers and players with an opportunity to appear in the 85th All-Star Game on July 15 at Target Field in Minneapolis.
Kershaw is working on a string of 36 consecutive scoreless innings that includes his no-hitter against the Rockies on June 18. He's 10-2 with a 1.85 ERA and 155 strikeouts. Tanaka, a rookie coming off his 24-0 regular season last year in Japan, hasn't missed a beat in the Major Leagues. He's 12-3 with a 2.27 ERA, 18 walks and 130 strikeouts in his 17 starts.
Kershaw's scoreless streak is the third longest in club history. Orel Hershiser's 59 in a row is Major League Baseball's all-time record. Don Drysdale is second with 58 and Hershiser broke that mark in 1988.
"He's a joke, this guy is incredible," Cardinals right-hander Adam Wainwright, who was also named to the staff by the players by virtue of his 11-4 record and 1.89 ERA, said about Kershaw during an ESPN interview. "He sets the bar."
The left-handed Kershaw joins starting rotation mate Zack Greinke and Dodgers second baseman Dee Gordon as selections on the National League squad to be managed this year by Mike Matheny of the Cardinals. Right fielder Yasiel Puig was voted by the fans as a starter to the NL team.
Matheny will have his hands full trying to pick a starter between his own Wainwright and Kershaw, the hottest pitcher right now in Major League Baseball.
"I think it's a great honor," said Matheny, a former catcher, about who will get the starting nod. "It'll come down to a decision Monday right before the game. We'll see how everybody is feeling, and just like putting this thing together, you just try to make a good decision."
Tanaka is joined on the American League squad by young Yankees reliever Dellin Betances, who has struck out 78 batters in 50 1/3 innings, and Derek Jeter, an overwhelming winner as a starter at shortstop by the fans in his last All-Star Game of a 20-year career. Tanaka is slated to start the last game for the Yankees at Baltimore before the break and probably will not pitch in the All-Star Game. The AL team is managed this year by John Farrell, the skipper of the Red Sox team that defeated Matheny's Cardinals in the six-game 2013 World Series.
Other significant starting pitching selections for the AL are David Price of the Rays, Max Scherzer of the Tigers, Jon Lester of the Red Sox, Felix Hernandez of the Mariners, Mark Buehrle of the Blue Jays and Yu Darvish of the Rangers. Aside from Betances, Sean Doolittle of the A's, Greg Holland of the Royals and Glen Perkins of the hometown Twins anchor the bullpen.
"We'll do everything we can to make sure everyone makes an appearance, particularly the position players," Farrell said, alluding to the fact that the winning league earns home-field advantage in the World Series. "That may be a little bit more controllable than the pitching side of things. But at the same time, there are a lot of people who will look back on this game, on this event, as a contributing, pivotal moment in their postseason run."
Over on the NL side, the Dodgers pitching duo is joined by Wainwright, Madison Bumgarner of the Giants, Tyson Ross of the Padres and Johnny Cueto of the Reds. The bullpen is buoyed by Aroldis Chapman of the Reds, Francisco Rodriguez of the Brewers and Craig Kimbrel of the Braves, who recently set the all-time record for that franchise with 166 saves.
"I probably can't show how happy I am, because we just lost a tough game, but it is something really special for me and my family once again, to be in the Midsummer Classic," said K-Rod after the Brewers lost 4-2 to the Reds in Cincinnati on Sunday. "There are no words to describe for me and my family how excited we are right now."
Other notable position player selections to the NL team are Brewers catcher Jonathan Lucroy, Giants right fielder Hunter Pence, Marlins right fielder Giancarlo Stanton and Reds third baseman Todd Frazier. Frazier is an All-Star for the first time.
"You think back to the days sometimes of, 'What am I doing here?' Some days are better than others. You have 14-hour bus rides. It's my third year here," Frazier said. "I really don't have any words. It's awesome to see that hard work pays off in any job or profession you do. The harder you work, hopefully good things come from it."
In the AL, the A's added left fielder Yoenis Cespedes and first baseman Brandon Moss and have six players on the team. The White Sox have rookie Jose Abreu and Alexei Ramirez, making it five Cuban nationals in the game, along with Cespedes, Chapman and Puig. The Blue Jays have third baseman Edwin Encarnacion and his 26 homers on the squad despite his strained quad. The Rangers added third baseman Adrian Beltre and the Tigers designated hitter Victor Martinez. Plus, Royals catcher Salvador Perez, selected by the players, replaces injured Matt Wieters in the starting lineup.
Holland, Perez and Royals left-fielder Alex Gordon, were all named to the AL squad last year for its 3-0 victory at New York's Citi Field and are returning this year.
"You know, it's nice to make an All-Star team," said Royals manager Ned Yost, "but to be a two-time All-Star -- that's special. And I think these guys all have the capability of being three- and four- and five-time All-Stars."
Immediately following the announcement of the AL and NL All-Star rosters on Sunday, fans began voting to select the final player for each league's 34-man roster via the 2014 All-Star Game MLB.com Final Vote Sponsored by Experian. Fans can cast their votes from a list of five players from each league until the winners are announced after the voting concludes on Thursday at 4 p.m. ET.
The final phase of All-Star Game voting will again have fans help choose the Ted Williams All-Star Game Most Valuable Player Award presented by Chevrolet. During the Midsummer Classic, fans will vote exclusively online at MLB.com and via Twitter in the 2014 All-Star Game MLB.com MVP Vote Sponsored by Pepsi, and their collective voice will represent 20 percent of the overall vote that determines the recipient of the Arch Ward Trophy.
MLB.TV Premium subscribers, for the first time, will be able to live stream the All-Star Game via MLB.TV through FOX's participating video providers. Access will be available across more than 400 platforms that support MLB.TV, including the award-winning MLB.com At Bat app. MLB.com will provide extensive online coverage of the All-Star Week festivities.
The 85th All-Star Game will be televised nationally by FOX, in Canada by Rogers Sportsnet and RDS, and worldwide by partners in more than 200 countries via MLB International's independent feed. ESPN Radio and ESPN Radio Deportes will provide national radio coverage of the All-Star Game. MLB Network and SiriusXM will also provide comprehensive All-Star Week coverage. For more information, please visit allstargame.com.
Barry M. Bloom is national reporter for MLB.com and writes an MLBlog, Boomskie on Baseball. Follow @boomskie on Twitter. This story was not subject to the approval of Major League Baseball or its clubs.