Dodgers cruise behind Beckett's short outing
Kemp ends slump with four hits; Adrian notches three RBIs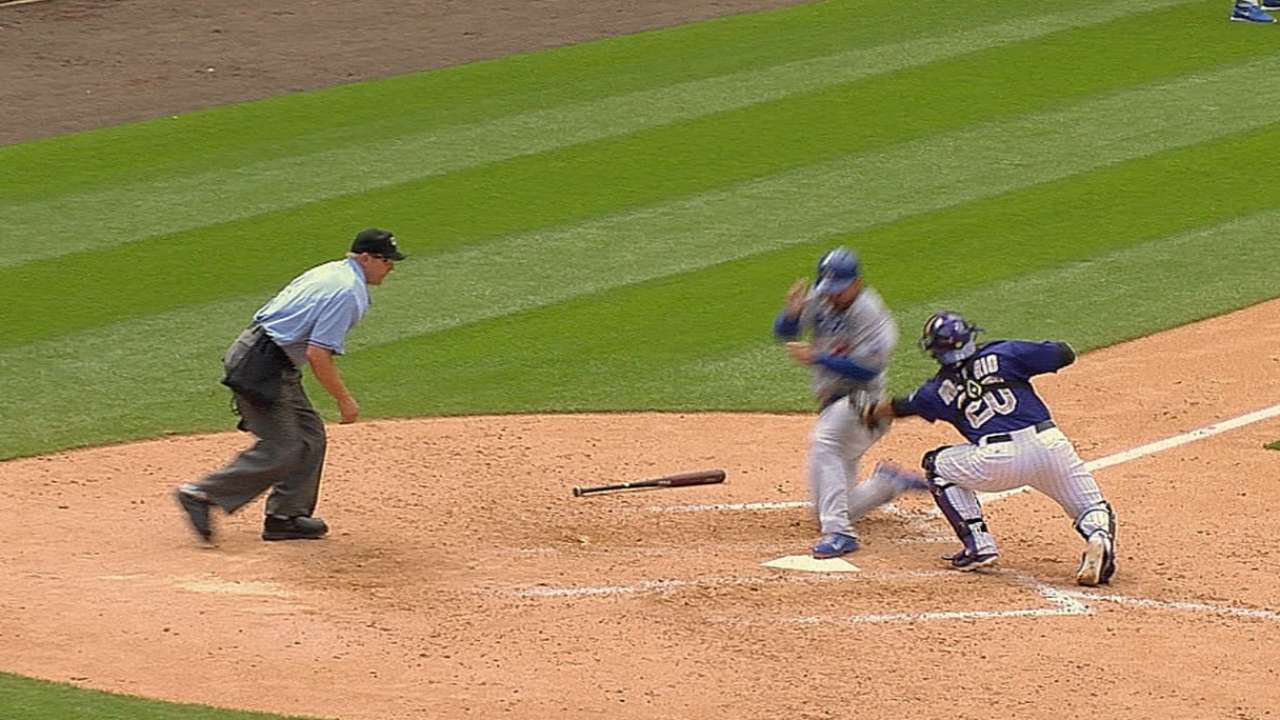 DENVER -- A sore hip put infielder Erisbel Arruebarrena on the disabled list Sunday, but Josh Beckett took his ailing hip to the Coors Field mound and battled to an 8-2 Dodgers win over the Rockies.
After the Indians roughed him up at home, Beckett rebounded with five scoreless innings before the demands of baserunning "tweaked" an already bothersome left (landing) hip. At the suggestion of vice president of medical services Stan Conte, who noticed Beckett favoring his left side and changing his arm angle, the pitcher was removed, having made 82 pitches.
Beckett was on the bases because he keyed the decisive five-run fifth inning with a one-out double, but he said the start and stop of running to third base on Dee Gordon's single flared up the hip, even though he later pitched a perfect bottom of the fifth with two strikeouts.
Beckett said it wasn't the late slide into third base that caused his discomfort but rather a hesitation to make sure the ball got through the infield. He couldn't say if he'd be able to make his next start, tentatively scheduled for Sunday before the All-Star break. The Dodgers have lined up Red Patterson to pitch for Triple-A Albuquerque on the same day as Beckett in case they need a late sub.
"I tweaked the hip. It's been bothering me," Beckett said. "We'll see where we're at tomorrow. It's been a little more of a battle the last couple of weeks. The day I pitch is the best I feel all week."
Which means Beckett has trouble bouncing back in the first few days after a start. Before he left, Beckett (6-5, 2.26 ERA) issued three walks, ending the club's MLB-record streak for consecutive starts with no more than two walks at 39.
"I knew if [the streak] got to me, it was going to end," said Beckett. "I don't have the stuff to keep that going here."
Matt Kemp broke out of his slump with four hits and two RBIs and Adrian Gonzalez (who finished second in All-Star voting at first base) drove in three runs, two with a bases-loaded single in the fifth inning. Beckett started that five-run rally with a one-out double off Colorado starter Yohan Flande, making only his third Major League start. It was Beckett's third double in his last two games.
Beckett nearly maimed himself with a late slide into third on Gordon's second single, but after a walk to Puig loaded the bases, Gonzalez singled home Beckett and Gordon. Kemp singled home Puig and Scott Van Slyke walked to load the bases again.
Juan Uribe's second of three hits was a slow roller to third baseman Nolan Arenado, who made a bare-hand pickup and threw home, with catcher Wilin Rosario making a swipe tag. Plate umpire Jeff Kellogg called Gonzalez out, but Dodgers manager Don Mattingly challenged and the call was overturned, with Gonzalez scoring and the bases remaining loaded. With two out, Miguel Rojas was hit by a pitch for the fifth run.
Beckett and Rojas continued through the bottom of the fifth inning, but when the Dodgers came out for defense in the sixth inning, Beckett and Rojas had been replaced by Chris Perez and Carlos Triunfel. X-rays were negative on Rojas' bruised right forearm.
Troy Tulowitzki and Justin Morneau greeted Perez with singles. Gordon tried to turn Arenado's soft liner into a double play by letting it bounce, but after flipping it to Triunfel for the first out, the shortstop's wild relay to first allowed Tulowitzki to score.
Puig doubled in an insurance run in the eighth inning after a walk to Triunfel and a broken-bat pinch-single by Clint Robinson. Gonzalez was robbed by DJ LeMahieu of another hit and Robinson scored on the out. Kemp's fourth hit scored Puig.
The Rockies scored a run in the bottom of the eighth when Triunfel apparently thought it was already two outs instead of one and bypassed a double play for an out at first base.
Ken Gurnick is a reporter for MLB.com. This story was not subject to the approval of Major League Baseball or its clubs.