Rays continue surge as Price tops Tigers in Detroit
Ace lefty goes 8 2/3 innings as Tampa Bay completes 9-2 road trip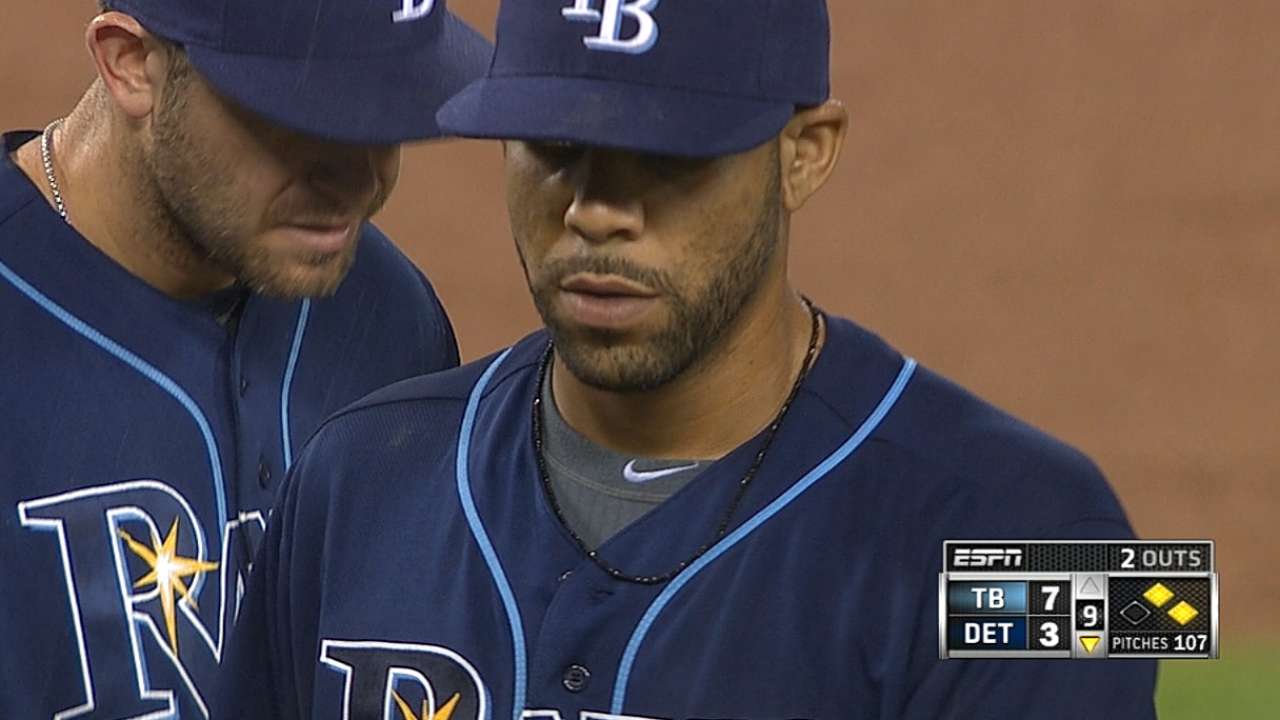 DETROIT -- David Price is still with the Rays, and his team continued to climb Sunday night with a 7-3 win over the Tigers at Comerica Park.
The Rays finished their three-stop, 11-games-in-10-days road trip with three series wins and a 9-2 mark. By doing so, the Rays (41-50) moved out of the American League East basement and a half-game in front of the Red Sox, ending a 39-day run in last place.
"Seriously, you go through Baltimore, New York and Detroit right now, with the quality of those three teams, and we come out of it 9-2 -- based on where we had been earlier, that speaks a lot about our players," Rays manager Joe Maddon said. "I think we're one of the best teams in the American League. I thought that from Day 1. ... I felt that way all along. We just weren't playing that way."
The surging Rays began the week with the worst record in the Major Leagues, then went out and passed the D-backs, Mets, Rockies, Phillies, Rangers, Astros and Red Sox.
Price, who was named an AL All-Star prior to the start of the game, carved up the Tigers over 8 2/3 innings to claim his third consecutive win and move to 8-7 on the season. All of the wins have come while his name has been front and center in trade rumors.
"I guess I got 26 outs, I would say at least about 15 of them were hit right on the screws," said Price, noting how well the defense played behind him. "They hit me well. They deserved better. ... But I'll take it."
Price wants to remain with the Rays and is doing his part to try and ensure that he does so by helping the team continue to win. On June 10, the Rays had a record of 24-42 and were a season-high 15 games out of first place. After Sunday night's win, the Rays find themselves 8 1/2 games behind the first-place Orioles.
The Rays appeared headed for a buzz saw Sunday night in the form of Rick Porcello, who had pitched shutouts against the Rangers and Athletics in his previous two outings. Any thoughts of three straight were quelled in the first inning.
Desmond Jennings doubled to lead off the game, and then scored on Ben Zobrist's singe to center field. Matt Joyce followed with his seventh home run of the season on a 2-1 pitch. The blast wasn't official until a crew chief review validated what first appeared to be a triple.
"I think it's important to get on [Porcello] early like that, because if you don't, he settles in and it's really difficult," Maddon said. "We worked good at-bats, obviously. We have the last couple of nights."
The Tigers cut into the lead in the bottom half of the inning when Rajai Davis scored on Miguel Cabrera's sacrifice fly to make it 3-1 Rays.
Evan Longoria singled home Zobrist in the fifth. Kevin Kiermaier hit into a forceout in the sixth to drive home another run, then Jennings unloaded his eighth home run of the season, a two-run shot, to give the Rays a 7-1 lead.
"I was falling behind guys," said Porcello, who took his fifth loss of the season. "I didn't stay down in the zone well tonight at all. I fell behind Joyce, 2-1, got into a fastball count. It ran back over the middle of the plate. I wasn't sharp early."
In addition to power displayed by Jennings, he showcased his fielding abilities with two diving catches to rob Tigers hitters of extra bases. Those were the highlights of a stellar fielding effort by the Rays.
Price allowed two solo homers, one to Torii Hunter in the seventh and one to J.D. Martinez in the ninth.
Jake McGee finished out the win by retiring Austin Jackson, the only batter he faced, in the ninth.

"It's crazy [the way the Rays are playing right now]," Price said. "Obviously we expected to play better baseball at the first part of the year. We expected to play up to this caliber. I don't know about doing all of this. We just got done with a really good road trip against three really good teams. We need to keep it going.
"This is the type of baseball we expect to play. ... We're confident right now, that's for sure. We just need to keep winning ballgames. We don't particularly play too well against [next opponent] Kansas City, so we have to turn that around."
Bill Chastain is a reporter for MLB.com. This story was not subject to the approval of Major League Baseball or its clubs.