Porcello takes loss as Tigers dropped by red-hot Rays
Righty allows seven earned runs over 5 2/3 innings in series finale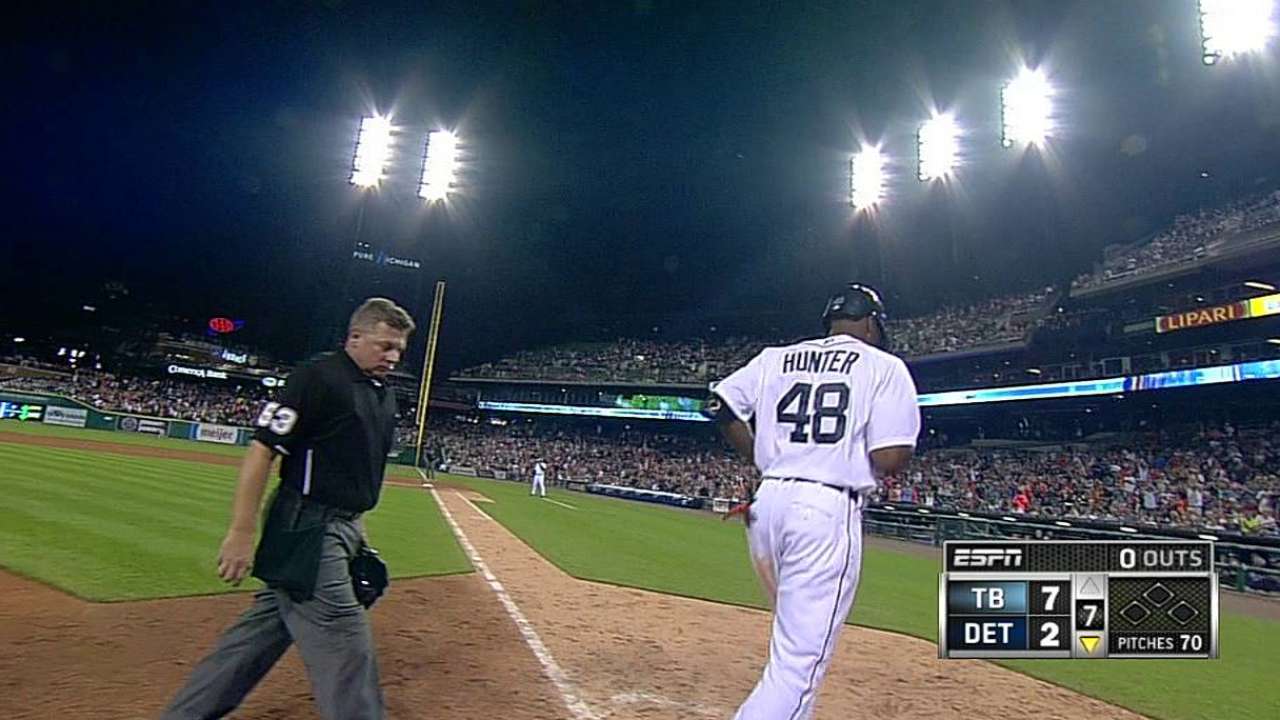 DETROIT -- For the vast majority of Rick Porcello's brilliant first half of the season, he lived happily by his sinker.
Sunday night, with a chance to state his case for the American League's final All-Star Game roster spot, he died by it.
Former Tiger Matt Joyce got a hold of Porcello's signature pitch for a two-run homer that capped a three-run Tampa Bay first. The Rays went on to win, 7-3, behind 8 2/3 innings of David Price.
Porcello is one of five AL pitchers on the ballot for the 2014 All-Star Game MLB.com Final Vote Sponsored by Experian, but it was clear from the first inning that he wasn't going to make a very strong argument this night. Five of Tampa Bay's 11 hits off him came in the opening frame. The inning also marked the end of Porcello's 25-inning scoreless streak that included back-to-back shutouts.
Despite the rough outing in front of a national audience, Tigers manager Brad Ausmus maintained that his first-half ace still deserves an All-Star spot.
"Certainly, it's not indicative of the type of pitcher Rick is," Ausmus said. "His last couple starts were outstanding. It just so happens that, timing-wise, it wasn't great for him, but he certainly deserves to be an All-Star."
Early, Porcello struggled to grasp the lower part of the strike zone, which is where a sinkerballer breathes. It was a marked difference from Porcello's last outing, against the A's, in which he recorded 17 of 27 outs on the ground.
The ball was up, and it sailed out of the yard against him twice on a muggy night.
"When it gets up, it gets flat," said Ausmus. "You see more fly balls."
As the game progressed, Porcello began to locate with the two-seamer, but by that time, Tampa Bay had built a safe lead with Price on the hill. And some of the ground balls that Porcello did induce found holes in the Detroit offense.
Porcello also found himself working behind in counts for much of the night, like when he fell behind, 2-1, to Joyce.
"I got into a fastball count and it ran back over the middle of the plate," Porcello said.
The big right-hander recovered after the rocky first to retire 11 of the next 12 Rays. But, facing Price, the ace of the Tampa Bay staff who earlier in the day was anointed an AL All-Star, the Tigers had few chances to mount a serious comeback.
And the last batter Porcello faced, Desmond Jennings, knocked a two-run homer to left-center off a fastball with two outs in the sixth inning. Porcello tied season highs with two home runs allowed and seven earned runs allowed in the loss, his first in nearly a month.
Price allowed seven hits, with six strikeouts and three walks. He estimated that, of the 26 outs he recorded, 15 of them were hit "right on the screws."
"They hit me well," Price said. "They deserved better. … But I'll take it."
Ausmus agreed that his team mostly took good at-bats against the lefty. But, as the Tigers' skipper put it, "He's still David Price. … When they get a lead like that, we know it's going to be tough coming back against a guy like David Price."
The three blemishes to Price's linescore came in the first inning, when Miguel Cabrera scored Rajai Davis by way of a sacrifice fly; in the seventh, when Torii Hunter hit a solo shot; and in the ninth, when J.D. Martinez led off with a homer.
Two Tigers followed Martinez's homer by reaching base, but the rally fell well short. And Detroit, 10 games over .500 on the road, fell to just one game above .500 at Comerica Park.
The Tigers unanimously concluded that the Rays are a far better team than their 41-50 mark would suggest. But that didn't excuse dropping three out of four to Tampa Bay after a euphoric sweep of Oakland.
"It [stinks]," Hunter said. "We've been playing so well, and then these guys come. They're a better team than their record. Don't sleep. Those guys can play.
"We tried to battle back, we fought back today, we hit the ball hard, crushed the ball, just had no luck."
Matt Slovin is an associate reporter for MLB.com. This story was not subject to the approval of Major League Baseball or its clubs.