Lincecum dominates Padres again for win
Starter allows homer in 6 1/3 innings; Pence has three hits, three runs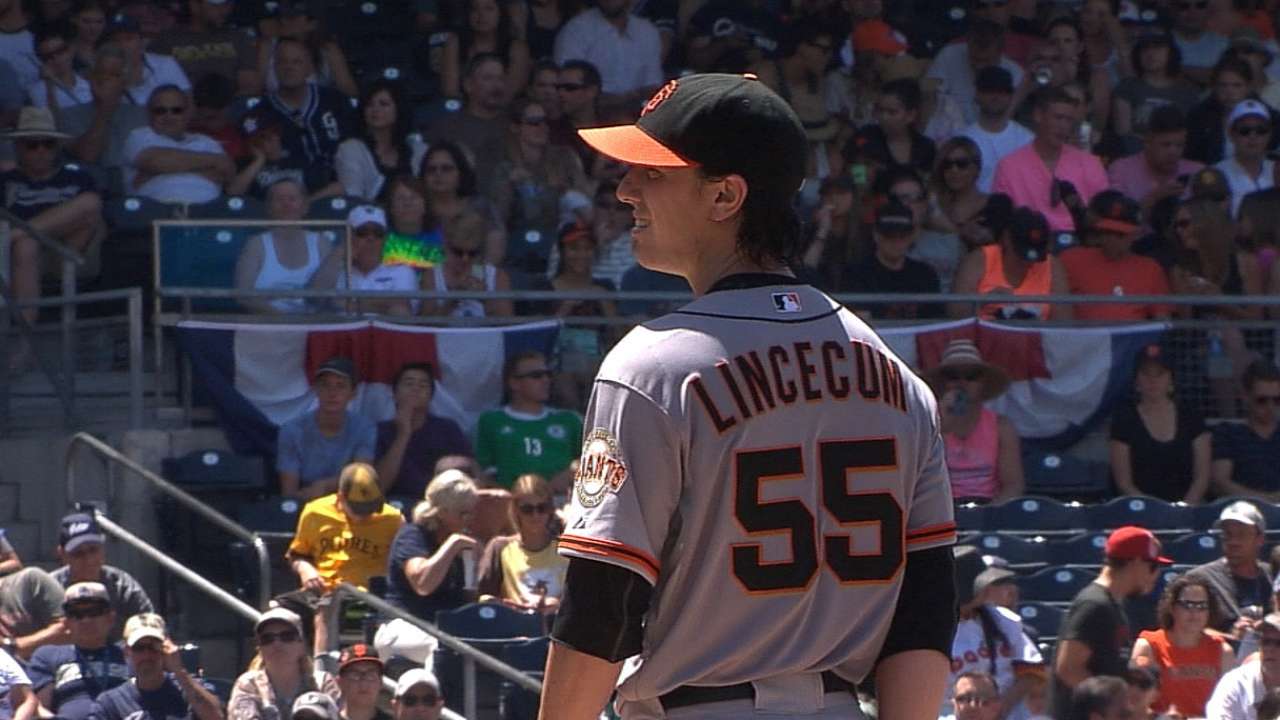 SAN DIEGO -- If the season's theoretical first half lasted another week or two, Tim Lincecum might be joining Hunter Pence and Madison Bumgarner on the Giants' All-Star Game contingent.
Lincecum lengthened his personal winning streak to three games Sunday in San Francisco's 5-3 victory over the San Diego Padres. The Giants defeated San Diego twice in three games to end a streak of three consecutive series defeats. They've still lost six of their last eight series. But they remained a mere half-game behind the Dodgers, and Lincecum's sustained effectiveness has bolstered their hopes.
Lincecum's scoreless-innings streak reached 23 until Brooks Conrad homered with one out in the seventh inning. That prompted Giants manager Bruce Bochy to remove Lincecum, who had thrown 105 pitches. Though if Bochy had his druthers, he would have allowed Lincecum to continue pitching just to enjoy the beauty of it all.
"It's been fun to watch just how poised he has been and how easy his delivery is," Bochy said.
Lincecum established control immediately and maintained it. He surrendered three hits and didn't yield his first one until Jake Goebbert singled with two outs in the fourth inning.
"I have the confidence to use any of my pitches right now in any situation. That's what's been helping me," said Lincecum (8-5).
As Lincecum's legion of followers knows, he has been striving to complete the transition from thrower to pitcher. With each outing such as Sunday's, he's providing greater evidence that he has reached a more effortless stage in his evolution. Bochy cited Lincecum's ability to "pitch to contact," a phrase that never would have been associated with him earlier in his career.
"It was just pure stuff early in his career," Bochy said. "But now he's become cerebral."
Lincecum, who's three wins shy of 100 for his career, still averaged almost a strikeout per inning by accumulating six.
"I'm just trying to throw the best pitch I can in any situation," he said, describing his approach. "If it's a ground ball, it's a ground ball. If it's a hit, I move on. And if it's a strikeout, I move on as well."
The Giants' offense moved forward as this series concluded, scoring five runs in each of the final two games after the club mustered two or fewer runs in eight of its previous 11 games.
Production from the top of San Francisco's order has been scarce during center fielder Angel Pagan's absence. Sunday, however, the first four batters collected seven of the team's eight hits, even with Buster Posey resting and Pablo Sandoval nursing his bruised left elbow. Continuing to replace Pagan in the leadoff spot, Pence went 3-for-4 and scored three runs. Rookie second baseman Joe Panik contributed two hits, scored twice and drove in a run. Brandon Belt went 1-for-3 with two RBIs. Michael Morse and Hector Sanchez delivered run-scoring hits to cap two-run uprisings for the Giants in the third and eighth innings, respectively. All this helped the Giants surge to a 5-1 lead.
"Pence was a pain in the butt his first couple at-bats, which he is for a lot of Major League pitchers," San Diego manager Bud Black said.
Though Sergio Romo surrendered Yasmani Grandal's two-run homer in the eighth inning, that lapse was bracketed by Jeremy Affeldt's 1 1/3 perfect innings of setup relief and Santiago Casilla's three-up, three-down ninth for his second save in two games.
Chris Haft is a reporter for MLB.com. Read his blog, Haft-Baked Ideas, and follow him on Twitter at @sfgiantsbeat. This story was not subject to the approval of Major League Baseball or its clubs.