Marlins win team-record 10th straight Alvarez start
Righty sharp for seven, adds three hits to series-clinching onslaught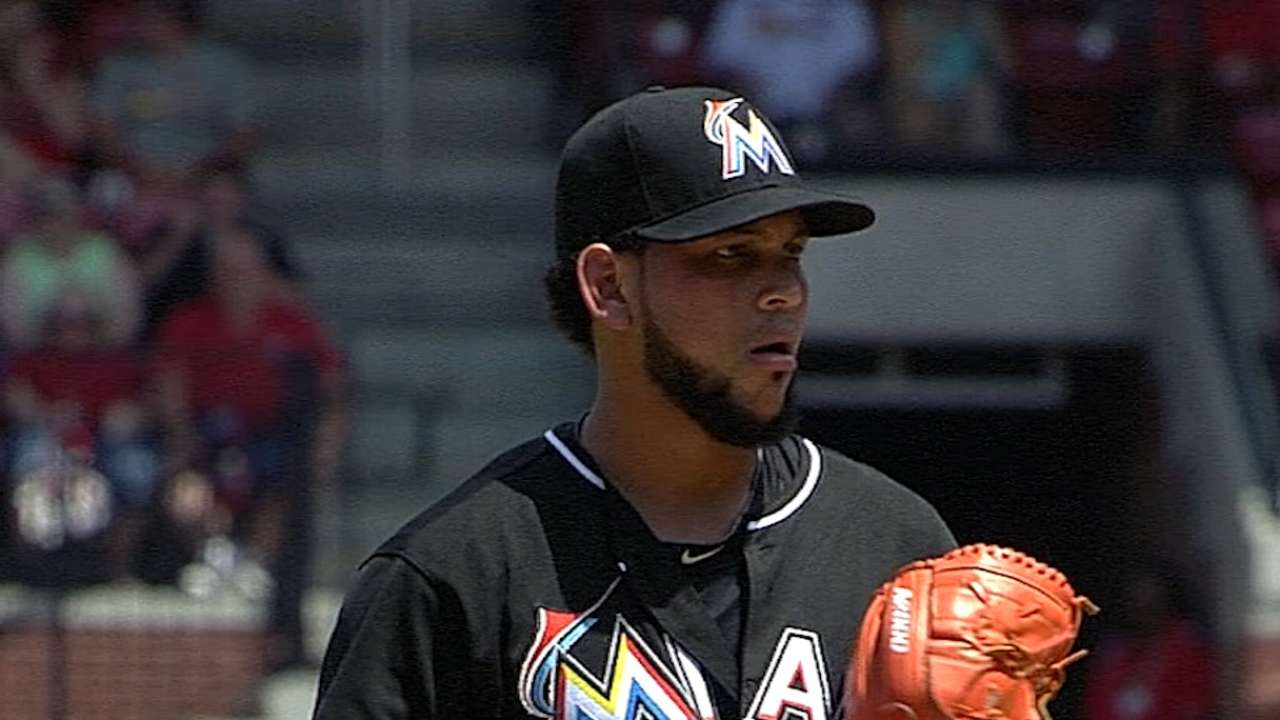 ST. LOUIS -- Wins keep piling up for the Marlins when Henderson Alvarez is on the mound. Sunday was no different.
Alvarez gave up one run in seven innings, collected three hits and achieved a piece of club history in Miami's 8-4 win over the Cardinals at Busch Stadium.
After losing 3-2 on Friday, Miami rebounded to claim the series. The Marlins hadn't claimed a series at Busch Stadium since 2009.
The Marlins, meanwhile, have now won a club-record 10 straight games in which Alvarez has started. The previous mark was nine, established by Chris Hammond from May 19-July 2, 1993.
"I've always wanted to be a leader, and all I can do is go out there and give my 100 percent," Alvarez said.
"He is looking to make a statement and go out there," Miami manager Mike Redmond said. "I'd love to see him pitch 200 innings. I hope he makes it. That sends a pretty good message, as a starter, if you can get to that 200-inning mark."
Since Jose Fernandez had season-ending Tommy John surgery in May, Alvarez has assumed the role of ace.
"This is a guy, we love his stuff," Redmond said. "We love the way he competes. He brings a lot to this ballclub. More so now, we're seeing it without Jose. Before, everything was about Jose. Now, we're starting to see some of these guys step forward and get some recognition themselves."
Jarrod Saltalamacchia belted a three-run homer, while Jeff Baker and Marcell Ozuna each drove in two runs.
After giving up one run on five hits, Alvarez has now gone nine straight starts allowing two runs or fewer.
"He's been really consistent," Redmond said. "He's very athletic out there. He gave us everything he had today. Gave us a big win."
Casey McGehee chipped in with two hits and an RBI, extending his career-best hitting streak to 13 games. He's hit safely in 20 consecutive road games and reached base safely in 30 in a row.
Alvarez had an all-around strong afternoon.
At the plate, he chipped in with three singles, becoming the first Miami pitcher to have a three-hit game since Josh Johnson on April 26, 2010, against the Padres.
"I'm just focused on being a pitcher," Alvarez said. "I work hard on both aspects. I work hard on my hitting and pitching. Fortunately for me, I got my three hits today. I was fortunate."
No pitcher in club history has had a four-hit game. Dontrelle Willis had three three-hit games. Overall, five different pitchers have done it seven times.
Running the bases on an 84-degree afternoon eventually wore Alvarez out after seven innings and 92 pitches.
"The first inning I was kind of hot, felt kind of weak," Alvarez said. "As the game went on, I was able to work my pitches, work down in the zone, and I was able to get through it."
The Marlins struck quickly off Cardinals lefty Marco Gonzales. With two outs in the first inning, McGehee's single to center scored Christian Yelich, who singled to open the game.
A three-run sixth inning padded Miami's lead to 4-0. Alvarez got the rally going with a single, and he scored on Ozuna's two-run single. Baker tacked on a run-scoring single.
The lone run Alvarez allowed was a one-out homer to Kolten Wong in the seventh inning.
Saltalamacchia's three-run homer off Jason Motte highlighted a four-run eighth inning.
The way Alvarez has thrown since mid-May, not many -- besides Clayton Kershaw of the Dodgers -- have been as effective as the Miami right-hander.
"I'm glad he's on our side," Redmond said. "This guy has been lights-out. I think we all feel so confident when he takes the ball and what he means to this ballclub. You talk about a hot day. We had an advantage. He was pitching, throwing strikes and getting off that field quick. We had some extended innings early. We kept them out there a while, and I think that made a big difference, and maybe we wore them out a little bit."
Joe Frisaro is a reporter for MLB.com. He writes a blog, called The Fish Pond. Follow him on Twitter @JoeFrisaro. This story was not subject to the approval of Major League Baseball or its clubs.