Cards' bats don't perk up until late in loss to Fish
Gonzales works out of jams, but 'pen falters; Wong HR opens scoring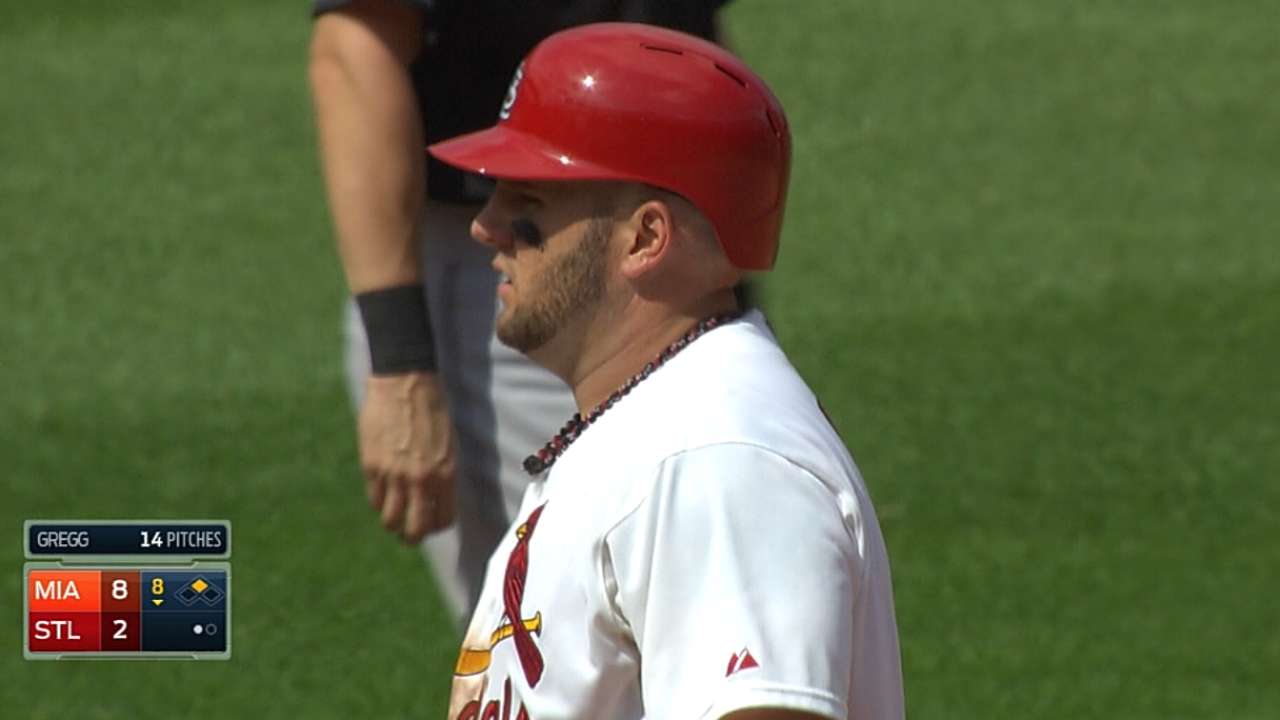 ST. LOUIS -- Early on, the hits were few and far between for the Cardinals, and dodging the Marlins' threats could only be sustained for so long.
The latter eventually gave way Sunday as the Marlins broke through for a surplus of runs that were far too many for a slumping Cards offense to match, even when the ball began to find holes later on. The Cardinals scored all their runs in the final three innings, but it was too little in an 8-4 loss in front of 42,160 at Busch Stadium, giving Miami two of three games in the series.
"The balls weren't finding holes like their balls were," said Matt Adams, who was a bright spot in the Cards' lineup with a career-high four hits. "They just hit some balls harder right in the holes."
Marco Gonzales, making his first start in St. Louis and just the third of his career after being summoned from Double-A due to injuries, lasted 4 2/3 innings, allowing one run despite running into trouble in all but one inning.
The left-hander allowed four first-inning singles, but limited the damage to one run with the help of a double play. Gonzales loaded the bases in the third, but a grounder ended that threat, and two strikeouts and a flyout erased two baserunners to open the fourth.
Gonzales' day would come to an end with two outs in the fifth after he loaded the bases yet again. Reliever Seth Maness erased the threat with a grounder to short on the third and final pitch he threw.
Gonzales allowed seven hits -- all singles -- and walked five batters, but only the leadoff single he surrendered came around to score.
"I just got some clutch ground balls, some fly balls," Gonzales said. "That's when pitching to contact really helps, so I was fortunate to get out of some big innings."
"Marco did a good job of managing and keeping us in the game," Cardinals manager Mike Matheny added.
After stranding 10 runners through the first five innings, leaving the bases loaded twice, the Marlins broke through in the sixth.
Miami put the first two on with singles off Nick Greenwood, and after getting two flyouts, the Cardinals intentionally walked third baseman Casey McGehee to load the bases. The third time with the bases loaded was a charm for Miami, as Marcell Ozuna drove in two with a single and Jeff Baker followed with an RBI single of his own. The Marlins' first four runs came on two-out grounders.
"When guys needed to make pitches, they made pitches," Matheny said. "[They] just had a few get through."
The Marlins added on with four runs in the eighth off Jason Motte, three coming via a home run from catcher Jarrod Saltalamacchia.
Kolten Wong, fresh off the disabled list, ended the shutout in the seventh when he sent a pitch 416 feet into the right-field bullpen, but that was all the Cardinals could muster off Marlins starter Henderson Alvarez.
"He was just keeping the ball down," Adams said. "He got a lot of ground balls and he nibbled the zone and made pitches whenever he had to."
Alvarez allowed five hits -- three to Adams and another to Maness after the reliever's three-pitch outing -- in his seven innings. Alvarez, with three hits, outhit every Cardinals hitter except Adams.
The Cards managed five hits and three runs in the final two innings, but that was too little, too late.
"You can't say we had a lot of chances," Matheny said. "We had a couple."
While the Marlins collected 16 hits and put another seven on via walk, the Cardinals found their offense searching to catch up.
"I still just think our offense as a whole, there's a lot more there," Matheny said. "Those are the conversations they're having inside that room, too. We've just got to keep fighting until we find it."
Alex Halsted is an associate reporter for MLB.com. This story was not subject to the approval of Major League Baseball or its clubs.