Arrieta goes six strong, but Cubs fall late to Nats
Chicago ties game in seventh, then Washington pulls ahead in eighth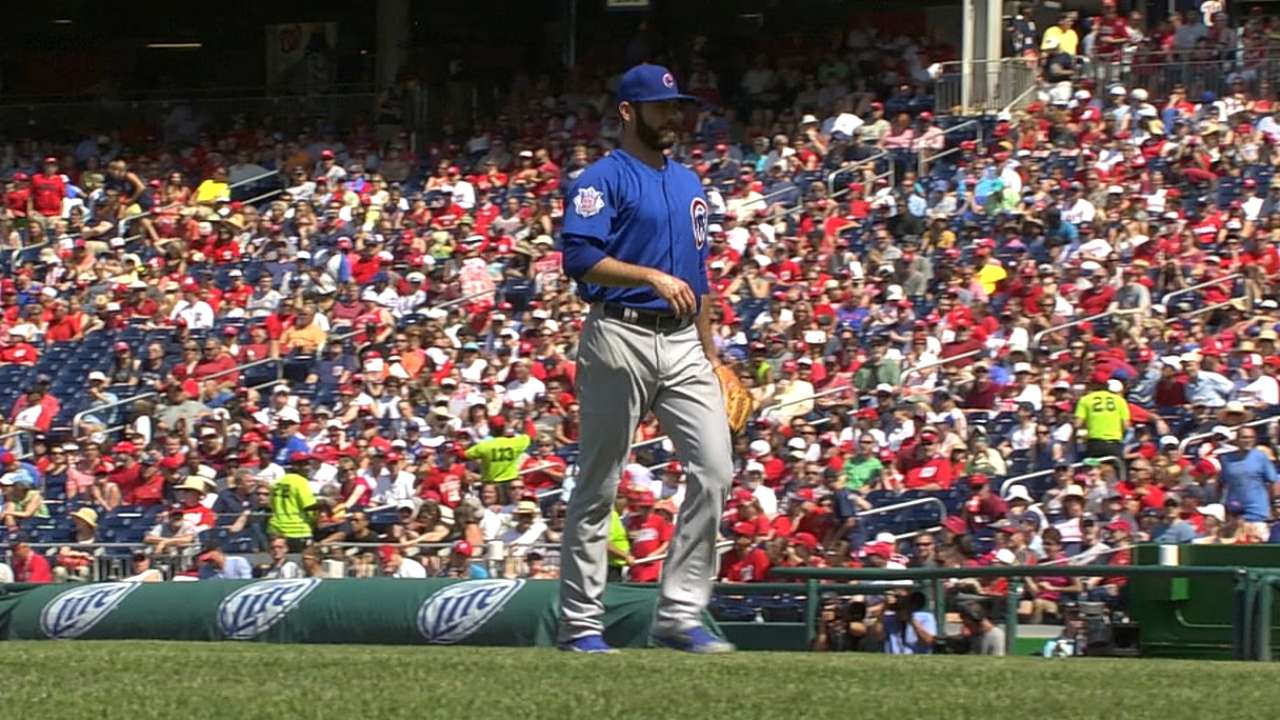 WASHINGTON -- In each of his previous two starts entering Sunday, Jake Arrieta made it through at least six innings before surrendering his first hit.
But in the series finale against the Nationals, it took only one batter for Arrieta to lose his no-hit bid. Leadoff man Denard Span mashed Arrieta's second pitch over the head of center fielder Justin Ruggiano, who misplayed the well-struck line drive, and coasted into second base for a double. Two groundouts later and Span crossed the plate for the game's first run.
"I got it out of the way early," Arrieta said.
It may not have been the kind of perfect start to an outing Arrieta has gotten used to, but the rest of Sunday's performance stayed true to the dominant form the right-hander's shown in 2014. Arrieta didn't let up another run in his six innings of work, surrendering just four hits. But an eighth-inning RBI single from Ryan Zimmerman ultimately cost the Cubs the game as the Nationals pulled out a 2-1 victory on Sunday at Nationals Park.
"They've got a really good ballclub," Arrieta said. "Top to bottom, their order is very strong. I was looking up in one of the innings and I saw [Ian] Desmond and [Wilson] Ramos hitting seventh and eighth. And I said, 'Wow, these guys are pretty good.' It was a dogfight, though. I really had to grind it out there. I had guys on base, had to make pitches in big situations, and I was able to do that."
The Cubs put runners in scoring position on a number of occasions during the early stages of the game, but Nationals starter Jordan Zimmermann was able to match Arrieta by firing six scoreless innings.
"Zimmermann's got a good arm," Cubs manager Rick Renteria said. "He did a nice job of getting out of some jams."
Even so, the Cubs' ability to compile hits and waste a great deal of pitches from Zimmermann ultimately gave them an opportunity in the seventh inning. The right-hander threw at least 20 pitches in each of his first three innings and left the game after the sixth having thrown 105 pitches, 76 for strikes.
Reliever Drew Storen took over for Zimmermann in the seventh and surrendered a leadoff single to Chris Coghlan, who pinch-hit for Arrieta after just 90 pitches. After the game, though, Arrieta understood the necessity of the decision.
"It was one of those National League things," Arrieta said. "1-0 ballgame, I don't swing it all that good, so it was a good decision bring a lefty in there, Coghlan, to face Storen. And he had a good at-bat."
A sac bunt from Ryan Sweeney moved Coghlan over before Ruggiano and Anthony Rizzo reached on a walk and single, respectively, to load the bases.
Third-base coach Gary Jones opted to hold Coghlan at third on Rizzo's single despite the fact that Span didn't immediately throw the ball back to the infield. Nonetheless, Starlin Castro knotted things at 1 with a sacrifice fly to center field in the ensuing at-bat.
The Cubs had a chance to take the lead an inning later off setup man Tyler Clippard with runners on second and third and one out. But a strikeout from pinch-hitter Welington Castillo and a groundout from Sweeney ended the inning.
"We had some opportunities," Renteria said. "Obviously, we weren't able to drive in those runners that we had at those times."
The Nationals jumped ahead in the bottom of the eighth while facing reliever Pedro Strop. Span led the inning off with his second double of the game before Zimmerman came through with a two-out single to left to give the Nats the lead.
Despite the Cubs' loss, it was yet another promising start from Arrieta, who now boasts a 1.78 ERA in 12 starts this season. And Renteria said this kind of sustained excellence from the right-hander could mean something is clicking for good.
"He's had some really consistent outings," Renteria said. "Hopefully, he's breaking through."
Daniel Popper is an associate reporter for MLB.com. He also can be found on Twitter @danielrpopper. This story was not subject to the approval of Major League Baseball or its clubs.