Fast start propels Yankees to series win over Twins
After scoring nine runs in first four innings, New York staves off rally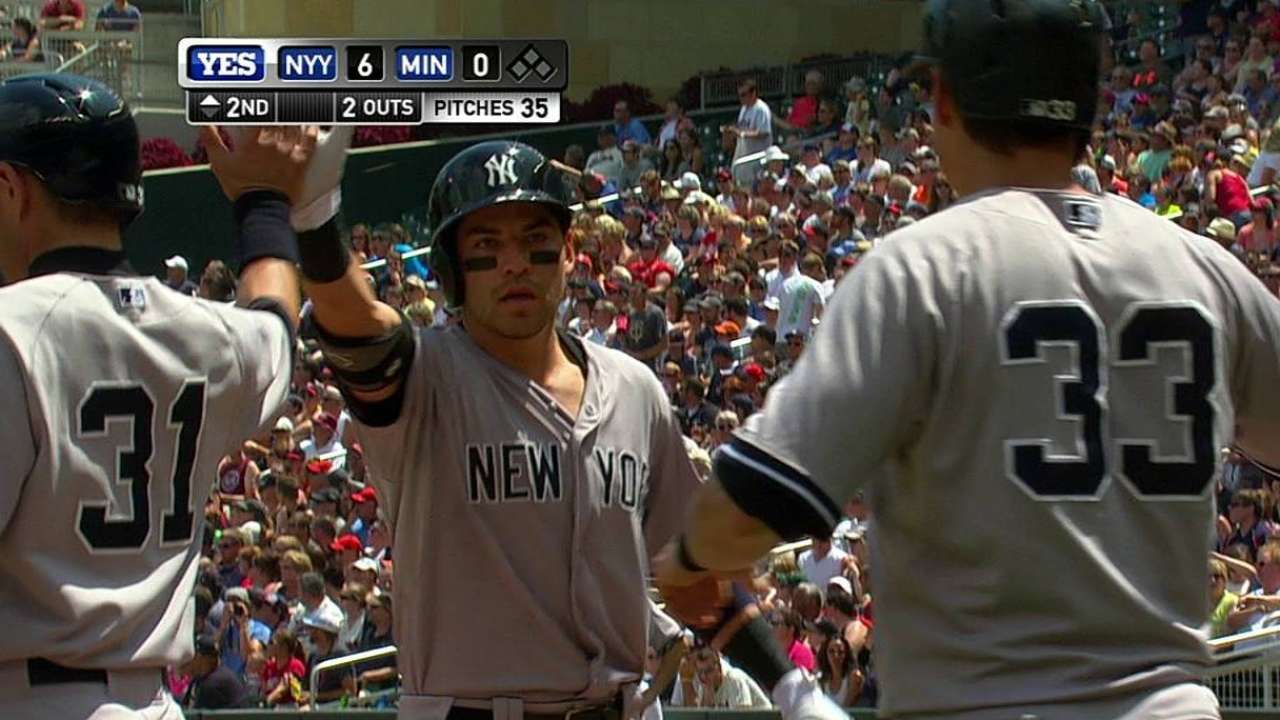 MINNEAPOLIS -- With management focused on adding arms, the Yankees are trying to make do with the bats they already have.
Sunday's 9-7 win and and subsequent series victory over the Twins at Target Field were signs -- albeit brief ones -- that the current lineup might be enough to get by.
"You look at three of the four days, we hit the ball extremely well, and that's what we need," manager Joe Girardi said. "We need to come up with that consistency."
It was clear from the get-go that Twins starter Ricky Nolasco was in for a rough afternoon. He used his first seven pitches to walk leadoff hitter Brett Gardner before surrendering a single to Derek Jeter that began an early onslaught.
Mark Teixeira singled home Gardner, and then Brian McCann -- a late addition to the lineup after nursing a sore foot -- brought home Jeter with a double past center fielder Sam Fuld's glove near the base of the outfield wall.
"There's going to be those days where you don't hit the ball, but it was great to jump all over Nolasco," Girardi said.
After Hiroki Kuroda set down the home team with a 1-2-3 first, Nolasco stepped back on the mound for more.
The Yankees greeted him with three straight singles from Brian Roberts, Ichiro Suzuki and Kelly Johnson to load the bases. After Jeter picked up an RBI with a sacrifice fly, Jacoby Ellsbury knocked a line-drive three-run home run to the right-field porch to make it 6-0, and the rout was on.
"He really had nothing," Twins manager Ron Gardenhire said. "Nothing was coming out of his hand. They hit everything he threw out there. We gotta go better than that. He did nothing for us today and didn't give us a chance."
Even after Nolasco (5.90 ERA this season) exited, the Yankees' lineup was efficient. Suzuki and Johnson pieced back-to-back singles together against reliever Anthony Swarzak in the fourth. Another single by Jeter and a groundout by Ellsbury scored both of them, and then Ellsbury ended up scoring from third on a balk by Swarzak for a 9-0 lead.
In the ninth, Jeter put a cap on the day with a single to right -- his 3,400th career hit. Before the at-bat, the home crowd gave Jeter a lengthy standing ovation.
"You know, the fans have been good to me pretty much every time I've come here," Jeter said. "Even when they've booed me, they've been respectful doing it. I've enjoyed coming here to Minnesota and playing, but it makes you feel good any time the fans appreciate what you've done."
Kuroda (5 2/3 innings, four earned runs) was mostly solid on the afternoon, save for a poor fourth inning.
The right-hander walked Josh Willingham with one out before fielding a grounder from Oswaldo Arcia and throwing the ball past Teixeira at first. Arcia was tagged out at second, but Willingham scored during the the chaos to put Minnesota's first run on the board.
"With the stuff that I had today, it was important that the offense picked me up," Kuroda said.
Things got stickier when Kurt Suzuki and Trevor Plouffe hit back-to-back doubles with two outs, and then Chris Colabello smashed a home run into the bullpen in left-center field to make it 9-4.
"It's always tough to play from behind, but we battled," Colabello said. "That's all you can really ask for really when you get behind. You just try to compete and pick your guys up on the mound."
The Yankees' bullpen made things interesting, as Adam Warren gave up an RBI groundout to Chris Parmelee in the seventh and Jim Miller surrendered a solo homer to Plouffe in the eighth to cut the lead to 9-6. David Robertson then allowed a run in the ninth before retiring Suzuki as the potential winning run for his 21st save.
New York's offensive outburst came on a day when general manager Brian Cashman made two pitching-centric moves.
The Yankees traded pitcher Vidal Nuno for D-backs right-hander Brandon McCarthy and designated outfielder Alfonso Soriano for assignment in favor of reliever Bruce Billings, who was called up from Triple-A.
"We've gotta get through our pitching first," Girardi said. "We don't plan on playing with 12 players the rest of the time, but we'll go day-by-day right now.
"We've liked our lineup the whole year. It's been a lot of ups and downs, but hopefully these four days here got 'em going and it carries on to this week and the rest of the year."
Alex M. Smith is an associate reporter for MLB.com. Follow him on Twitter @asmiff. This story was not subject to the approval of Major League Baseball or its clubs.