Samardzija lives up to expectations in debut
Newcomer holds Jays to one run over 7 to complete sweep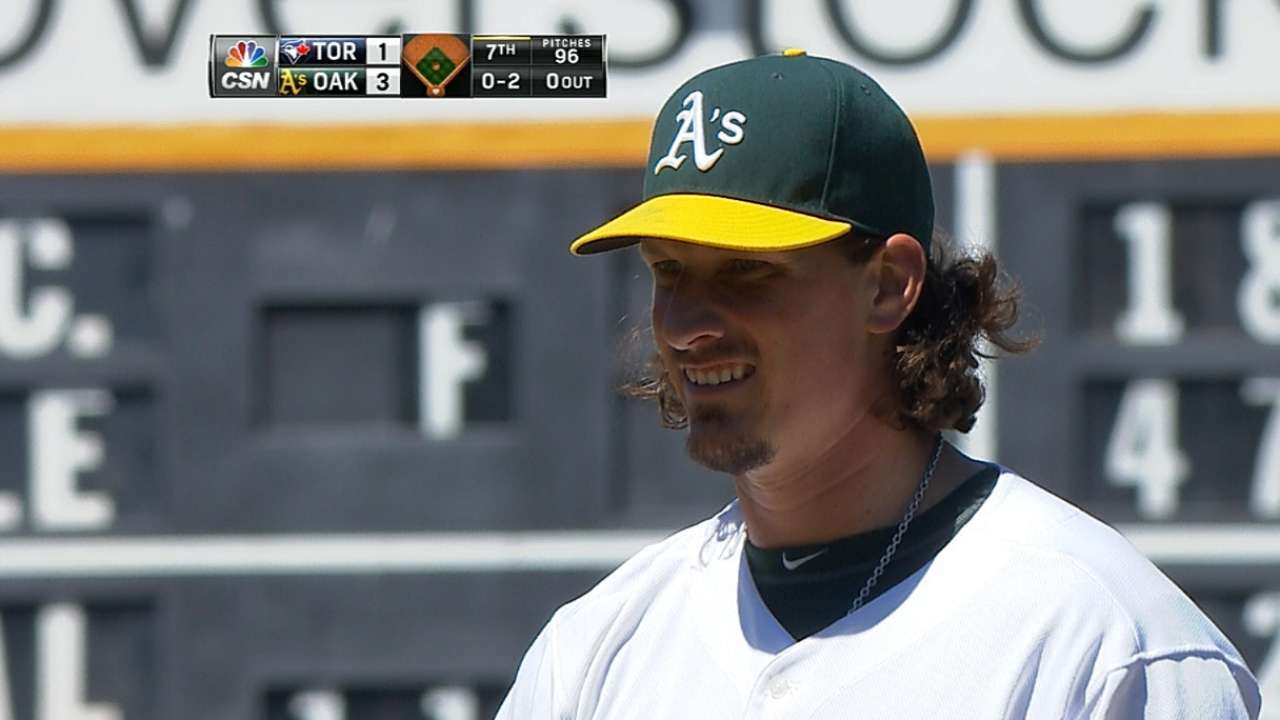 OAKLAND -- Typically, if a pitcher is scheduled to start a 1 p.m. game, he will arrive at the ballpark around 11 a.m. But new A's acquisition Jeff Samardzija couldn't wait that long. He got to the Coliseum around 8:15 a.m., Sunday.
Expectations were mighty high for Samardzija when he toed the rubber for the first time in an A's uniform, one day after being traded to Oakland from the Cubs along with Jason Hammel. He lived up to those expectations, putting his adrenaline to good use as he stifled the Blue Jays in a 4-2 A's victory.
"He almost beat me here this morning," said A's manager Bob Melvin. "He has a lot of fun in the clubhouse and is serious when he's on the field. He fits in very well, and great to get him off to a good start."
The right-handed fireballer held Toronto to one run on four hits over seven innings, striking out five as Oakland earned a four-game sweep of the Blue Jays.
His stuff was as good as advertised -- he touched 97 mph with his fastball, mixed in a wicked splitter, and struck out the side in the seventh, leaving to a standing ovation after a 108-pitch afternoon.
Samardzija shook off only one pitch: his last, a splitter on the outside corner that buckled Juan Francisco's knees.
"[Derek] Norris wanted to throw a heater by him," Samardzija said. "I shook and threw a split, and we got the strikeout."
"He was pretty unbelievable today," said Norris, who pinch-hit for John Jaso in the sixth. "It was even better than I anticipated. Definitely had some adrenaline going through his veins, and you could tell the passion and the excitement in his body language."
Oakland improved to a season-best 22 games above .500, sweeping the Jays in four games for the second time in team history and the first since May 1981. Toronto managed just four runs all weekend.
The A's also took the season series, 4-3, in comeback fashion, overcoming a three-game sweep by Toronto in May.
Samardzija entered Sunday receiving the least run support in the Majors -- 2.28 per game -- and while the A's didn't give him a huge cushion, they once again scraped together enough offense to win.
Oakland manufactured its first run off right-hander Drew Hutchinson in the second, as Jed Lowrie led off with a double, Nate Freiman advanced him to third with a groundout, and Craig Gentry added an infield hit to bring Lowrie home.
Lowrie and Stephen Vogt started another rally with back-to-back singles to open the fourth, and Freiman and Jaso drove them in.
For the first time since Aug. 13, 2013, Samardzija's team scored three runs for him before he allowed any.
"It was beautiful, man. That was awesome," Samardzija said with a chuckle. "Just getting one early run as a pitcher is like the best thing ever. You can go out and pound the zone and understand if a guy gets on base, so be it."
Samardzija pitched out of trouble in the first inning by inducing a double play, and he got out of another jam in the sixth after the Blue Jays put runners on second and third with one out. Toronto scored just once in the frame on an RBI groundout by Melky Cabrera.
The A's tacked on a run in the eighth on Norris' RBI double, which sent Gentry soaring home from first.
Eric O'Flaherty made his second appearance of the season and pitched a spotless eighth, and Sean Doolittle earned his 13th save despite giving up a leadoff homer to Steve Tolleson.
Spirits were high as ever after the victory, especially given Sunday's official announcement that six A's players will be representing the American League in the All-Star Game.
Throw in Samardzija -- who will wear a National League uniform -- and the A's boast seven All-Stars, their most since 1975.
"I couldn't be any happier," Melvin said. "I'm proud of all these guys."
Aaron Leibowitz is an associate reporter for MLB.com. This story was not subject to the approval of Major League Baseball or its clubs.