Goldschmidt's 16th homer leads Miley to victory
Two-run shot in third the difference; lefty allows one run in 6 2/3 innings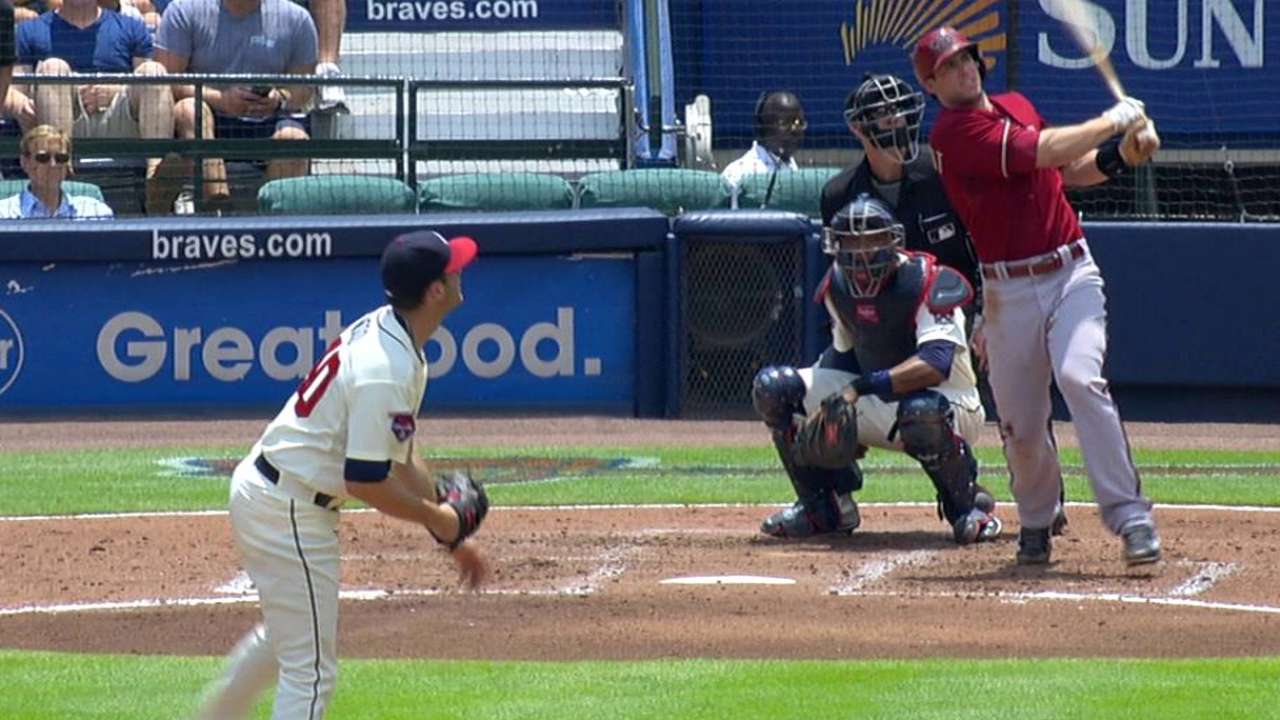 ATLANTA -- Mere hours before this year's Taco Bell All-Star Selection Show on Sunday night on ESPN, D-backs slugger Paul Goldschmidt had a showing worthy of his first-place standing among NL first baseman in the last ballot update.
Goldschmidt reached base safely for a 27th straight game and muscled a two-run homer over the left-field wall against Braves starter Alex Wood in the third, providing the necessary support for Wade Miley's second consecutive gem in a 3-1 win that snapped Atlanta's nine-game winning streak on a sunny afternoon at Turner Field.
"It's still really no excuse to let the one guy in their lineup that you knew and had a good plan for beat you," Wood said. "It's baseball. It comes down to not letting their guy beat you. We let the one guy we had pointed out, Goldschmidt, beat [us]. He's a heck of a ballplayer, and Wade Miley pitched a heck of a ballgame. He's a great pitcher."
After the D-backs traded away veteran pitchers Brandon McCarthy and Joe Thatcher during the weekend, Goldschmidt and Miley guided a club that will debut its 11th rookie of 2014 in newly-acquired lefty Vidal Nuno on Tuesday to a much-needed victory.
Arizona pulled its road record to within one game of .500 at 22-23 with Sunday's victory, a respectable mark for a team that now needs to play better at home. The D-backs will try to improve their home record on Monday at Chase Field against the Marlins, whose 16 road victories are the second-fewest in baseball.
As the D-backs strive for growth in this tough season, Miley's turn on Sunday was a shining example. He pitched a gem his last time out, holding the Pirates to two hits over eight innings last Tuesday in a game the D-backs eventually lost in walk-off fashion.
But instead of letting that finish faze him, Miley gave up only one run on five hits in 6 2/3 innings on Sunday, issuing only one free pass and fanning eight in his first win since May 10. He has struck out 18 and walked one over his past 14 2/3 frames.
"That's what we want to see: more consistency out of him," D-backs manager Kirk Gibson said. "He threw the ball well again."
Goldschmidt added: "He was a little inconsistent -- I'm sure that he would admit to that -- earlier in the year, but these last few starts have been really good."
Miley's lone free pass was a leadoff walk in the fourth to Justin Upton, who came around to score on former D-backs teammate Chris Johnson's RBI single. But Miley had drawn a leadoff walk of his own in the top of third and came home on Goldschmidt's 16th homer, which ricocheted off the foul pole in left field.
"I knew it probably had the distance, but it started fair and it was going," said Goldschmidt. "So that was one of the few times I was watching it, just to see what was going to happen, and I saw it hit the pole and come down, so I was pretty happy."
Miley was happy to receive the run support, but he was even happier that his trip back to the dugout only required an easy trot.
"It's kind of funny, I was on first and [first-base coach Dave McKay] was like, 'You've got to score on a ball in the gap,' and I looked at him like, 'I'll score if he hits it over the fence," Miley said while laughing. "It's pretty hot to be scoring from first on a ball in the gap, but it worked out."
But Arizona batters not named Goldschmidt continued to struggle. The first baseman recorded two of the club's five hits as the D-backs scored three runs or fewer for the eighth time in the past 10 games.
However, despite their offensive woes, the D-backs are 4-6 despite plating only 29 runs -- including a 10-run showing in Pittsburgh on July 3 -- in their past 10 games, continuing to hover around .500 at 29-31 since its 8-22 start.
And even though Arizona has won only one of its past eight series, the club is hopeful that halting Atlanta's recent tear is a sign of good things to come.
"They had won a bunch in a row, and for us to salvage this series and get that win, it was a good win," Goldschmidt said. "Hopefully, we can take a little bit of momentum from this game and carry it forward to tomorrow."
Joe Morgan is an associate reporter for MLB.com. This story was not subject to the approval of Major League Baseball or its clubs.