Despite Wood, Braves' winning streak ends at nine
Lefty allows two runs over seven innings but offense produces just one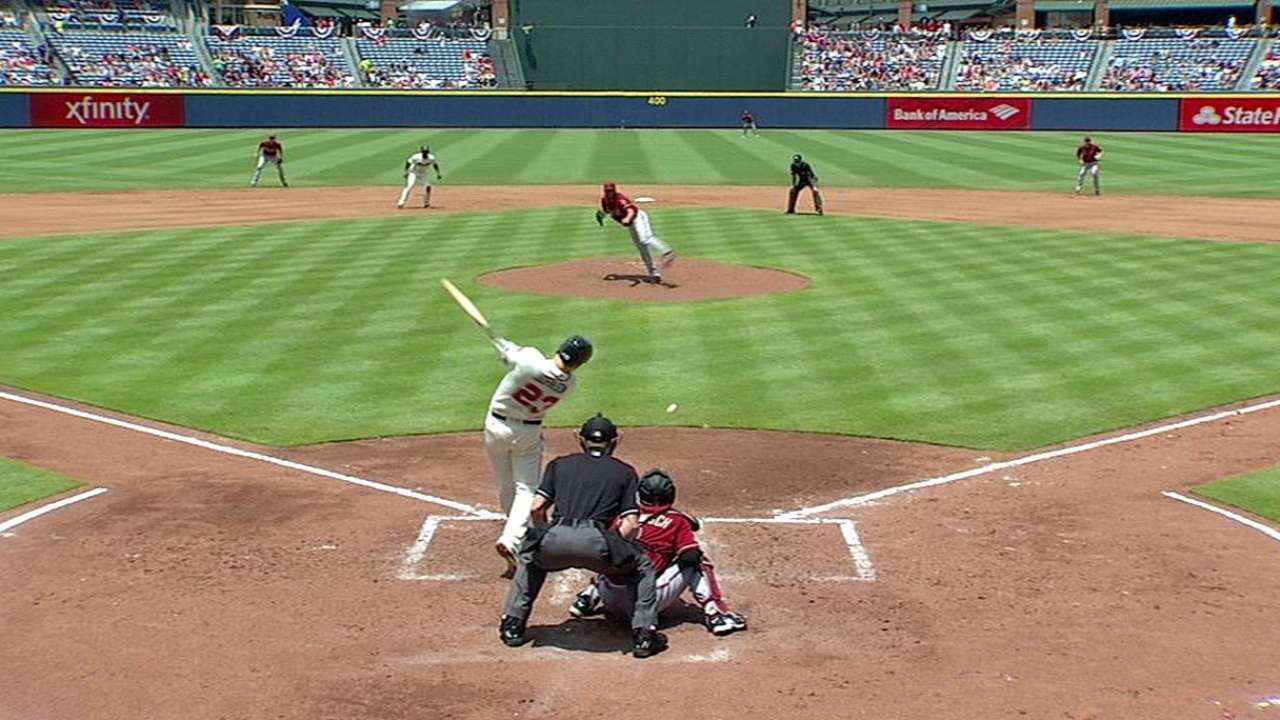 ATLANTA -- Given the task of facing a left-handed starting pitcher for the first time in nearly three weeks, the Braves struggled in their attempt to overcome two costly mistakes by Alex Wood. Consequently, the Braves proved unsuccessful in their attempt to notch their first double-digit win streak of the season.
Paul Goldschmidt's two-run home run proved to be enough for Wade Miley, who guided the D-backs to a 3-1 win on Sunday afternoon at Turner Field. The Braves proved unsuccessful in their attempt to manufacture runs much like they had while winning their previous nine games.
"We weren't going to win the rest of the games," Braves first baseman Freddie Freeman said. "There was going to come a time [when the streak] was going to come to an end. But we still swung the bats well and our pitching was obviously great. It just didn't happen for us today."
The Braves' nine-game winning streak stood as their longest since they won 14 straight last August. The tough-luck setback in this series finale was just their second loss in their past 13 games.
Wood committed a cardinal sin when he opened the third inning by issuing a five-pitch walk to Miley, who had drawn a free pass in just six of 199 previous plate appearances in his career. The mistake prolonged the inning long enough for Goldschmidt to dent the left-field foul pole with a two-out, two-run home run.
"I think that's probably the first time I've ever walked a pitcher, but it happens," Wood said. "I felt like I battled pretty well all day. Usually, they make you pay when you walk anybody, much less the pitcher. It's still really no excuse to let the one guy in their lineup that you knew and had a good plan for, beat you."
Goldschmidt's 16th home run of the season accounted for the only runs surrendered by Wood, who allowed three hits and issued three walks over seven innings. The Braves' southpaw induced two double-play groundouts and faced the minimum over his final four innings. Four of Wood's six losses have come in games where he's completed at least seven innings and allowed two earned runs or less.
"How much more can you ask from Woody?" Braves manager Fredi Gonzalez said. "He gets another loss where he only gives up two runs. The only thing you can tell him is to keep plugging away and the tide will turn eventually."
Despite totaling just two home runs during their nine-game winning streak, the Braves had tallied at least five runs six times during that span. But they were unable to extend their success against Miley, who scattered five hits and allowed just one run over 6 2/3 innings.
Miley stood as the first left-handed starter to face the Braves since Cole Hamels toed Turner Field's rubber on June 16. This did not present a good matchup for Jason Heyward, who has gone hitless in the 35 at-bats he has compiled against left-handed pitchers dating back to his May 27 home run against Jon Lester.
"It was just one of those days where we hit balls hard right at people and they were able to hit the pole," Freeman said. "That is all they needed because Wade pitched really well."
A couple of Miley's former D-backs teammates accounted for the Braves' only run. Justin Upton drew a walk to begin the fourth inning and scored on Chris Johnson's one-out single.
Johnson had a chance to do further damage against the club that sent him and Upton to Atlanta before the start of the 2013 season. But with runners at second and third, he struck out to end the eighth inning against Brad Ziegler.
Miley built off the success he had in his previous start, during which he carried a shutout bid into the ninth and then suffered a tough-luck loss against the Pirates. The veteran southpaw exited Sunday's outing after Christian Bethancourt singled with two outs in the seventh. Evan Marshall then walked pinch-hitter Dan Uggla before ending the threat by striking out B.J. Upton, who bid adieu to his career-best 11-game hitting streak.
"We had a great run," Gonzalez said. "We had a chance to win 10 in a row. We had a great homestand. It's too bad we got beat 3-1 today. We had some opportunities with some of the right guys at the plate. It just didn't happen."
Mark Bowman is a reporter for MLB.com. This story was not subject to the approval of Major League Baseball or its clubs.