Richards fans career-high 11 as Angels sweep
Pujols drives in two, Calhoun homers in 10th straight home victory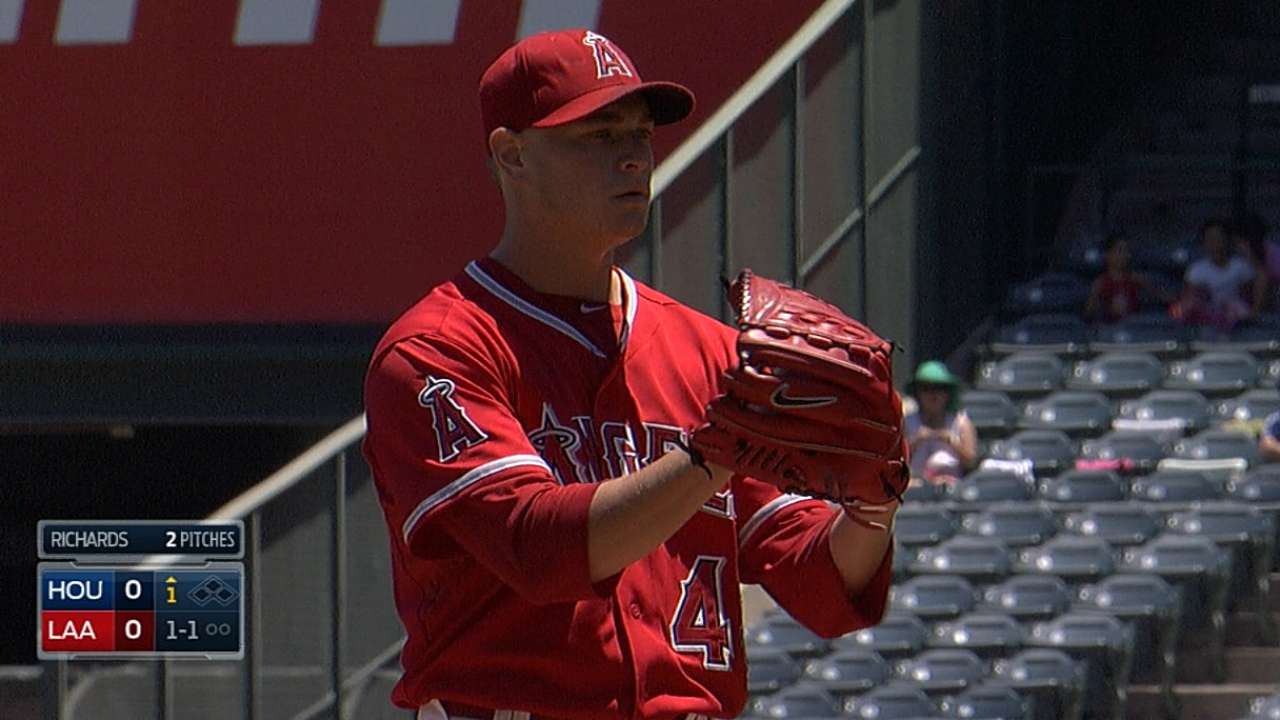 ANAHEIM -- The Angels didn't need an hour-long inning. They didn't need any ninth-inning heroics. No dumping of Gatorade coolers. The Rally Monkey could've taken the day off.
All they needed Sunday was Garrett Richards.
After three straight comeback wins against the Astros, the Angels sealed a four-game series sweep with a breezy 6-1 victory, winning their 10th straight game at Angel Stadium -- their longest home winning streak since 1996.
Richards -- announced as a Final Vote candidate for the American League after the game -- delivered an All-Star-caliber start. On a warm 87-degree day, the right-hander struck out a career-high 11 over 7 1/3 innings, while allowing one run, walking one and allowing six hits. His fastball sizzled in the high-90s deep into his 110-pitch outing.
"This was all about pitching this afternoon," manager Mike Scioscia said. "On a day when it was really warm, a lot of guys on both teams were a little bit tired. ... But he just went after those guys with his best stuff, pounding the zone well, 11 strikeouts, a little trouble in the seventh, but he cleaned that up well. Garrett just pitched a strong game."
Richards moved to 10-2 with the win, dropping his season ERA to 2.71. He surpassed the 10 strikeouts he put up on June 14 over six innings in Atlanta.
Afterward, Richards said it was "a little disappointing" he wasn't named to the All-Star Game outright, and teammate Mike Trout -- who was named the Angels' lone starter -- was equally displeased.
"The dude throws 98 with an 89 mph curveball and 10 wins and a [2.71 ERA]," Trout said. "It's tough."
But Richards said he's proud of the season he's putting together in his first year in the Angels' starting rotation.
"I'm happy with the work I've put in so far," Richards said. "But the season's only half over. It's something to strive for -- 200 innings, 200 strikeouts, 20 wins -- those are just numbers. I'm more concerned with the team's overall record."
Behind Richards, the Angels generated enough offense against starter Collin McHugh, who allowed three runs (two earned) in four innings of work. He was removed from the game due to a right middle fingernail detachment.
The Angels engineered a rally off of McHugh in the bottom of the third. Catcher and eight-hole hitter Hank Conger led off with a single to center, advanced on a sacrifice bunt, then -- after a single by Kole Calhoun -- Trout was hit by a pitch to load the bases.
Albert Pujols singled to left field, driving in two, then Trout came around to score the inning's third run on an errant throw by All-Star second baseman Jose Altuve, who tried to complete a double play at first.
With the two-run single, Pujols drove in his seventh run in his last three games. The two RBIs tied him with Willie McCovey's 1,555 for 41st most all time. The Angels tacked on an insurance run in the seventh with Calhoun's home run off of Astros reliever David Martinez and added two more runs in the eighth, but Richards didn't need them.
He surrendered his only run of the day near the end of his outing, in the top of the seventh. Center fielder Alex Presley doubled with one out. Two batters later, catcher Carlos Corporan drove him in with a two-out single.
Richards limited the damage and kept the Astros under control, and that's nothing new for him. After a rough outing at Oakland in which he allowed five runs and lasted just two-thirds of an inning May 30, Richards has gone 6-0 in his last seven starts with a 1.46 ERA.
Scioscia has seen his young starter blossom -- and he knew it was only a matter of time.
"He's doing what he's capable of doing," Scioscia said. "That's for sure. Some guys overachieve and have a career year.
"I don't think he's overachieving."
Michael Lananna is an associate reporter for MLB.com. This story was not subject to the approval of Major League Baseball or its clubs.