Brewers stung by Bruce's late homer off Smith
Gallardo gives good effort, tossing seven innings and allowing two runs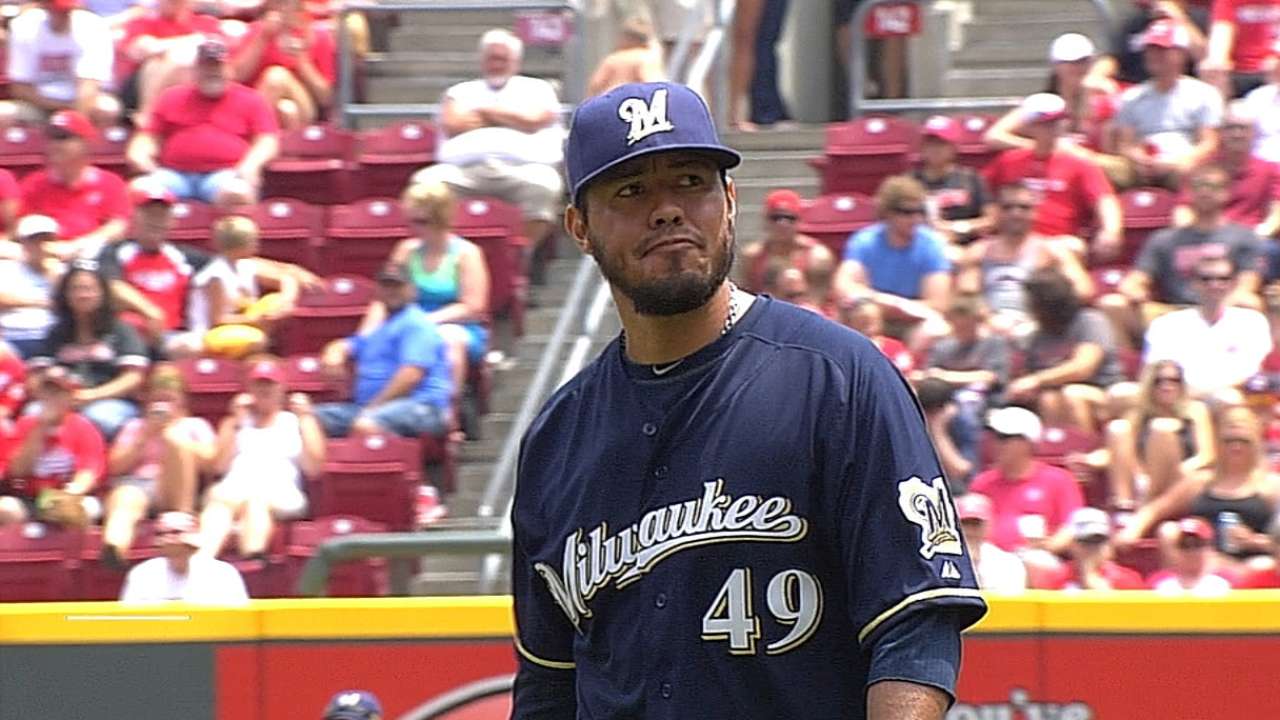 CINCINNATI -- Jay Bruce couldn't let the Brewers get out of town before making his presence felt.
One of the game's great Brewer-killers snapped the longest slump of his career in a big way Sunday, hitting a go-ahead, two-run home run in the eighth inning to beat Will Smith and the Brewers, 4-2, at Great American Ball Park.
Brewers starter Yovani Gallardo rebounded from a two-run first inning to pitch through the seventh and Rickie Weeks delivered a tying, pinch-hit single in the top of the eighth, but Bruce answered in the bottom of that inning with a "can't predict baseball" kind of moment.
On the mound you had Smith, a southpaw with a "slider of death" who had not surrendered a home run to any of the first 61 left-handed hitters he had faced this season. In the batter's box you had Bruce, who had driven in a run with a first-inning fielder's choice, but was hitless in his last 26 at-bats.
"You still have to respect what kind of hitter he is," Smith said. "Guys go through slumps, they snap out of them at any time. He snapped out of it that pitch."
The pitch was a 93-mph fastball, high and tight in a 1-2 count. Smith's previous two pitches had been sliders away, one for a swinging strike and the next for a ball.
Left-handed hitters have swung and missed Smith's sliders 32 percent of the time this season, compared to 11 percent of fastballs. He didn't second-guess the decision to come back with a fastball to Bruce, who is no ordinary left-handed hitter. He's hit more home runs off left-handed pitchers over the past five seasons (48) than any other batter in baseball, period.
"I think it's the right call at that time," Smith said. "He took a pretty good slider the pitch before, I just didn't throw [the fastball] exactly where I wanted to. It wasn't a bad, bad pitch, but it was still up where he could get to it. He's a good hitter, too. He did what he was supposed to do to it."
Said Brewers manager Ron Roenicke: "Smith gets out left-handers with his breaking ball, that's a pitch they have a lot of trouble with -- but he's not just a breaking ball pitcher. He mixes a fastball and a breaking ball, and that's why he's hard to hit. After the fact, maybe it is easy to say what he should have done. If he had missed with the fastball, you would have felt worse about it. He put it where he wanted to and Bruce did a great job."
Bruce has done it to the Brewers before. His 25 home runs (in 90 games) against the Brewers are his most against any opponent, and his 59 RBIs match his career total against the Astros.
Of active players, only Albert Pujols (42), Aramis Ramirez (34) and Adam Dunn (34) have hit more homers against Milwaukee than Bruce.
"He has a very, very good slider, and I just tried to get something that I could handle and not give in to his approach, not give in to his plan," Bruce said. "And I was able to do it right there at the end. It wasn't a bad pitch; it was up and in and it was a tough ball to get to, and fortunately I was able to get to it."
After setting a high standard in the early months of the season, Smith has found more trouble of late in his first full season as a reliever. Opponents batted .162 against him in April, .231 in May and .283 in June. Sunday marked his second appearance in July and his 46th appearance overall, the most in the Major Leagues.
"Being a starter in the past has helped with this transition [to] throwing a lot," Smith said. "I don't think that's an issue. ... I've hit my fair share of bumps in the road, but you just have to keep moving forward and try to get back to the way it was before. High standards or not, you still have to pitch well. Today just wasn't one of those days."
The Brewers dropped the series, two games to one, and fell to 3-7 against Cincinnati this season.
In a bounce-back outing from seven days earlier against the Rockies, Gallardo rebounded from a two-run first inning by scattering six Cincinnati hits and allowing no more runs from the second through the seventh. He might have gone back to the mound for the eighth inning had a situation not called for Weeks to come off the bench to deliver his game-tying single off Reds starter Mat Latos.
Weeks' clutch hit scored Logan Schafer, who doubled, tripled and scored two runs in a spot start for right fielder Ryan Braun. The Brewers were otherwise held in check by Latos (eight innings, four hits, two runs) and Jonathan Broxton (sixth save).
"I think the Reds have probably one of the best three starting rotations in all of baseball, and they did their thing," Schafer said. "Getting two runs for this offense is a low score. We have the ability to put up a lot more runs really quickly."
Adam McCalvy is a reporter for MLB.com. Read his blog, Brew Beat, and follow him on Twitter at @AdamMcCalvy. This story was not subject to the approval of Major League Baseball or its clubs.