Tepesch has tough first, and Rangers can't recover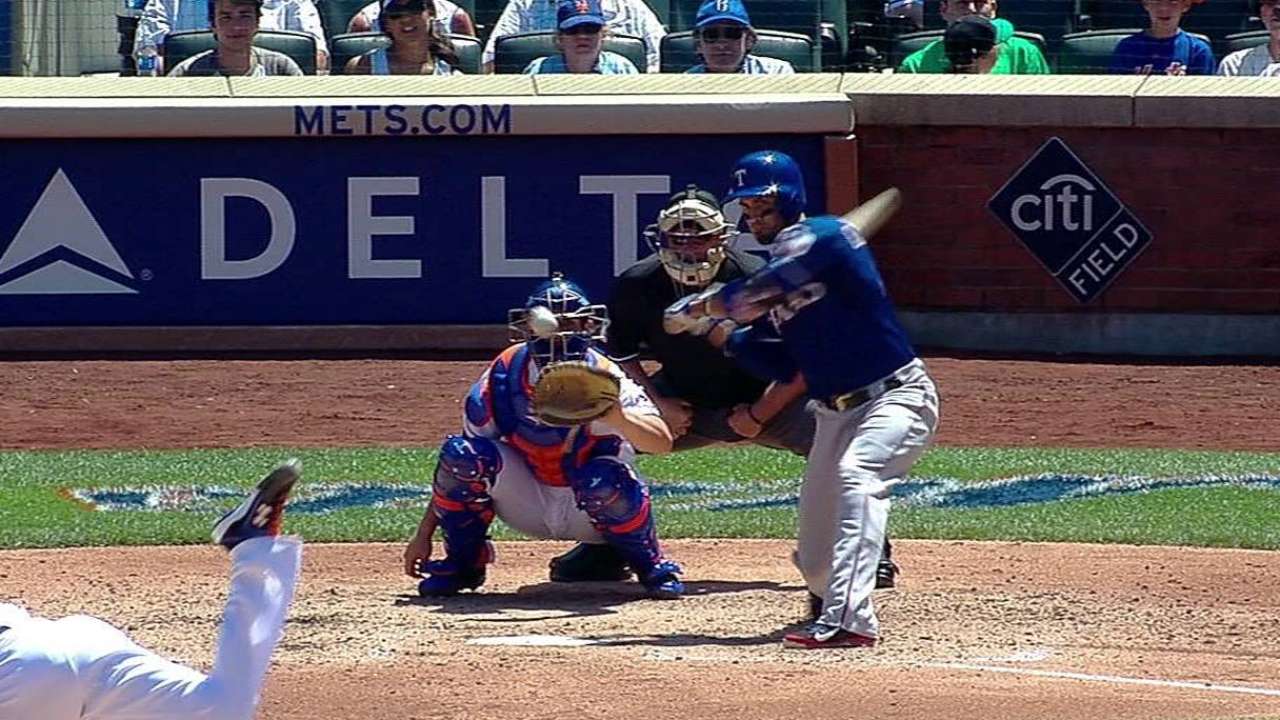 NEW YORK -- Starter Nick Tepesch pitched five strong innings on Sunday afternoon and also picked up his first Major League hit.
It could have been a great all-around afternoon for Tepesch except for one small problem. He actually went six innings; his day got off to a terrible start with a five-run first, and the Rangers never recovered in an 8-4 loss to the Mets at Citi Field.
The Rangers ended up 1-6 on their road trip to Baltimore and New York and have lost 16 of their last 20 games.
"Nothing good, for sure," shortstop Elvis Andrus said. "We just keep getting in the same funky situations. We get behind early in the game, and it's hard for us to get our offense going. It was a pretty tough road trip."
Tepesch allowed just five hits, but two of them were home runs, and he walked four batters. It's only the fourth time in 28 Major League starts that he has allowed two home runs in a game and the third time he walked four, but it's the first time he has done both in the same game.
"I was all over the place," Tepesch said. "I felt like I wasn't commanding anything."
Mets right-hander Zack Wheeler earned the victory by holding the Rangers to one run in 6 1/3 innings. The Rangers' only run off Wheeler came on Robinson Chirinos' ninth home run of the season and seventh in the last 25 games.
Alex Rios added a solo home run and Leonys Martin hit a two-run shot off reliever Gonzalez Germen in the eighth inning, but the Rangers were 1-for-8 with runners in scoring position and are hitting .207 in those situations in their last 20 games.
"It's nice to see them swing the bat and find the fences," manager Ron Washington said, "but it would be nice to start doing it with runners in scoring position so we could put up some crooked numbers. They just need to relax and try not to do too much in those situations.
"You have to give Zack Wheeler credit. The guy has a live arm. He came out there throwing strikes and making us swing the bats. We finally put some runs on the board, but we couldn't make up for the runs we gave up in the first inning."
Tepesch started the day by walking Curtis Granderson after getting ahead 1-2 in the count. He retired the next two hitters on fly balls to center, but Lucas Duda put the Mets ahead with a double to left. Tepesch then walked Kirk Nieuwenhuis and gave up a single to Juan Lagares, sending home a second run.
That brought up backup catcher Anthony Recker, a .209 hitter with two home runs in 110 at-bats this season. Tepesch got ahead of Recker, 0-2, but couldn't put him away. Recker worked the count back to 2-2, then lofted one down the left-field line, clearing the fence for a three-run homer.
"Tepesch just left too many balls up in the zone and couldn't command it," Washington said. "After the first inning, he started getting the ball down a little bit. At least he was able to give us six innings."
Tepesch walked Ruben Tejada but then started finding himself. He retired 15 of the last 18 batters he faced, although he did give up a solo home run to Nieuwenhuis in the sixth.
The Rangers are now 12 games under .500 for the season.
"We have to take it one day at a time and not think tomorrow about what happened today," third baseman Adrian Beltre said. "We have to think positive that we can play better. We know we can play better. Under no circumstances can we think that losing is OK. We have to get it turned around and play better."
T.R. Sullivan is a reporter for MLB.com. Read his blog, Postcards from Elysian Fields and follow him on Twitter @Sullivan_Ranger. This story was not subject to the approval of Major League Baseball or its clubs.