Noesi outduels Mariners with scoreless start
Right-hander gets back at former team; White Sox score on wild pitch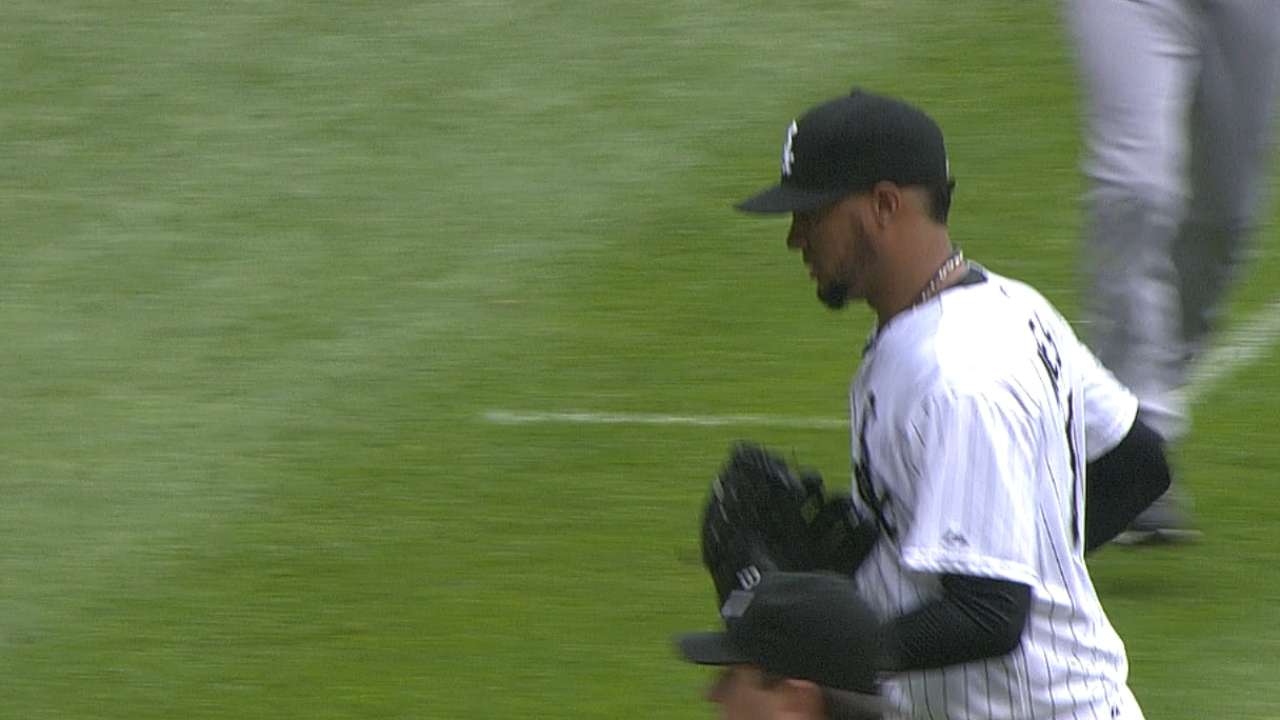 CHICAGO -- If the White Sox had their own currency, it might read, "In Don Cooper We Trust" on the back.
Right-hander Hector Noesi said Chicago's long-time pitching coach told him he could fix him when the team acquired him in late April. If his effort Sunday afternoon is any indication, Cooper has given Noesi the confidence to succeed.
Noesi tossed 6 2/3 scoreless innings to lead the South Siders to a 1-0 win over the Mariners at a hot, sunny U.S. Cellular Field, clinching the series. Saying he had no extra motivation going against the team with which he started the season, Noesi came through with his sixth quality start.
"He's a tough kid. He's confident and he knows what he can do," White Sox manager Robin Ventura said. "Sometimes you get an opportunity and you run with it, and I think that's what he's done. Any time you go through the route that he's been out on and you get a chance to show what you've got, he's going to do it.
"You tip your hat to him. He's been able to do that for us and he's been a big lift for us."
Noesi was purchased by the Rangers on April 12 and was shelled by his current employer eight days later. The Sox scored seven earned runs in one inning off Noesi in their 16-2 win over the Rangers on April 20, which lead to his release from Texas and the White Sox claiming him off waivers.
After a brief stint in the bullpen, Chicago moved Noesi to the rotation, where he's lowered his ERA from 11.74 to 4.90 over his 13 starts. Cooper helped Noesi raise his release point, among other mechanical tweaks. While apologizing to his past pitching coaches, Noesi called Cooper the best mechanical pitching coach he's ever worked with.
"I believe everything he says and he's doing good with me," Noesi said. "They gave me the opportunity to start and they said we just want you to go do what you have to do, so I try to take advantage of that spot right now."
Cooper has also helped Noesi discover a high-quality changeup, which he called his best pitch and Ventura described as an equalizer.
Noesi allowed just five hits, all singles. He stranded six through six innings before running into some trouble in the seventh, when Dustin Ackley and Brad Miller singled with one out. Noesi then got Endy Chavez to fly out to right and was pulled for Eric Surkamp, who walked Michael Saunders to load the bases but got Robinson Cano to fly out.
"You can watch a guy when you're playing behind him, but when you're in the box, it's a whole different thing," said Kyle Seager, who played with Noesi in Seattle last season. "He's always had really good stuff. That's never been the issue. I can only speak for myself, but today he located extremely well on me."
Third baseman Conor Gillaspie scored the game's only run on a wild ball four to Adam Dunn in the first, then left in the fifth after taking a pitch directly to his right knee. White Sox officials called Gillaspie's injury a bruised knee.
"I haven't seen him yet. I know he couldn't walk very well," Ventura said. "It sounded bad and he seemed like he couldn't do anything, so we had to take him out."
Jake Petricka worked the final two innings to pick up his third save in four chances while lowering his ERA to 1.85. He was aided by some tremendous defense in the eighth inning.
Adam Eaton made a diving catch of Corey Hart's liner to the right-center field gap, Gordon Beckham made a nice pick of Seager's grounder and Jose Abreu made a diving stop of Logan Morrison's hard grounder and flipped to a covering Petricka to complete the perfect frame.
Petricka then struck out two in the ninth, providing some brief stability to Chicago's shaky back end of the bullpen. His effort, along with a starting staff that allowed just one earned run in 21 1/3 innings, allowed the White Sox to take two of three from the Mariners despite scoring just three runs over the last two games.
"When we get good pitching, we can have two hits and win," Eaton said. "It's absolutely amazing. We haven't been pulling our weight, and it's a good thing our pitching staff came through.
"Noesi [threw] a heck of a game. The guy is a world talent, and it definitely showed today."
Joe Popely is an associate reporter for MLB.com. This story was not subject to the approval of Major League Baseball or its clubs.