Tribe rides Kluber's 10 K's to series win vs. KC
Homers by Santana, Gomes back righty, who fires 8 1/3 strong frames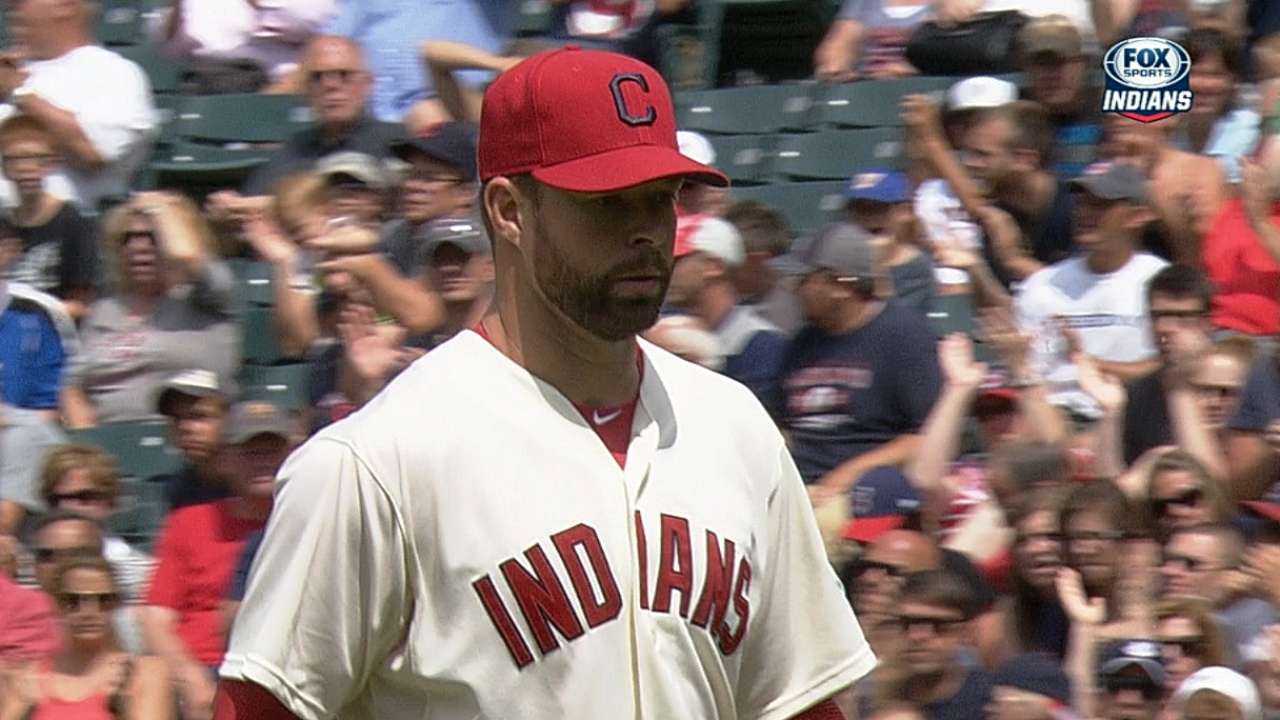 CLEVELAND -- As Corey Kluber strolled back toward the Indians' dugout, he was greeted by a smattering of boos from the fans at Progressive Field. The crowd wanted to see Kluber finish what he had started, but manager Terry Francona made the tough decision to pull the right-hander with one out in the ninth.
"I don't blame them. If I was managing with my heart, I'd have left him in there, too," Francona said.
"I wanted him to stay out there," said Cody Allen, who recorded the final two outs for the save in Cleveland's 4-1 rubber-game win over the Royals on Sunday. "The guy's pitching phenomenal. Any time a guy gets the chance to throw a complete game, you want him to do it."
Kluber was nothing short of dominant, keeping Kansas City's lineup stifled to one run over 8 1/3 strong innings. The right-hander allowed just four hits and a walk while striking out 10 batters -- his fourth time with double-digit K's this year.
"Pounding the strike zone was number one," said Kluber, who took a loss against the Royals on June 10. "We went in on them a lot, because last time we faced them in Kansas City, they were diving out over the plate, kind of sitting on balls away from them. We wanted the approach to keep them more honest this time. It worked out."
The outing marked the seventh time this season that Kluber has registered at least eight strikeouts and one or fewer walks, which is the second-highest total for such a line in team history behind CC Sabathia, who pulled the feat nine times in 2007. Kluber owns a club-best 137 strikeouts on the year and has a sparkling 1.57 ERA over his last five starts.
Sunday's start, however, was simply one of a growing number of strong performances from Kluber, who has taken the step from capable starter to the most dependable option in the Tribe's rotation. Only twice this season has he surrendered more than three runs in a game, and the team has increasingly come to rely upon the 28-year-old's ability to pitch deep into ballgames.
"Maybe his demeanor belies the real fire that's in there," Francona said. "He gets after it, whether it's during the game or in his workouts or in the bullpen. He pays attention to detail and he really does it like you're supposed to. He really wants to be good."
Kluber was nearly flawless over the first four frames, retiring the first seven batters before Jarrod Dyson rapped out a one-out infield single. Kluber's only blemish was a fifth-inning solo shot by Mike Moustakas, who is hitting .345 with five homers against the Tribe this season.
"For whatever reason, he sees it really well off all our guys," Kluber said. "I was trying to make the same pitch I got him swinging at in the first at-bat. I just kind of left it over the plate too much."
Though Cleveland has typically struggled against left-handers this season, Sunday's lineup managed to get an early jump on Royals southpaw Danny Duffy, who was charged with four runs and a season-high 10 hits through six innings.
Carlos Santana hit a solo shot to lead off the second inning and Gomes followed suit with a two-run blast to put the Indians ahead, 3-0. Three frames later, Michael Brantley tacked on an insurance run with a single to give him two hits on the day -- his fourth multi-hit effort in five games.
"It was nice to have that lead," Francona said. "I thought Duffy had a really good fastball. Gomer took the swing, and Carlos did, so it gave us a little room. The way Klubes was pitching, maybe it felt like a little more than that."
Kluber may have surprised the outside observer with his remarkable breakout campaign. For his teammates, however, the success was almost to be expected after witnessing his dedication to the craft firsthand.
"Just watching him grow and blossom to the pitcher he is today, I only seem him getting better," Brantley said. "He has great movement on all his pitches and keeps the hitters off-balance. He attacks hitters so well and so smart, and cares and prepares so well for each game. He's going to be good for a long time to come."
At the very least, he makes Francona's job a little easier.
"It's sure nice to write his name in there," the skipper said.
Alec Shirkey is an associate reporter for MLB.com. This story was not subject to the approval of Major League Baseball or its clubs.