Red Sox storm back, only to fall to Orioles in 12
Napoli caps five-run seventh; Pedroia, Papi make key outs on bases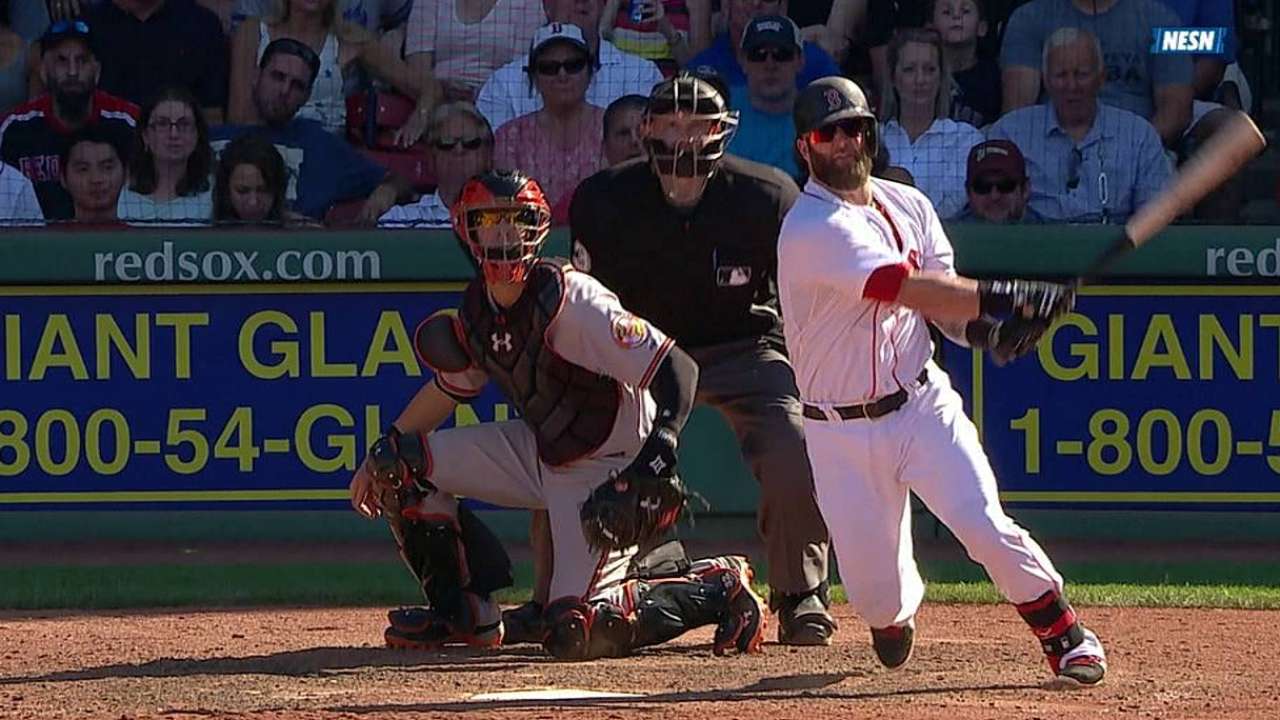 BOSTON -- Any sport can really be described as a game of inches. There are moments in sports that decide a game between two teams so narrowly separated that it can only be described in something as miniscule as inches, cliché as it may be.
The Orioles scored four runs in the seventh Sunday thanks to six singles, several of which squeaked their way through the infield. The Red Sox answered in a similar fashion in the bottom of that frame, erasing a five-run deficit with a homer and six singles of their own. Maybe Sunday, something would be different from the rest of a tough 2014 season. Maybe those inches would wind up in Boston's favor.
But with Edward Mujica on the mound in the 12th, David Lough's leadoff triple brought the Boston infield in with the game tied. J.J. Hardy's seeing-eye single through the hole scored Lough, and closer Zach Britton shut the door in the bottom half to give the Orioles a 7-6 win. The Red Sox have dropped five of the first six games during their 10-game homestand, including two of three against Baltimore.
Boston's two best chances to break the tie beyond the seventh were both erased by outs on the basepaths. After a single in the ninth, Dustin Pedroia got caught stealing second with one out and David Ortiz at the plate. He slid slightly early, beating the throw, but not the tag. With one out in the 12th, trailing by a run, Ortiz hit a rope off the Green Monster and got thrown out in plenty of time by Lough while trying to leg out a double.
"We're trying to be aggressive trying to add 90 feet," Red Sox manager John Farrell said of Pedroia's stolen-base attempt. "We had a key on [Brad] Brach, the pitcher on the mound at the time. Unfortunately, we come up half a hand short."
"I slid early. I got a great jump. Everything went great," Pedroia said. "It's a game of inches and it didn't go our way."
Half a hand or inches --- there are plenty of ways to describe it --- the Red Sox came up just short Sunday, which seems to have become the norm at Fenway this season. The loss dropped them nine games back of the AL East-leading Orioles and 10 games under .500. But Boston's offense did battle back with timely hitting in the seventh, a rarity in 2014.
David Ross homered to start the seventh for Boston, reaching the 420-foot sign in right-center with his third long ball in his last five games. Xander Bogaerts, who ended an 0-for-27 drought Sunday, singled to score Jackie Bradley Jr. Brock Holt dropped a single into shallow center, then Daniel Nava grounded one up the middle to drive in Bogaerts before Pedroia struck out. Ortiz pulled a soft ground ball that found its way through the infield to plate Holt and keep the inning alive.
Mike Napoli followed with a line drive single to left, which scored Nava to tie the game at 6. Napoli grounded into a double play in the sixth with runners on the corners and the Red Sox trailing by just a run, and had just two hits through six games of a 10-game homestand before his game-tying single.
Past the seventh, though, Boston had just three hits, including the two from Pedroia and Ortiz. Brach threw scoreless ninth, 10th and 11th innings for Baltimore.
"It's so easy just to say, 'Boy it wasn't meant to be today,'" Orioles manager Buck Showalter said, "instead of making it happen."
Andrew Miller and Koji Uehara worked scoreless eighth and ninth innings for the Red Sox to keep the game tied. Bradley made a spectacular grab with two outs in the ninth and a runner on first, leaping on the center-field warning track to snag a hard-hit fly ball that would've been extra bases for Manny Machado. Uehara kept Baltimore off the board in the 10th again, and Mujica did the same in the 11th.
Jake Peavy allowed one earned run, six hits and two walks over six innings for Boston. Most importantly, he stranded eight runners and the Orioles went 1-for-8 with runners in scoring position against Boston's righty. The Red Sox only faced a five-run deficit because of a rough seventh from their bullpen.
Burke Badenhop struggled for the second straight day, giving up three straight singles to start the seventh. He did the same before being yanked Saturday night. Junichi Tazawa replaced him, but allowed three singles as well, and Baltimore took a 6-1 lead. The inning came to an end when Bradley gunned down Machado at the plate after Bradley caught a fly ball in center.
"That's a very good hitting lineup that we're going up against," Farrell said. "Once again as it was the case [Saturday] night, they were able to string some hits. They used the whole field. The combination we tried to throw at them didn't slow them down."
Steven Petrella is an associate reporter for MLB.com. This story was not subject to the approval of Major League Baseball or its clubs.