Homers from Morse, Belt lift Giants to late victory
First baseman slugs game-winning shot in second game off DL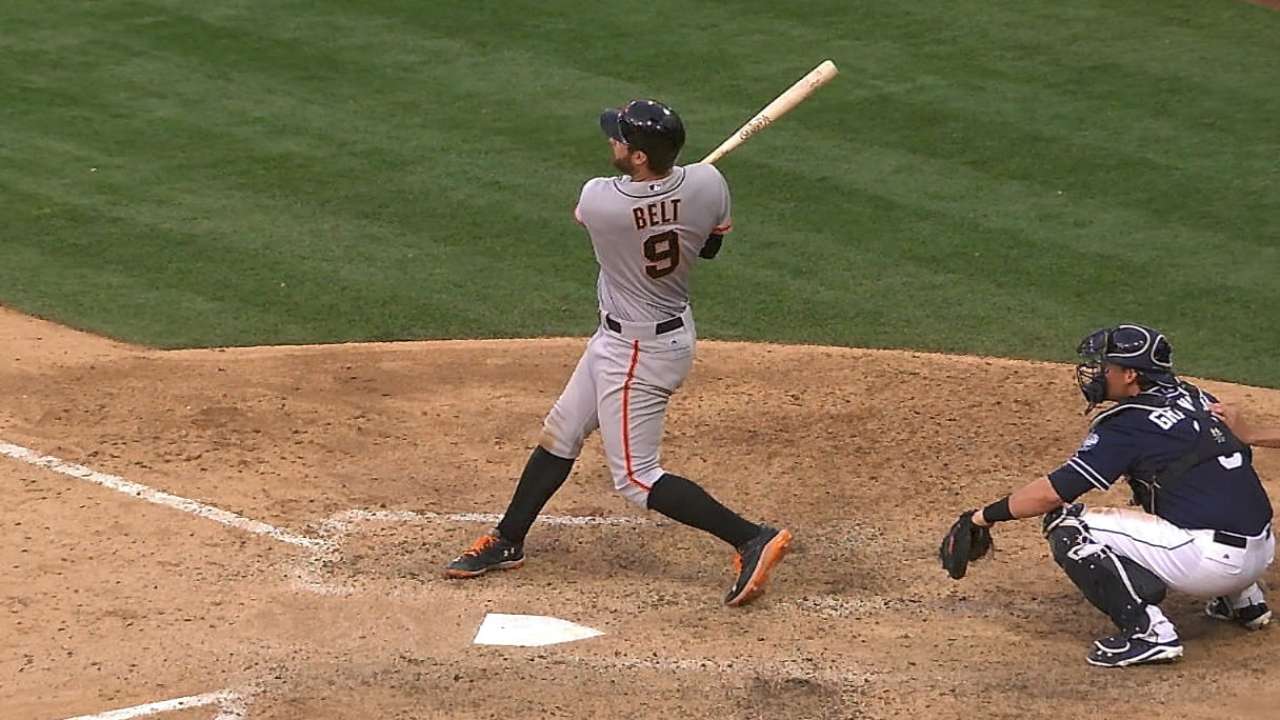 SAN DIEGO -- Michael Morse bellowed as he rounded the bases after slugging a ninth-inning home run. Sergio Romo hollered to the heavens after blanking the San Diego Padres in the bottom of the inning.
Indeed, this was a primal scream of a victory for the struggling Giants, who received a two-run homer from Brandon Belt in Saturday's 10th inning to outlast the Padres, 5-3.
The Giants could release the frustration that rose while losing 18 of their previous 23 games. They also could celebrate the diligence they've maintained as they've tried to reverse their flagging fortunes.
"We're making a conscious effort," right-hander Tim Hudson said. "That's how you have to get out of slumps like this."
Belt, who returned Friday from an eight-week stint on the disabled list with a fractured left thumb, had gone hitless in seven at-bats since being activated until he faced Dale Thayer (3-3) in the 10th. After Hunter Pence stretched a single into a double to open the inning, Belt lined Thayer's 2-2 delivery into the right-field seats for his 10th homer of the season, breaking a 3-3 tie.
Dissatisfied after striking out against Padres setup reliever Joaquin Benoit to lead off the eighth inning, Belt retired to the batting cage adjacent to Petco Park's visitors' clubhouse to sharpen his stroke with a hitting drill before his next plate appearance. He welcomed the instant results.
"Sounded good, felt good -- made me feel good," Belt said.
San Diego nearly won it in the ninth after Chase Headley doubled to open the inning off Romo. But shortstop Brandon Crawford saved a run by diving to snare Yasmani Grandal's grounder up the middle before throwing to first base for the out.
"I thought I got a pretty good jump on it, but I had to make the play," Crawford said.
Romo then stranded Headley at third base by inducing Cameron Maybin's popup and striking out pinch-hitter Carlos Quentin.
"It's not about what I did," said Romo, who was removed from the closer's role last Sunday after squandering three of five save opportunities. "It's about finding a way to contribute."
Morse felt the same way as he ended his home run drought in timely fashion. He lined Huston Street's 0-1 slider into the left-field seats to erase San Francisco's 3-2 deficit leading off the ninth. It broke Morse's 24-game streak without a home run, a stretch that encompassed 90 at-bats, and ended a skid of 16 consecutive games without an RBI.
The memory of popping up against Street to end Friday's 2-0 loss remained fresh for Morse.
"He threw me two sliders on the outside corner, so I figured he might try to establish a strike early with a fastball," said Morse, who pinned Street's first blown save in 24 opportunities this season on the right-hander. "He threw me the slider and I just tried to touch it, put an easy swing on it."
Morse pumped his right fist several times as he ran out his homer and delivered ferocious high-fives to teammates upon returning to the dugout. Belt started to receive Morse's patty-cake with his recently healed left hand, then realized the risk he was taking.
"I put my right hand up there," Belt said.
Morse, who's 4-for-7 lifetime off Street, said "a little bit of everything" prompted his demonstrative reaction. The stream of defeats, San Francisco's measly total of two hits through eight innings, Hudson's resurgent six-inning, one-run effort following three losses in a row, center fielder Gregor Blanco's balanced performance that included a second-inning homer and a first-inning diving catch -- all that and more stoked Morse's emotion.
He quickly realized that his teammates shared his feelings. "The guys were fired up," Morse said. "I could tell we weren't going to go down easily."
Chris Haft is a reporter for MLB.com. Read his blog, Haft-Baked Ideas, and follow him on Twitter at @sfgiantsbeat. This story was not subject to the approval of Major League Baseball or its clubs.