Eight-run seventh catapults Angels to comeback win
Pujols, Freese and Cron go yard in rally; home streak at nine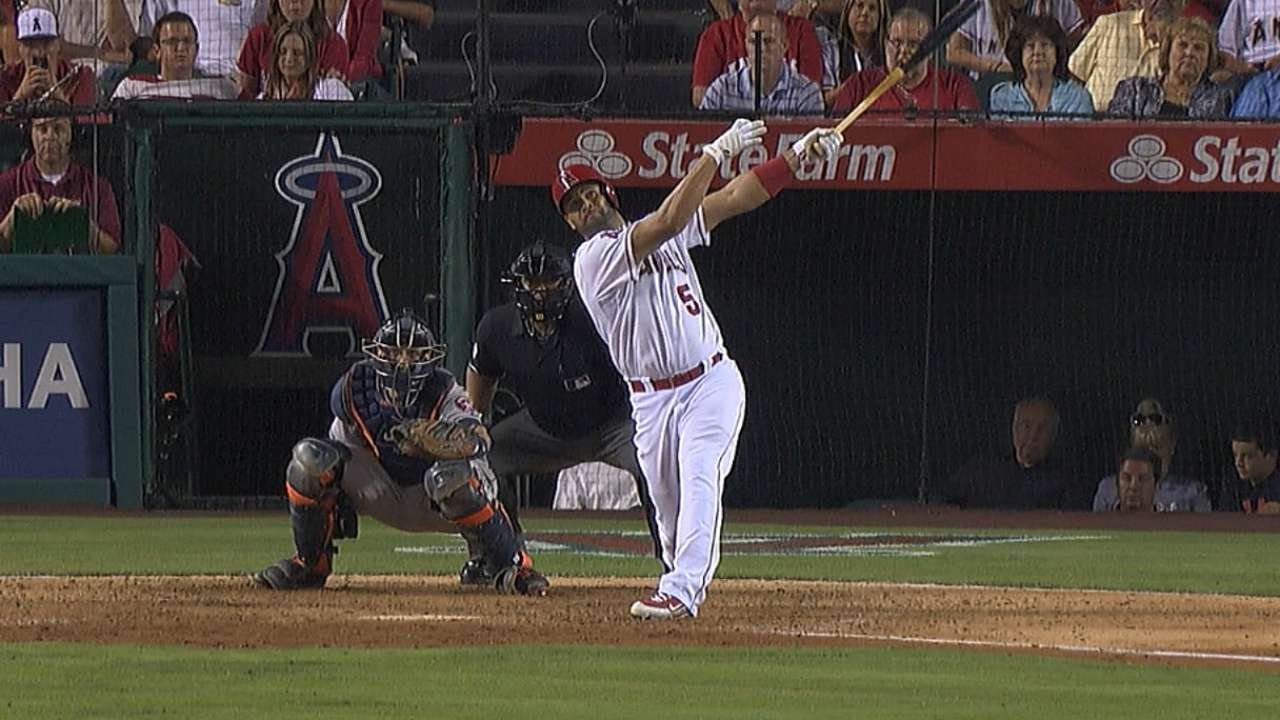 ANAHEIM -- It just depended on which side you were on.
For the Angels, the seventh inning didn't feel long at all.
"I think if you're the other side, it seems like it's two days," Angels manager Mike Scioscia said.
In a marathon 54-minute home half of the seventh inning, the Angels scored eight runs, knocked six hits, walked four times, sent 14 batters to the plate and rallied to beat the Astros, 11-5, on Saturday night at Angel Stadium.
"Once that inning got rolling, our guys didn't want it to end," Scioscia said. "They just kept passing that baton and doing whatever they had to do and got some key hits."
The win was the Angels' ninth in a row at home and their 15th in their last 16 games at the Big A. The Angels (50-36) kept pace with the A's, who won Saturday, to stay 3 1/2 games out of first place in the American League West. The loss was the sixth consecutive for Houston (36-53).
Houston entered the seventh with a 5-2 lead behind six solid innings from starter Scott Feldman, but the Angels erased it, one long ball at a time.
The Angels hit three home runs in an inning for the second time this season and the eight runs were a season high for one frame. David Freese launched a pinch-hit, two-run shot to right-center field that cut the Houston lead to one run. It was Freese's fourth home run of the season (all to the opposite field) and his second in the last four games.
Three batters later, Albert Pujols gave the Angels the lead with a two-run laser to left-center. The homer, which came on a first-pitch fastball from Anthony Bass, was Pujols' 511th in his career, tying him for 23rd all-time with Mel Ott.
"It's good to see him attacking the ball like he can," Scioscia said. "Albert knows how important he is to our lineup. When he doesn't play to his potential, no one feels it more than he does. He's coming around. He's had good at-bats. He's starting to find holes when he's hitting the ball hard."
But the Angels were not done yet.
After Erick Aybar doubled in a run and Howie Kendrick was intentionally walked, C.J. Cron rocketed a three-run homer to left-center to give the Angels a 10-5 edge.
"We just could not avoid the long ball, obviously," Astros manager Bo Porter said. "That really hurt and it just seemed like every mistake we made they took advantage of it and couldn't miss it."
With every mistake, the Astros pitch count kept growing. Three Houston relievers combined to throw 74 pitches in the seventh. Astros pitchers threw 116 in the other seven innings.
By comparison, on May 21, Jered Weaver polished off Houston with 94 pitches -- in nine innings.
But something about the seventh inning was just wacky.
Astros coaches visited the mound four times. The Angels had nine consecutive batters reach with two outs.
Los Angeles struck out three times -- and also flew out. Freese pinch-hit and was pinch-run for in the same inning but different at-bats.
Five different Angels saw at least 10 pitches in the inning. Only once did the Angels string together back-to-back hits.
And Mike Trout made two of the three outs.
"A big inning at the right time," Scioscia said.
The big inning ensured the Angels would reach a season-high 14 games above .500 and secured the Halos' eighth straight home series win.
The Angels notched their 50th win Saturday -- it took until Aug. 2 to do that last season -- and half of them have been comeback wins. This one was the fifth time the Angels have overcome a three-run deficit in the seventh inning or later to win.
"Tonight was truly a come-from-behind win," Scioscia said. "Sometimes, they give you a come-from-behind [win] when you're losing 1-0 in the first inning. This was definitely a come-from-behind win."
For the second straight year, lefty reliever Michael Roth earned the win on the same day he was called up. He threw two perfect innings in relief of Hector Santiago to notch the victory.
"What we saw out there tonight is the type of pitcher that Michael is," Scioscia said. "Last year, he never really got comfortable up here. At times, he pitched some good innings for us but overall, I think he had to find his game. He went down to find it."
Santiago started for the Angels and did not factor in the decision, going five innings and allowing five runs on six hits. He surrendered a five-run third inning that was highlighted by Chris Carter's grand slam to center.
"He keeps making strides forward. Some counts got away from him a little bit today," Scioscia said. "Just missed with some pitches and Carter drove a grand slam to right-center but, all-in-all, he's getting better, that's for sure. We're going to need him, whatever role he's in."
Santiago still has not won since August of 2013 and is 0-7 this season.
But his streak probably feels short compared to the seventh inning for the Astros.
Matthew DeFranks is an associate reporter for MLB.com. This story was not subject to the approval of Major League Baseball or its clubs.