Kazmir earns 10th victory for pitching-rich Oakland
Offense delivers too, including a solo homer from Donaldson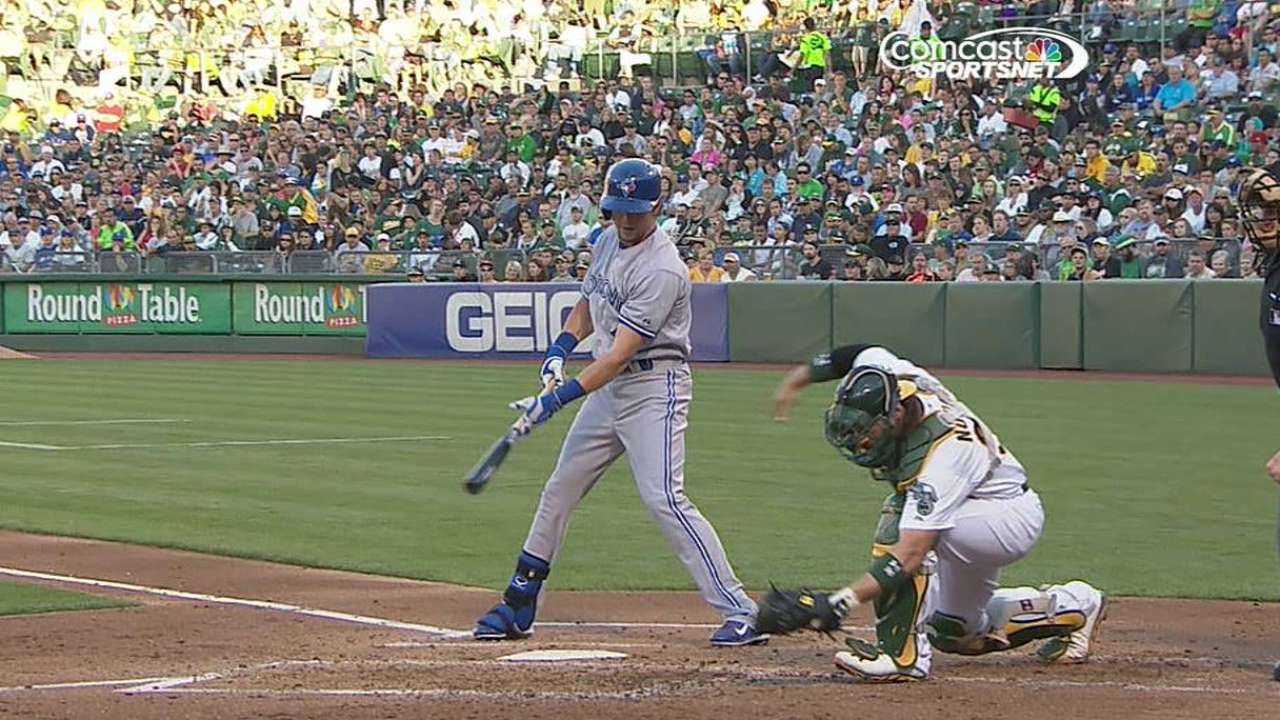 OAKLAND -- For most of the day Saturday, the conversation surrounding the A's was dominated by two potential All-Star hurlers: Jeff Samardzija and Jason Hammel, the right-handers general manager Billy Beane plucked from the Cubs in a deal no one saw coming.
By night's end, though, another A's pitcher offered a friendly reminder that the team's best starter, arguably, has been on the roster since Opening Day. Scott Kazmir, an All-Star candidate in his own right, was brilliant once again in a 5-1 victory.
Over his last five starts at the Coliseum, the southpaw is 5-0 with a 1.00 ERA.
"Ever since playing against the A's coming here, I felt comfortable here," he said. "You feel a little bit more confident when you look behind you and see a big field and a lot of foul ground. You just want to go out there and attack hitters and get outs."
Kazmir held the Blue Jays to one run on three hits over seven innings, striking out eight and walking two as Oakland took a 3-0 lead in the four-game series. He has surrendered two runs or fewer in 12 of his 18 starts, and on Saturday he improved to 10-3 while shrinking his ERA to 2.53.
With All-Star rosters being announced Sunday, Kazmir did all he could to plead his case as he threw a season-high 113 pitches.
"For me, [he's] very deserving," said manager Bob Melvin. "I can say that about a lot of guys, but he's been awfully consistent this year. He gives our team a chance to win every game. The players feel great every time he takes the mound."
The A's scored three runs off left-hander Mark Buehrle after falling behind in the first, and they maintained their two-run lead in the eighth thanks to two stellar defensive plays. First, Donaldson made a great catch in foul ground, slamming into the tarp to retire Munenori Kawasaki and evoke memories of last September's famed "Tarp Catch."
This time, instead of flipping over, the tarp got Donaldson square in the midsection.
"This [ball] was a lot lower, so I had less time to get there," Donaldson said. "The last time, I kind of was able to measure it up. This time I was kind of going full speed into it."
"He doesn't think twice about laying completely out and putting his body at risk," Melvin said. "It's all about his desire to get the out. That was a helluva play. He has no regard for his body."
Then, with one out in the eighth and Melky Cabrera on first, Jose Bautista lined a double down the left field line. Craig Gentry got the ball in to shortstop Jed Lowrie, who fired home to Derek Norris just barely in time to nail Cabrera.
Norris applied the tag on Cabrera's helmet, a call that stood after a crew-chief review.
"It's tough when it's right down the line or along the wall, and I was lucky to get it quick and get it in, and Jed made a great throw." Gentry said. "That was a big point in the game."
The Blue Jays scored their lone run in the first on a near-double play ball off the bat of Edwin Encarnacion -- who was hurt on the play -- and Kazmir did not allow a runner past second after that.
Donaldson hit a solo shot to center field to tie the game in the third, his 19th homer of the year, and the A's added two more off Buehrle in the fourth, when Coco Crisp and Gentry each had run-scoring singles. Alberto Callaspo and Stephen Vogt scored the runs and finished the night with two hits apiece.
The A's added a fourth run on Lowrie's RBI double in the eighth, and a fifth when Lowrie scored on a passed ball. Luke Gregerson and Fernando Abad pitched in relief of Kazmir, as the A's staff clinched the series victory having allowed just two runs in the first three games.
Samardzija witnessed the win from the dugout after arriving early on, and he will get his turn Sunday when the A's go for a four-game sweep. But Saturday's contest was about Kazmir, and he gave his new teammate a tough act to follow.
"After that first inning, just felt like I was kind of locked in, and used all my pitches," Kazmir said.
On Sunday, the two-time All-Star could make his first Midsummer Classic roster since 2008.
"If it happens, it happens," he said. "I've said it before -- we're focused on one thing here, and that's to get to the postseason."
Aaron Leibowitz is an associate reporter for MLB.com. This story was not subject to the approval of Major League Baseball or its clubs.