Dodgers' late charge comes up one run short
Five-run inning not enough to overcome Haren's rocky outing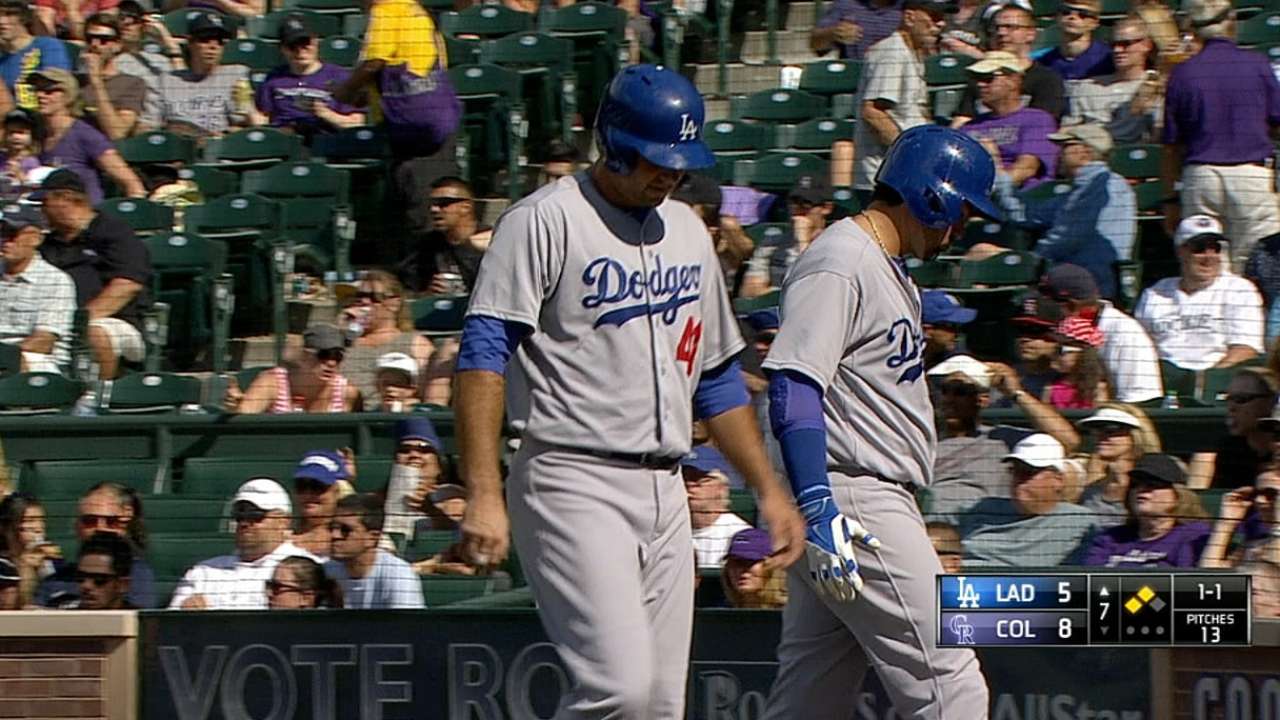 DENVER -- No surprise, Dan Haren has found that Zack Greinke and Clayton Kershaw are tough acts to follow.
Coming off his best start of the year, Haren had one of his worst on Saturday, spotting the Rockies a big enough lead that even a five-run seventh-inning rally couldn't save the Dodgers from an 8-7 loss.
Along with that wild seventh inning, the Dodgers saw Yasiel Puig misplay his way back into the nightly highlights with a zany recovery on defense for a double play.
But Haren (8-5) enjoyed no highlights after leaving his teammates a hole out of which they couldn't climb. It seemed to sting him even more after watching the Cy Young tandem contain the Rockies in the previous two games of the series.
"The starting pitching here is held to a higher standard, and at this point in my career, I'm not eight innings and no runs anymore," Haren said. "For the most part, I keep us in the game. But it's tough to keep up. They're pretty unbelievable. Kersh and Greinke come into Coors Field and just dominate. It's tough to hold up my end of the bargain."
Haren struck out a season-high eight with no walks in 5 1/3 innings, but he was also charged with a season-high eight runs on 10 hits. After getting a two-run lead in the first inning, by the time Haren's line was done the Dodgers trailed by six.
In his previous start, Haren allowed Cleveland one hit over seven scoreless innings. Manager Don Mattingly said the difference from one start to the next was in the opposing "matchups." It wasn't that clear to Haren.
"Baseball is a humbling game," he said. "Five days ago I couldn't have felt any better. Today, I just wore it out there, basically. If I throw the game I've thrown all year, we win. I just couldn't do it."
After scoring twice in the first inning, the Dodgers' offense wasn't much help to Haren, being held hitless over the next five innings by Colorado starter Jorge De La Rosa (9-6), who was described by Mattingly as "effectively wild."
Yet, the Dodgers nearly got Haren off the hook by mounting the five-run seventh inning against three Rockies relievers, batting around, benefiting from four walks, a wild pitch and a passed ball. But it wasn't enough.
Haren was removed after Charlie Culberson's RBI triple fell on the warning track in left-center out of the reach of center fielder Andre Ethier after a very long run. Ethier also was unable to catch up to a similar extra-base hit by Corey Dickerson in the first inning after another long run.
Puig contributed his highlight-reel defensive play in the eighth inning with Wilin Rosario on second base and no outs. After initially breaking in on a line drive by Drew Stubbs off Brandon League, Puig changed direction, back and toward center, sprinted to intercept the ball and made an all-out diving catch. He leapt to his feet, hit Ramirez with a powerful cutoff throw, and Ramirez easily threw out Rosario, who belatedly tried to tag and advance to third base.
Two batters into the game and the Dodgers had a run off De La Rosa. A one-hopper by Puig, batting leadoff with Dee Gordon resting, staggered shortstop Josh Rutledge, whose off-balance throw sailed into the photographers' well for a single and error. Puig was doubled home by Hanley Ramirez. Two outs later, Juan Uribe singled home Ramirez.
Colorado replied in the bottom of the first with a single by Rutledge, the ground-rule double by Dickerson and an RBI groundout by Nolan Arenado. With two out, Rosario punched an RBI single to right field to tie the game.
The Rockies scored three runs in a two-out rally in the third inning, capped by Stubbs' two-run homer. Dickerson led off the fifth with a home run, the 18th blast allowed by Haren this year.
Nick Masset took over for De La Rosa in the seventh inning, and the Dodgers rallied for three runs before Masset had to leave with a left knee injury suffered while facing Ramirez.
A.J. Ellis opened the inning with a double off Masset, Miguel Rojas walked, pinch-hitter Clint Robinson singled home Ellis, Puig doubled home Rojas, and Robinson scored on a passed ball charged to Rosario.
Boone Logan inherited a 2-1 count to Ramirez, who lined a single to center to score Puig. Logan walked Kemp and Adrian Gonzalez to load the bases and the Rockies turned to Adam Ottavino, who got Juan Uribe on a double-play grounder as Ramirez scored to cut the lead to one. Ethier was walked intentionally, but Ellis was called out on strikes.
Ottavino overcame a one-out pinch-single and stolen base by Gordon in the eighth by striking out Puig and getting Ramirez on a grounder.
"[Puig] hit a long homer off me the first time I ever faced him. Ever since then, I've really made a point to try to get him out as well as I can," said Ottavino. "All of it would have meant nothing if I gave up a hit to Hanley at the end [because] Gordon is going to score on anything. Nothing would have mattered if I wouldn't have finished it off."
Ken Gurnick is a reporter for MLB.com. This story was not subject to the approval of Major League Baseball or its clubs.