Anibal tagged with rocky outing as Tigers fall to Rays
No-hit bid ends in three-run fifth as bats quieted by Tampa Bay's Archer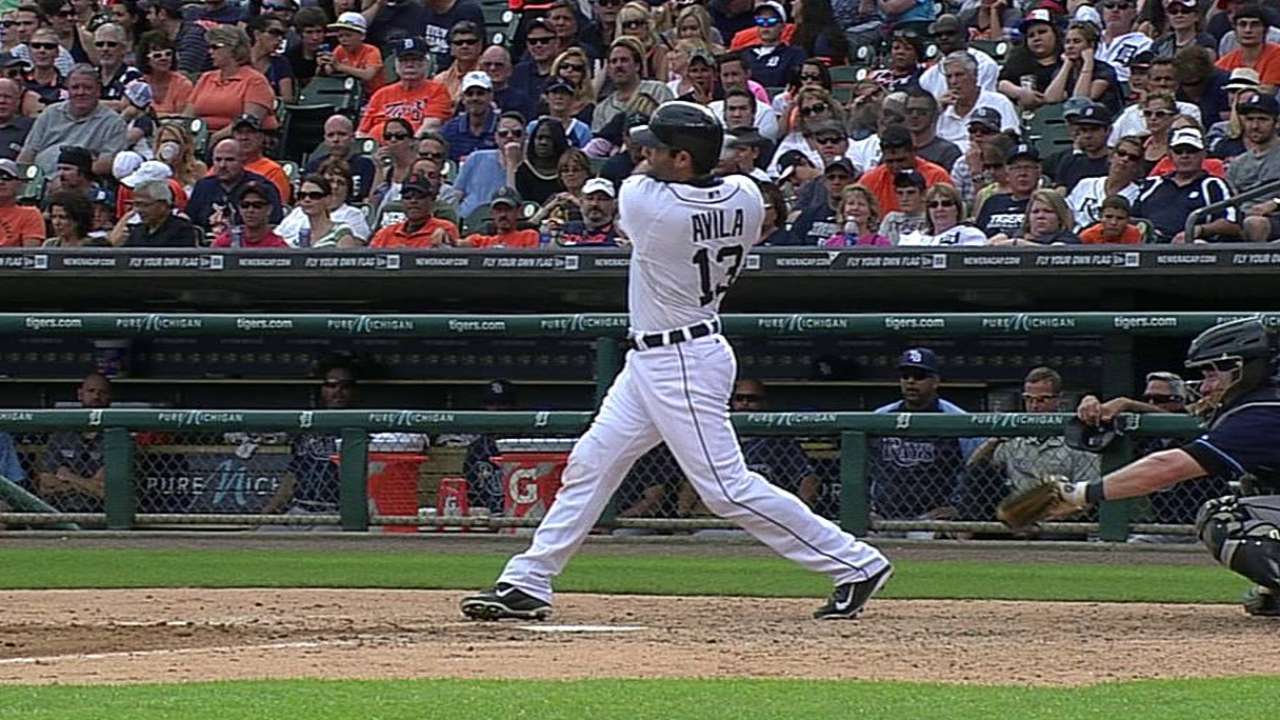 DETROIT -- Anibal Sanchez entered the fifth inning with the makings of a no-hit bid. He also entered with 66 pitches thrown, 16 foul balls, an 11-pitch walk and only one strikeout despite seven swings and misses and a half-dozen 0-2 counts.
Chris Archer entered the fifth with a hit allowed, but 10 straight Tigers retired -- seven in a row retired in three pitches or less -- and 37 pitches thrown.
The no-hitter fell apart. Archer's dominance did not. By the end of the 7-2 Tigers' loss, the better performance won out.
"He made a lot of good pitches," J.D. Martinez said. "It felt like he didn't miss many pitches over the plate, at least to me. For the most part, everything was corners, in, away, up and in, low and away. When he needed to, he could go back to 97 with good movement. When he's doing that, it's going to be tough."
Sanchez entered the fifth with a chance at greatness, but a nearly equal chance at disaster. He ended up with the latter. By the end of the sixth inning, he was gone with his Tigers-high in runs allowed, and the Rays had the sense of the suspense out of a crowd of 38,087 at Comerica Park.
The Tigers, in turn, were on their way to a second straight defeat to a Rays team that hadn't topped four runs in a game against Detroit since 2011.
It wasn't a reason for team panic after a stretch of 12 wins in 14 games, but it was a reason for Sanchez and catcher Alex Avila to talk about what went so wrong.
The game turned suddenly, but the at-bats had not.
"Especially with the game today, we talked about finishing hitters," Sanchez said. "I had a lot of situations where I had the count 0-2 and I'm not able to finish a guy and it took me like three, four, five pitches after that.
"Especially [Ryan] Hanigan, I threw like 10 pitches. It made me a little bit tired, so that was the conversation we had. I need to work on finishing hitters early in the count.
"I know that I got very good second strikes, but for the third strike, those guys, they don't pull the ball in play often. It's more about foul, foul, foul. They take a lot of pitches up. I think I need to work on that."
Hanigan was the Rays' first baserunner when he fouled off five two-strike pitches on his way to an 11-pitch walk off Sanchez, who had retired Tampa Bay's first seven batters. He turned the end of the perfect game into the beginning of the end for Sanchez with his second walk, following up Logan Forsythe's fifth-inning home run with a seven-pitch pass -- only one two-strike foul ball in that case -- before scoring on a Kevin Kiermaier triple.
Sanchez had retired 13 of 15 batters before Forsythe's third home run of the year, walking two. Sanchez retired just three of the final 11 batters he faced after that, one of them on a double-play grounder from Ben Zobrist.
"I had a really good game plan and I got a really good four innings," Sanchez said. "I think the homer and the walk, I think everything changed right there and my ball started being up in the strike zone."
Zobrist's inning-ending double play merely delayed the onslaught. Back-to-back singles from Matt Joyce and Evan Longoria and a James Loney walk loaded the bases for Brandon Guyer's sacrifice fly and Forsythe's squeeze bunt.
Sanchez's seven runs allowed on six hits and four walks tied his damage allowed from Aug. 8, 2012 at Yankee Stadium. The only time he allowed more was July 30, 2006, his rookie season with the Marlins, with eight runs in Philadelphia.
For someone who entered the game allowing a mere .118 batting average (20-for-169) in two-strike counts, it was an unraveling that was out of character.
With Sanchez's fate decided, the spotlight turned to Archer, who had the combination of a big lead and a low pitch count in his favor for a shutout until Avila's seventh-inning solo homer. Martinez led off the ninth with a homer for Detroit's other run.
"He's actually really good, man," said Torii Hunter, whose two singles off him marked Detroit's only multi-hit game. "And to be so good and so poised on the mound, you're like, 'Has this guy been here before?' He's just under control, poised, and he had the slider. That slider was pretty filthy, especially a guy that throws 97."
Jason Beck is a reporter for MLB.com. Read Beck's Blog and follow him on Twitter @beckjason. This story was not subject to the approval of Major League Baseball or its clubs.