Offensive outburst backs solid Archer vs. Tigers
Right-hander pitches into ninth as bats break through in fifth inning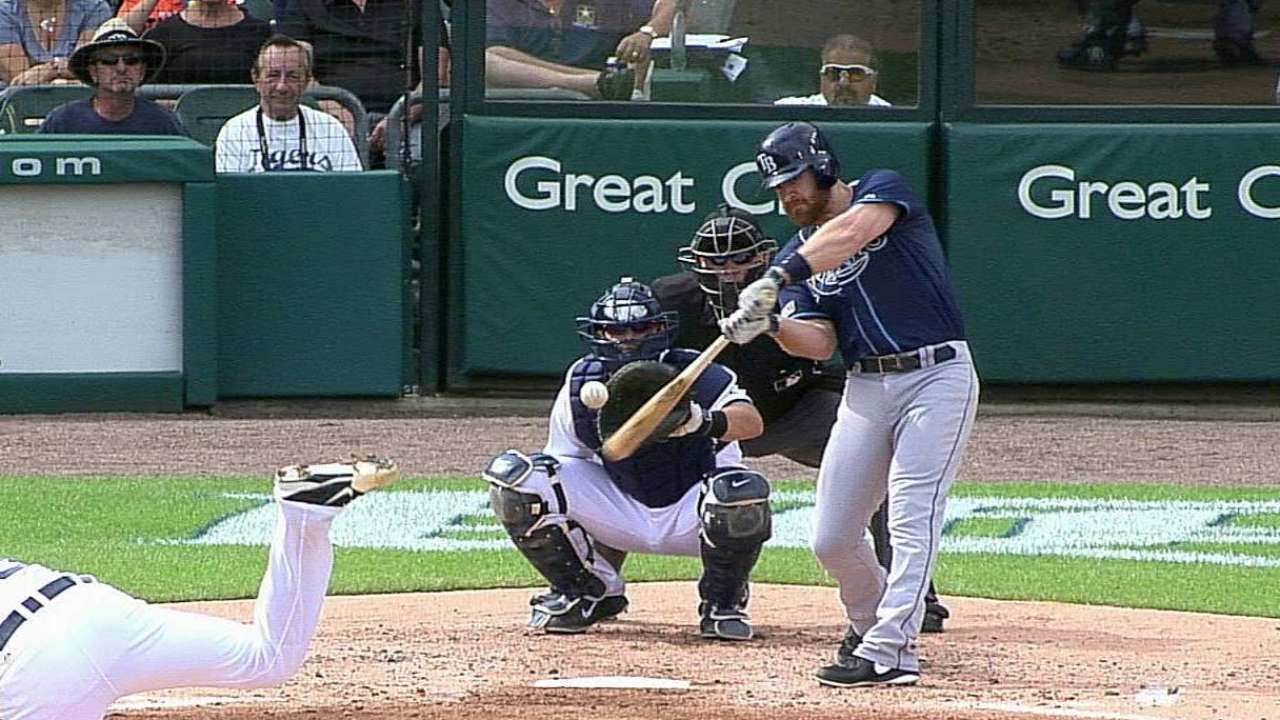 DETROIT -- Anibal Sanchez lost his dominance quickly and the Rays' hitters were more than happy to pile on.
The hitting coupled with Chris Archer's best start of the season added up to a 7-2 win over the Tigers Saturday afternoon at Comerica Park.
The win gives the Rays an 8-2 record heading into Sunday's final game of their three-city, 11-games-in-10-days road trip. From the way the Rays (40-50) are trending -- they've won seven of eight -- they just might be playing significant games come September.
"We're clicking on all cylinders right now," Logan Forsythe said. "You know, we're playing good baseball."
Sanchez started for the Tigers and held the Rays hitless for 4 1/3 innings before Forsythe homered on the first pitch he saw with one out in the fifth.
"Sanchez, he's got a great arm," said Forsythe, who went 2-for-3 and has nine multi-hit games in his last 14. "He pitches, man, he really does. He mixes speeds, locates really well. I guess I was the guy tonight to kind of jumpstart us."
Ryan Hanigan then drew a walk and Kevin Kiermaier followed with a triple off the wall in right to send home the Rays' second run. That triple snapped an 0-for-16 stretch for the rookie outfielder, who went 3-for-4 with two runs scored and three RBIs on the afternoon.
"We kind of had the feeling it was going to be a pitchers' duel all day, then Logan hit that home run there, kind of got things rolling for us," Kiermaier said.
The Tigers brought their infield in to try and prevent the Rays from scoring a third run, but Desmond Jennings laced a liner to right to drive in Kiermaier for a 3-0 lead.
Keeping their foot on the gas pedal, the Rays got busy again in the sixth when Matt Joyce and Evan Longoria singled to open the inning and James Loney walked to load the bases.
In rapid-fire fashion, Sanchez's problems escalated from there. Brandon Guyer's sacrifice fly scored Joyce and Forsythe's bunt single drove home Longoria. After Hanigan flied out to deep right, left-hander Phil Coke took over to pitch to the left-handed-hitting Kiermaier.
It didn't work.
Kiermaier rode a ball down the left-field line and finished at third with a triple, driving home Loney and Forsythe for a 7-0 lead. His back-to-back triples tied the club record for triples in a game.
"Early in the game, I thought [Sanchez] was very sharp," Tigers manager Brad Ausmus said. "It seemed to turn on the Hannigan at-bat when Hannigan fouled off a lot of pitches."
While Sanchez did not get it done, Archer did.
Archer blanked the Tigers for 6 2/3 innings before Alex Avila deposited a 1-2 fastball into the right-field stands to cut the lead to 7-1, and J.D. Martinez led off the ninth with a homer for Detroit's other run. Archer pitched into the ninth as he picked up the win to move to 5-5 on the season. In 8 1/3 innings, he allowed two runs on six hits while walking four and striking out four.
"It was my best game so far [this season]," Archer said. "I gave up two solo home runs. I haven't looked at the film, I'm pretty sure they were good pitches. That's a good hitting team. They have a lot of power and I think any pitcher in this league would be OK with giving up two solo homers against them. So I'm not going to beat myself up over the ninth inning too much. But there is room to grow. I'm going to continue to execute pitches better."
Rays manager Joe Maddon felt as though Saturday's start was Archer's best of the season, too.
"Why? Because of the command of his fastball," Maddon said. "Because he pitched primarily with that today. And then he introduced the slider later."
Veteran Tigers outfielder Torii Hunter left impressed with the Rays right-hander.
"Good pitching will beat good hitting any day," Hunter said. "He's definitely one of the best young pitchers in the game. This guy was in and out with the fastball. ... Had a great slider. Effectively wild. Can hit the corners when he needs to. He was under control today. I've been watching him for the last year or so. He definitely has a bright future."
Bill Chastain is a reporter for MLB.com. This story was not subject to the approval of Major League Baseball or its clubs.