Kipnis shows flashes of regaining form at plate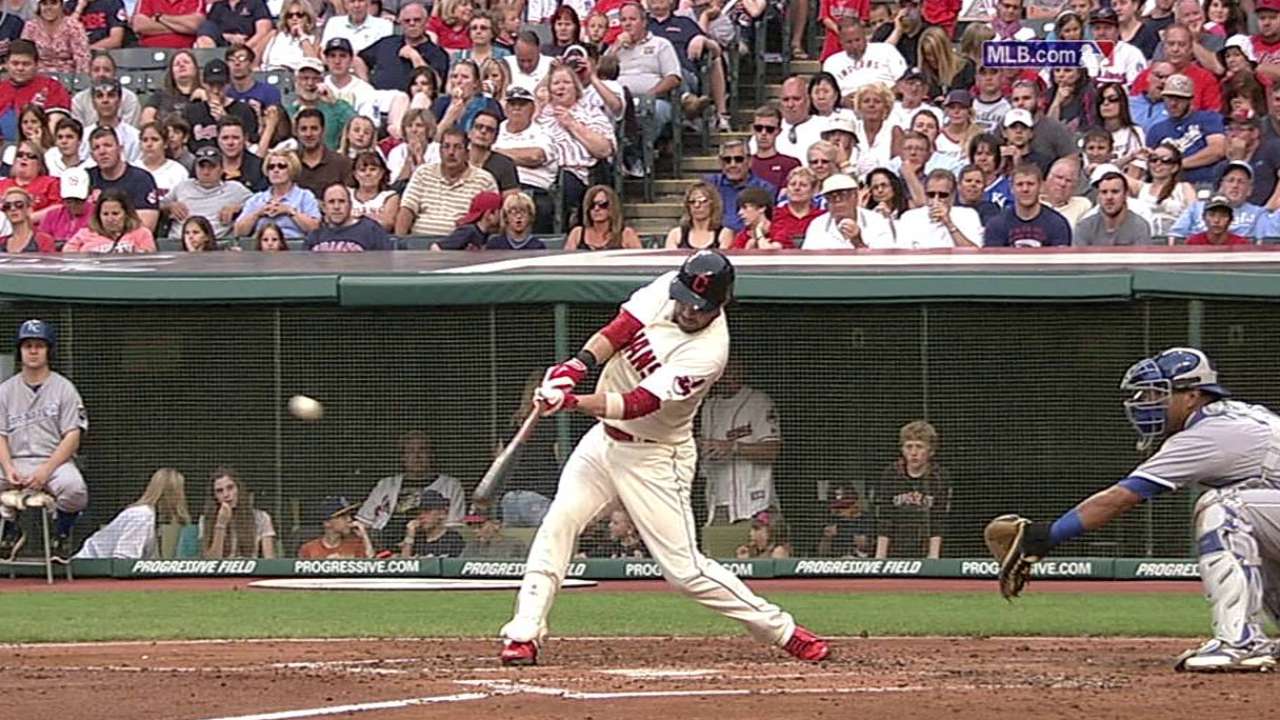 CLEVELAND -- It's no secret that second baseman Jason Kipnis is still searching for his comfort zone this season, but he's flashed promising signs at the plate in a handful of his recent performances.
Over his last 10 games, Kipnis has hit .310 with six extra-base hits after a 2-for-4 game against the Royals on Saturday. Oddly enough, all of those hits have come in six games, and he's gone 0-for-14 with seven strikeouts in the other four contests.
"It's still inconsistent right now," Kipnis said. "When I feel like I'm coming of out it, it feels like it's a two step forward, one step back thing. [I'm] still striking out more than I'd like."
The strange part about Kipnis' season, however, is that his plate discipline has been fairly consistent with his career averages. He has struck out in 18.7 percent of his at-bats this year and owns a 10.1 percent walk rate, compared to lifetime rates of 19.3 percent and 10.4 percent, respectively, for the left-handed hitter.
Could Kipnis' power drought be due to the lingering effects of a strained oblique that caused him to miss nearly all of May? Not likely, says the 27-year-old.
"It doesn't hurt. At the same time, it might not be letting me rotate all the way through," Kipnis said. "Right now, when I'm slumping, you've got a [5-foot-11] guy whose approach is [hitting] the other way, I don't know how many home runs you're going to get out of that."
Kipnis' knack for opposite-field hitting has been one of the most important facets of his offensive production. Entering the second game of the series against Kansas City, he was hitting only .267 with a .367 slugging percentage in at-bats where he's hit the ball to left field. His career batting average on balls hit that way: .361 with a .515 slugging percentage.
"I think when you see Kip hit the ball to center and to left-center with authority, that's when he's getting locked in," Tribe manager Terry Francona said. "When he's back-spinning that ball off the left-center field wall, hit a ball to center field, that's a really good sign. I think that's when it shows that he's on balance and keeping ahead of the bat through the zone. He did that a couple times on the road trip."
That very approach was made apparent on Saturday, when Kipnis slapped a third-inning double out to left-center field that helped spark a three-run outburst from the Indians' offense.
"That's the swing right there," Francona said. "When he's doing that, he's doing something right, and that's when he has the chance to do some damage."
The time the former All-Star second baseman spent on the sideline with his oblique injury likely contributed to an already difficult season, Francona notes, and that has perhaps caused him to over-think his at-bats. After all, Kipnis is likely far from where he'd like to be midway through the season.
At the very least, however, he's shown glimpses of returning to the multi-dimensional hitter he's been in the past for Cleveland.
"Right now we're just worrying about hard contact," Kipnis said. "I think once we get the bat on the barrel, the home runs will start to come."
Alec Shirkey is an associate reporter for MLB.com. This story was not subject to the approval of Major League Baseball or its clubs.