Cruz's five-hit night sparks Orioles to twin-bill split
Slugger triple shy of cycle; offense, 'pen pick up scuffling Jimenez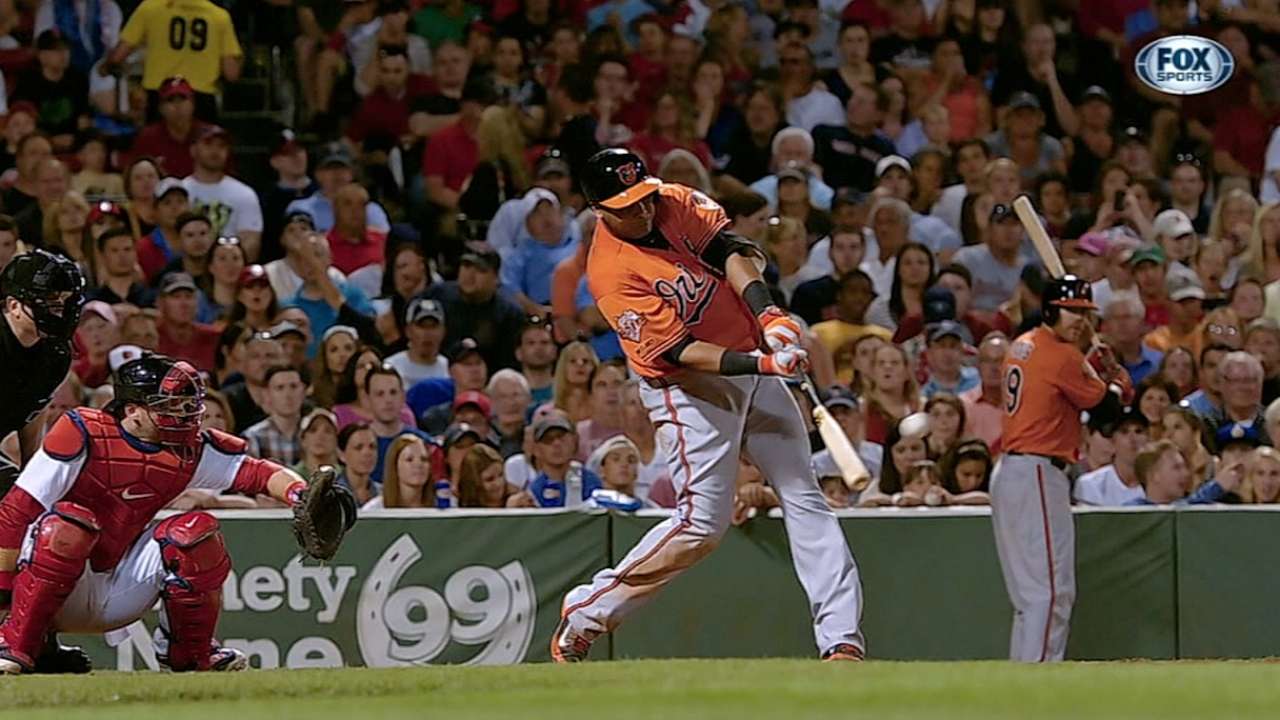 BOSTON -- The Orioles couldn't reward Miguel Gonzalez's eight dominant innings Saturday afternoon. But the offense made up for it several hours later.
The O's used a four-run sixth to turn the tables on Boston, overcoming a 3 2/3-inning outing from the erratic Ubaldo Jimenez with solid relief pitching and a career night from Nelson Cruz, who went 5-for-5 and fell a triple short of the cycle. The result, a 7-4 win that gave them a doubleheader split with the Red Sox -- coupled with the Blue Jays' loss to the A's -- has the Orioles (47-40) alone atop the American League East.
It's something they've been doing, really for three years," Orioles manager Buck Showalter said of his club shaking off a 3-2 walk-off loss in the afternoon contest. "They don't get bogged down in, 'This means that this should happen' or 'that should happen.' They hold themselves to high standards and know they've got another challenge tomorrow. ... You have to earn everything up here. That's why there are no Cinderellas in baseball. We play too many games and the schedule is crazy at times. It takes a lot of discipline on and off the field to do this."
Cruz, like so many other games this season, paced the offense as he continues to state his case to be in American League MVP consideration. The veteran set a career high with the five hits, including his 27th homer of the year, a solo shot in the fifth inning that matched his season total from 2013 and tied him for the Major League lead with Jose Abreu of the White Sox.
He also tried for his first triple since 2011, but was called out trying to stretch the eighth-inning double to end his cycle bid.
"As soon as I saw it went over [right fielder Daniel Nava's] head, I was like, 'I got to take a shot, see what happens,'" Cruz said. "I think my angle from first, it was bad. So I had to go a long ways to second."
Down one, the Orioles chased John Lackey and took the lead in a pivotal sixth in which they sent nine batters to the plate. Jonathan Schoop's one-out single got things started and Lackey, who struck out 11, exited after issuing a walk to leadoff man Nick Markakis.
Red-hot Steve Pearce singled in a run off reliever Burke Badenhop and Adam Jones sent a ball into right field, with the Orioles plating another run as the ball got by Nava. Cruz hit a sharp single to third to force Boston manager John Farrell to call on his third arm in Tommy Layne. Baltimore added another insurance run on J.J. Hardy's fielder's choice to increase the lead to three.
"[It was] huge," Cruz said of the Orioles' ability to bounce back in Game 2 despite Jimenez's outing. "After the first game, we got a few hits together and our whole lineup did pretty good, so it was nice to see."
The O's bullpen, which picked up 5 1/3 innings, didn't allow a run, with Brad Brach, Tommy Hunter, Brian Matusz and Darren O'Day holding Boston to one hit with two strikeouts. Zach Britton pitched a 1-2-3 ninth for his 13th save in 15 chances.
That stout pitching and barrage of runs helped cover for Jimenez, who showed how good he can be with eight scoreless innings Monday night. But with the season more than half-over, the Orioles have already witnessed a lot more of the other Jimenez, the one who struggles with command and results in short starts, the latest of which was on full display again Saturday night.
"Not very good," Showalter said of Jimenez's outing, in which he tied a season high with six walks. "He was fortunate to give up the few runs that he did. I think that's because he was wildly effective. It's just inconsistent. It's tough to hit him because you go up there trying to be selective and he throws three pitches on the black. And then he gets out of sync again. It's frustrating because the stuff is there. We were fortunate that we stayed engaged in the game with that many walks."
Jimenez, who walked five in the first three innings, watched a leadoff walk in the fourth score on Stephen Drew's homer to tie the game. He allowed a pair of singles after that and was fortunate in that the O's were able to nab Mookie Betts trying to advance to second for the second out. But Brock Holt doubled to drive in a fourth run, extending Boston's lead to two, and Jimenez exited his 80-pitch performance after Nava's single.
"I didn't get comfortable with my mechanics," said Jimenez, who saw his career ERA in eight starts against Boston creep up to 9.37. "I didn't find a good release point. Basically it was my mechanics."
Brittany Ghiroli is a reporter for MLB.com. Read her blog, Britt's Bird Watch, and follow her on Facebook and Twitter @britt_ghiroli. This story was not subject to the approval of Major League Baseball or its clubs.