Road remains unkind to Phils in loss to Bucs
Series defeat in Pittsburgh brings record on current trip to 1-4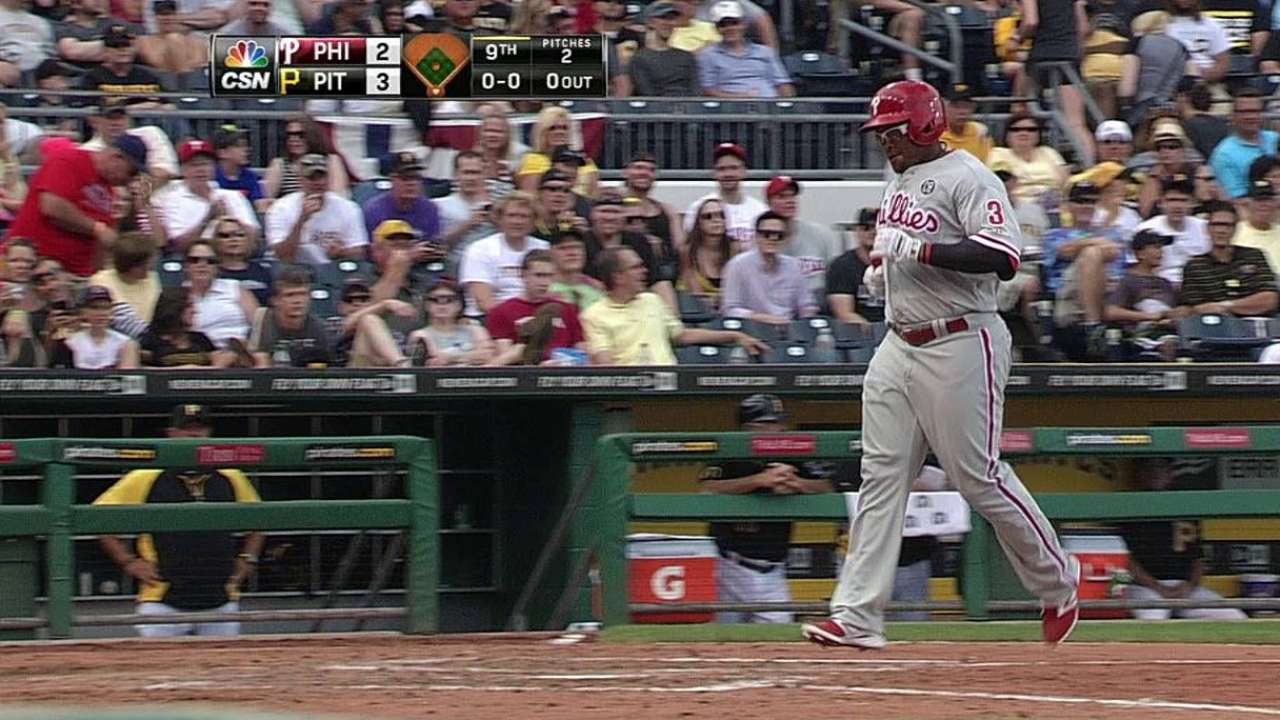 PITTSBURGH -- Ruben Amaro Jr. will not announce to the world when the Phillies plan to sell before the July 31 non-waiver Trade Deadline, but he said Tuesday in Miami that "these next 10 games leading into the All-Star break are going to tell us a lot about where we're going to go."
They lost Saturday evening to the Pirates at PNC Park, 3-2, to fall a season-low 13 games under .500 at 37-50. No Phillies team has had a worse record through 87 games since 1997, when they were 25-62.
They are now 1-4 at the halfway point of their trip through Miami, Pittsburgh and Milwaukee.
If there is a light at the end of the tunnel, it must be difficult to see it.
"When you're working every day, you know it's there, regardless if it's there or not," Phillies right fielder Marlon Byrd said. "It's working hard every single day, coming in here, preparing for a game, no matter who's on the mound, who's in the bullpen, and preparing for whatever team you're playing and having an approach. You have to do that every single day."
Byrd homered to right field in the ninth inning to cut the deficit to one. He has 17 home runs, which is tied for ninth in baseball among right-handed hitters. He certainly has value in a power-starved game, so he is certainly a strong candidate to be dealt before the Deadline.
Byrd said he wasn't thinking much about it.
"No, I went through that last year," he said, referring to an August 2013 trade that sent him from the Mets to the Pirates. "You think about it a little bit the first time you go through it. The second time now, you keep playing and try to win games for the Phillies. You stay, that's a good thing. You go somewhere else, hopefully this organization gets a great piece and you make it a better [team] than before you were here. You know Ruben is going to do the right thing. You just don't know what that is."
The Phillies managed just two hits in Friday's 8-2 loss to the Pirates. They picked up five Saturday.
The offense is the biggest culprit in the 3-12 slide since a June 20 victory over St. Louis pushed the Phillies to 34-38 and 3 1/2 games out of first place in the National League East. They have hit .210 with a .556 OPS and have averaged just 2.6 runs a game since then as the team has fallen into last place in the division.
They have hit .142 (15-for-106) with runners in scoring position in that stretch.
"Hard work," said Byrd, asked how the Phillies could get out of this funk. "You've got to keep at it every single day. Don't get your head down. Prepare to play every single day. No giving up. We're not hitting the ball like we want to; we know that. We have to keep working, keep figuring something out. Every single day it's baby steps, keep getting better. If it's not there, the next day you've got to figure out why it wasn't there and try to fix that."
It isn't like the Phillies are missing the heart of the lineup because of injuries, either. The only everyday player not healthy is Carlos Ruiz, who has been on the seven-day concussion disabled list since June 27.
Cody Asche hit his sixth home run of the season in the fourth inning to make it a 3-1 game, but the Phillies wasted some opportunities to score early. Pirates right-hander Edinson Volquez had runners on first and second with one out in the first, but Ryan Howard hit into a fielder's choice, and Byrd flied out to deep center field to end the threat.
The Phillies had the bases loaded with two outs in the third, but Byrd struck out swinging.
"I have to do a better job," Byrd said. "I've got to make sure I'm driving in runs. That's my job, to produce. Producing in the ninth inning is not going to work. You've got to do it earlier in the game."
Phillies right-hander David Buchanan put the Phillies in a 2-0 hole in the first inning when he allowed a two-run home run on a first-pitch fastball to Andrew McCutchen. Buchanan allowed another run in the second to make it 3-0.
Buchanan allowed six hits, three runs and a walk with three strikeouts in six innings.
"Threw a two-seamer right over the plate," Buchanan said. "Caught too much of the zone, and that's what happened. He was sitting on it and caught a lot of the bat."
"It was a dead fastball down the middle," McCutchen said. "I do a pretty good job of hitting those, and all around the league, everyone does a pretty good job of hitting fastballs down the middle. I was able to get that first pitch, and I was ready to hit it."
Todd Zolecki is a reporter for MLB.com. This story was not subject to the approval of Major League Baseball or its clubs.