Lackey whiffs 11, but allows five runs in nightcap loss
Red Sox denied twin-bill sweep of O's as Badenhop can't hold lead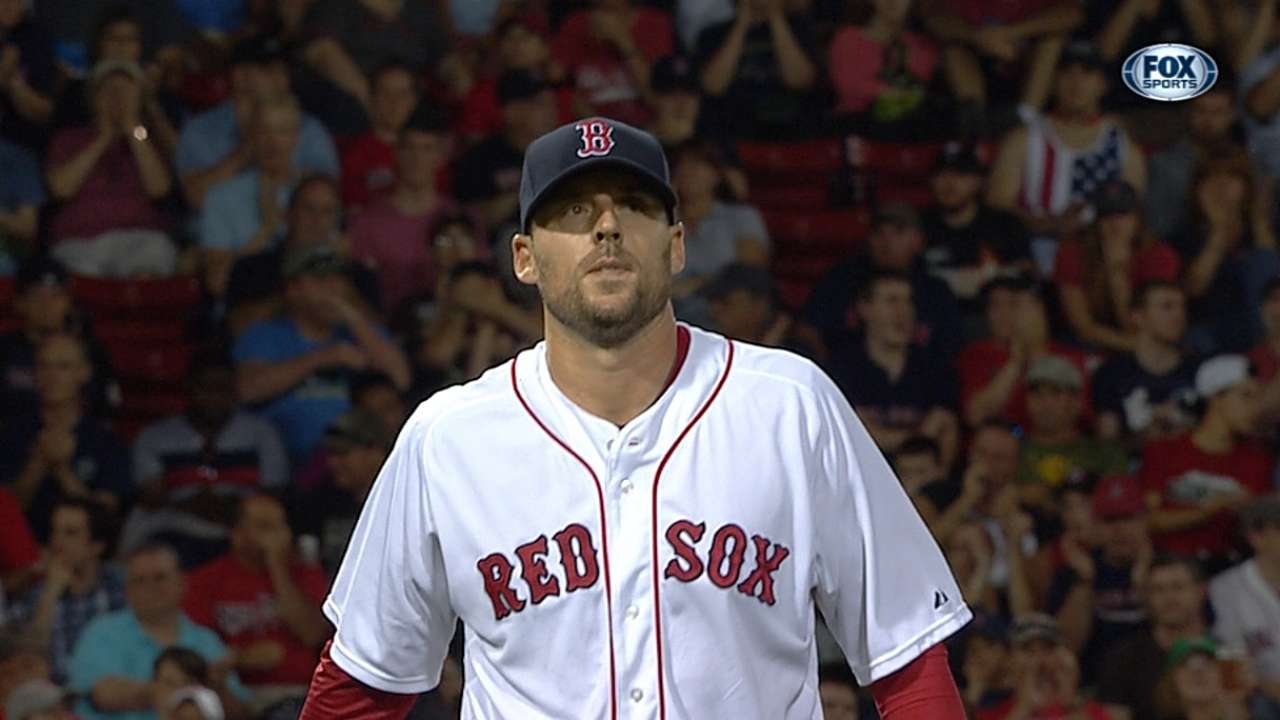 BOSTON -- It will likely go down as one of the most bewildering starts of John Lackey's career. The fact that the righty had 11 strikeouts over 5 1/3 innings would seem to indicate he had pretty good life on his pitches.
Yet he also gave up 10 hits and five runs while throwing a season-high 120 pitches in what amounted to a 7-4 loss to the Orioles on Saturday night at Fenway Park. Boston took the twin-bill opener, 3-2.
If anything, Lackey's control might have been too good. The Orioles swung at strikes, and hit several of them hard.
"Honestly, it's about as good of stuff as I've had all year," said Lackey. "I'm still trying to figure out what happened, honestly. I don't know how I gave up five runs, to be honest with you. You've got to give their guys a lot of credit. Tough lineup. I made a couple of mistakes, and they hit a couple of balls out of the park."
One of those home runs was delivered by Nelson Cruz, who went 5-for-5 and fell just a triple shy of the cycle. Cruz went for the triple in his final at-bat, only to be thrown out at third on a relay throw by Stephen Drew.
Lackey didn't have much to say about Cruz, in large part due to his annoyance with players who were suspended as part of the Biogenesis scandal last season.
"I'm not even going to comment on him," said Lackey. "I've got nothing to say about him. There are some things that I would like to say, but I'm not going to. You guys forget pretty conveniently about stuff."
Lackey actually left the mound with a 4-3 lead, but Burke Badenhop and Tommy Layne couldn't get the job done after his exit.
There seemed to be at least a decent chance the Sox could pull off a Saturday sweep when they erupted for four runs in the bottom of the fourth to overturn a 2-0 deficit.
Mike Napoli opened the inning with a walk and Drew crushed a two-run homer to right. Drew also homered in Game 1.
"It's a work in progress," said Drew, who is hitting .151. "I put some good swings on some pitches and getting some results. So it's a good feeling."
A.J. Pierzynski kept things going with a one-out single. Mookie Betts followed with a single to right-center, but he got caught trying to stretch it to a double. Brock Holt lofted an RBI double to left and the Red Sox had the lead. Daniel Nava made it a 4-2 game with an RBI single to right.
Cruz got a run right back for the Orioles when he laced a 92-mph fastball by Lackey over the Monster in the fifth.
"Swinging a hot bat," Red Sox manager John Farrell said of Cruz. "Looks strong."
Things fell apart for the Red Sox in the sixth. Lackey was removed with two on and one out.
Badenhop had been so reliable for Boston, but not on this night. Steve Pearce promptly greeted him with an RBI single to tie the game. Adam Jones delivered a single to right that brought in another run, and Pearce moved to third on a fielding error by Nava. Cruz smoked a single off the arm of Holt for another RBI single.
"Yeah, he's been good all year," Farrell said of Badenhop. "Couple of pitches up on the plate. They did a good job of staying in the middle of the field and into right-center with their approach, particularly the three right-handers that he did face. But that was very uncharacteristic for what Burke has been giving us."
Layne, who was called up from Triple-A to fill Boston's 26th roster spot for the game, walked Chris Davis on four pitches. J.J. Hardy's fielder's-choice grounder to third made it 7-4.
There was no scoring for the rest of the game. The only true drama centered on whether Cruz would get his cycle.
"As soon as I saw it went over his head, I was like, 'I've got to take a shot. See what happens,'" said Cruz, referring to Nava in right field. "I think my angle from first, it was bad. So I had to go a long ways to second. I'm happy we won."
As for the Red Sox, the ended a long day the same way they started it -- eight games behind the Orioles in the American League East.
"Yeah, we had an opportunity to sweep going into the second one," said Farrell. "This is a team, like I said the other day, that's playing with a lot of confidence and we're looking forward to getting back on the field tomorrow."
Ian Browne is a reporter for MLB.com. Read his blog, Brownie Points, and follow him on Twitter @IanMBrowne. This story was not subject to the approval of Major League Baseball or its clubs.